Want to work for one of the fastest growing companies in London?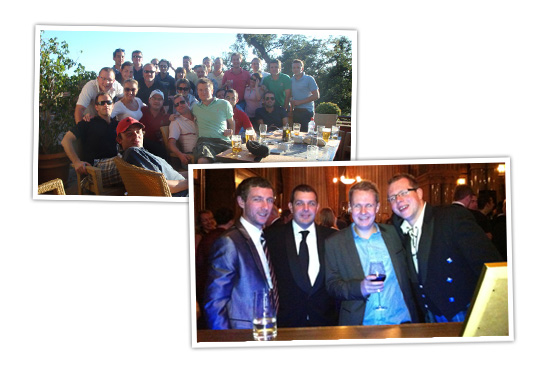 Your Golf Travel is a multi-award winning, high growth company which employs 200 people in our Farringdon HQ. We now boast the title of being the World's largest golf travel provider in just 10 years of trading, having booked 500,000 golfers and tee-times across 24 countries worldwide each year.

See below for our current vacancies. This is your opportunity to join one of the UK's leading private businesses. Passionate about customer service? Have a flair for design? Then we want to hear from you! To apply forward your application to careers@yourgolftravel.com

It doesn't start and stop with golf - YGT is just the start of The Palatinate Group. Spabreaks.com opened in 2008 and ahead lies many more exciting projects and brands!
Current positions available
Want to work for a dynamic, fast paced and rewarding company?
Your Golf Travel is a multi-award winning, high growth company which employs 200 people in our Farringdon HQ. We now boast the title of being the World's largest golf travel provider in just 10 years of trading, having booked 500,000 golfers and tee-times across 24 countries worldwide each year and counting! We are passionate about our people and training & development feature high on our agenda. With some of the best IT brains in the business our technology platform is improving all the time and you will be working on a bespoke booking system that simplifies the sales process at every stage. Our global brand ambassadors 'Open Champion' Darren Clarke and former world number one Lee Westwood help to elevate our business above the rest lending us credibility and clout in the marketplace which enables us to deliver the best golf holidays at the best prices to our customers. The customer experience is paramount for us here at YGT with a focus on delivering the best holidays and breaks money can buy while delivering that helpful and informative YGT touch to each and every customer. But we are not just a golf travel business- we have a variety of other impressive and growing brands under our belt from Spabreaks.com to Racinbreaks.com and other yet- to- be announced exciting ventures.
What do we want from you?
As a Sales Specialist you need to be a driven, motivated individual who can demonstrate a first class academic career and/or a good track record in sales. An interest in leisure, particularly golf would be preferable but not mandatory. Our country specialists, both domestic and overseas are expected to handle our varied customer database with accuracy, empathy and timeliness. Providing a first class and comprehensive booking service for our clients golfing experience, you will back up your country and venue knowledge (we will train and support you every step of the way) with our bespoke price quoting system. Confident, competitive team player with an eye for detail with good written and verbal communication skills. Good time management and the ability to work under pressure are pre-requisites. A good working knowledge of Google applications would be advantageous, as would a European language where applicable. Does this sound like you?
Key Responsibilities:
Effective communication with clients and venues while quoting and confirming bookings
Creating your own client database
Work closely with the Product team to ensure sales and margin targets are met
Collecting customer feedback
Taking payments via electronic PDQ systems
Handling client generated enquiries ( telephone, email and website )
Accurate price quoting
Managing your own client database
Act as a professional representative of YGT
Providing an exceptional customer service to all YGT clients at all times
Fulfilling the duties of a Sales Team member with enthusiasm and diligence
In return for this we offer...
Lively and vibrant central London office in Farringdon
Career progression
Training and development
Regular free Company golf trips (both domestic and overseas)
Company team-building activities
Company 20/20 cricket team
Sales incentives such as trips to horse racing events, attending live football and rugby games
Basic salary: from £20,000
Uncapped commission structure – realistic OTE of £10k in your first 18 months
Friday afternoon celebrations a must!
Get in touch!
If you think you might be a good fit for this vacancy then get in touch with your CV and a paragraph about yourself: HR@palatinategroup.com
Diversity/Equality
The Palatinate Group is committed to attracting, developing and retaining high quality individuals, as we recognise that our people are the foundation to our success. Our people are selected for their ability, experience, potential and 'can do' approach to work.
We are an equal opportunities employer. We believe that a diverse workforce has a positive impact on our business, and we promote a philosophy of inclusion. Our work environment draws on the strength of every employee, to encourage an atmosphere of personal and professional growth.
The diversity and variety of our workforce is a source of great pride to everyone at The Palatinate Group. When you join us, we will welcome the unique skills, experience and background you too will bring to our organisation. We believe such diversity gives us a powerful advantage in the marketplace.
We welcome applications from talented people irrespective of their age, gender, ethnic origin, sexual orientation, disability status or socio-economic background.
Employment agencies: The Palatinate Group of companies will not enter any commercial undertaking with any recruitment businesses on the basis of speculatively marketed CVs or telephone calls. The Palatinate Group hereby indemnifies itself against any costs, charges, recruitment fees or other liabilities relating to any recruitment business.

Your Golf Travel, Europe's largest golf travel company and one of Britain's fastest growing private business. Your Golf Travel is part of the Palatinate Group.