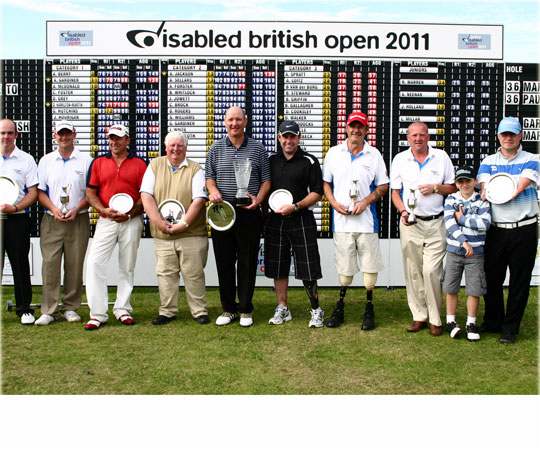 Your Golf Travel are committed to providing the very best value golf break packages to golfers across the board. This requires us to know as much as possible about our customers and which golf holiday destination best suit their needs. This clearly requires us to have in depth knowledge of all of our venues and we are proud to say that, as a company run by golfers of all abilities, we have firsthand experience of golf breaks at the vast majority of courses, hotels and resorts that we sell.

One group of golfers we are particularly proud to serve is that of the disabled golfer. Always willing to put back into the game what we get out if it, we are involved with several initiatives, charities and competitions that cater for disabled golfers including Golf 4 Heroes, an initiative designed to provide our injured servicemen and women with free rounds of golf across the UK in aid of their rehabilitation work with the Battle Back programme. We are also heavily involved with the Disabled British Open, having recently become the title sponsor, leading to 2012's event to be called the Your Golf Travel Disabled British Open.

In addition to these efforts we also strive to provide you with information on all of the venues that consciously cater for disabled golfers, allowing you to get the maximum enjoyment from your next golf holiday. With a number of venues across the UK, Ireland and mainland Europe to choose from, we are sure to have a package that will see you onto the fairways of your dreams.

Below is just a brief selection of Disabled Golf Venues that we offer, for more choice and the latest special offers simply call 0800 043 6644.

East Sussex National
from £129
Horsted, East Sussex, England
Overnight Golf Breaks
1 Night, Dinner, Bed & Breakfast and 2 Rounds of Golf

The Wiltshire
from £69
Royal Wootton Bassett, Wiltshire, England
Overnight Golf Breaks
1 Night, Dinner, Bed & Breakfast and 2 Rounds of Golf

Bicester Country Club
from £109
Bicester, Oxfordshire, England
Overnight Golf Breaks
1 Night, Dinner, Bed & Breakfast and 2 Rounds of Golf

Draycote Hotel
from £89
Rugby, Warwickshire, England
Overnight Golf Breaks
1 Night, Dinner, Bed & Breakfast and 2 Rounds of Golf

Fairmont St Andrews
from £159
St Andrews, Fife, Scotland
Overnight Golf Breaks
1 Night, Bed & Breakfast and 2 Rounds of Golf

Macdonald Cardrona
from £95
Peebles, Borders, Scotland
Overnight Golf Breaks
1 Night, Dinner, Bed & Breakfast and 2 Rounds of Golf

QHotels Telford
from £109
Telford, Shropshire, England
Overnight Golf Breaks
1 Night, Dinner, Bed & Breakfast and 2 Rounds of Golf

The Celtic Manor Resort
from £109
Newport, South Wales
Overnight Golf Breaks
1 Night, Bed & Breakfast and 2 Rounds of Golf

Murrayshall House Hotel
from £99
Perth, Perthshire, England
Overnight Golf Breaks
1 Night, Dinner, Bed & Breakfast and 2 Rounds of Golf

Aa Saint Omer
from £129
Lumbres, Northern France, France
France Golf Breaks
Eurotunnel, 1 Night, Bed & Breakfast and 2 Rounds of Golf

Sirene Resort
from £395
Belek, Turkey
Turkey Golf Holidays
7 Nights, All Inclusive and 3 Rounds of Golf

Hotel du Golf Barriere
from £329
Deauville, Normandy, France
French Golf Holidays
Eurounnel, 3 Nights, Dinner, Bed & Breakfast and 3 Rounds of Golf

Hotel Almenara
from £165
Sotorgrande, Costa del Sol, Spain
Spain Golf Holidays
3 Nights, Bed & Breakfast and 3 Rounds of Golf

Islantilla Resort
from £165
Huelva, Costa de la Luz, Spain
Spain Golf Holidays
3 Nights, Bed & Breakfast and 3 Rounds of Golf