Speciality Breaks
Golf can go hand in hand with an endless list of activities and excursions, with countless large groups adding a few rounds of golf into their travel packages. Your Golf Travel.com is a one stop shop for all your golfing needs, so if you're planning a trip, get in touch. The most popular speciality golf experiences are stag do's and hen do's, with large groups taking advantage of the fantastic value on offer around Europe's capitals for a golfing party. Also on offer are tailor-made packages for singles, seniors, beginners and wine enthusiasts, so enquire now to find the perfect speciality golf experience for you.
Stag Dos
Stag Dos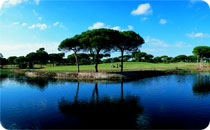 While golf and stag parties may not instantly appear to go hand in hand, there may be no finer way to clear the head from the haze of the previous night, and discuss its funniest moments whilst engrossed in the act of friendly rivalry and competition. The days of one night stag parties in the local boozer are over - nowadays, groups of lads are choosing to sign off in style with a weekend away to one of Europe's most entertaining capitals.
Golf Tuition & Beginners Breaks
Golf Tuition & Beginners Breaks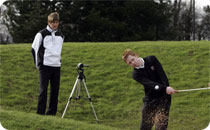 Your Golf Travel.com can organise a golf tuition holiday purpose built to improve your game. We have a choice of golf schools that will shave shots off your game and lower your handicap! Whether you are a single figure golfer looking to sharpen your skills or a complete beginner seeking to learn the game, we have a tuition package perfect for your golfing requirements and ability.
Golf & Spa Breaks
Golf & Spa Breaks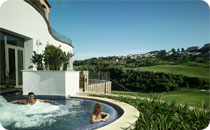 Golf is a frustrating game at the best of times, which is why Your Golf Travel.com has designed a range of packages to include the most relaxing health and beauty treatments around. Working with some 600 hotels and resorts across the United Kingdom and Europe, Your Golf Travel.com can ensure access to the newest spas of the utmost luxury, where the therapeutic benefits of ancient techniques from Europe, the far East, the Pacific and the Caribbean are expertly combined with the latest technology.
Golf & Horse Racing Breaks
Golf & Horse Racing Breaks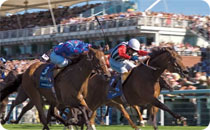 If you love hitting the fairways of the UK's best golf courses but also have a bit of soft spot for a day at the races then you may find it to be a tough task to choose between a weekend strolling the fairways at a premier golf resort or having a flutter and a glass of champagne or two during a day in the stands at one of the UK's most popular race courses. Fear not though because Your Golf Travel are now offering golf and racing enthusiasts a great range of fantastic packages that will see you enjoying both of your beloved pastimes during one fun filled and somewhat self-indulgent weekend!
All Inclusive Packages
All Inclusive Packages
Your Golf Travel.com is here to take the stress and strain out of booking a golf holiday, and you can go one step further by plumping for one of our comprehensive all inclusive getaways. Often the best way to get fantastic value from a 5* holiday, the all inclusive option generally means that all food and locally produced alcohol are available at no extra charge. 5* venues throughout Europe and the rest of the world are readily accessible at surprisingly low prices, and many of these are also home to world class golf courses.
Self Catering
Self Catering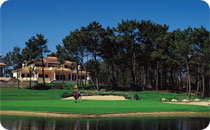 There are two main benefits derived from choosing a self catered golf holiday from Your Golf Travel.com - the first, and most important one is that it translates into fantastic value for money, with high end 4* and 5* destinations available at remarkable prices, while the second is that self catered accommodation ensures the extra privacy that is important to many. Your Golf Travel.com works in partnership with leading resorts throughout the golfing world, many of which are complete with apartments, townhouses and villas that serve as the perfect base for a self catered golf holiday. With the popularity of short breaks on the rise, many golfers are taking advantage of the low cost airlines to reach first class destinations like La Manga, Praia D'El Rey and Aphrodite Hills with incredible value. Families and larger groups are perfectly suited to self-catered accommodation, which is a phenomenal starting point for so many great golf holidays.
Golf & Football Breaks
Golf & Football Breaks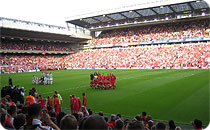 If you're anything like us here at Your Golf Travel you will be the kind of person who welcomes the weekends by hitting the fairways first thing on a Saturday morning and if you're anything like a few of us in the office you won't leave the course until Sunday evening! Now we aren't saying there is anything wrong with spending your time strutting your stuff on the best courses in the UK - in fact we encourage it - but there are other things that you may just miss out on if you spend the weekend holed up at your favourite golf club.
Follow the Majors
Follow the Majors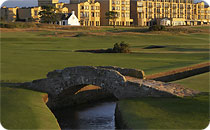 Although there nothing quite like strutting your stuff on the fairways of the world's best golf courses, there is a lot to be said for kicking back with a well deserved drink after your round and settling down in front of some world class golf from the stars of the PGA and European Tours. As golf fans we all understand the importance of golf's four major championships and thanks to the quality of the fields they are often the most exciting golfing spectacles of the year.