Live from The Masters - Masters Diary, Day Two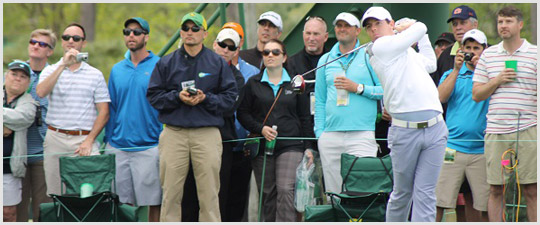 Everyone has a favourite hole at Augusta. Even though most of us have never set foot on its hallowed turf, let alone played it, we feel like we know each blade of grass as well as any course on the planet.

Today I had the chance to visit those iconic spots which have provided the backdrop to moments that will forever live in Masters folklore:

• No. 2: the magnificent dog-leg left par-5 where Louis Oosthuizen holed his 253-yard four-iron in 2012, recording the first ever two there in Masters history.

• No. 10: Bubba's jaw-dropping hooked wedge from the pine straw – which is even more mind-blowing and logic-defying when you inspect first-hand the gap and lie he had to work with.

• No. 16: Tiger and THAT chip... the intimidating slope which coaxed the golfing phenom into producing potentially the greatest shot in Masters history.


"I'd be disappointed if I ended my career and wasn't able to go up and have breakfast in the champions' locker room."

Rory McIlroy
Have you ever wanted to go to The Masters?
from £1995
Packages for 2015 just released
Flights, Accommodation, Golf & Masters Tickets
After walking the entire 18 holes...

One can work up quite a thirst and appetite. Where better to replenish than at one of Augusta's seven concession stands, where retro pricing is in full effect. I opted for a cup of the local brew and one of the Masters' renowned pimento cheese sandwiches; the grand total for both – a mere $4.50.

Sometimes referred to as the "caviar of the South", pimento cheese is best described as either a sharp Cheddar or processed American cheese mixed with mayo, pimentos, salt, and pepper until it has a choppy, paste-like consistency. My verdict: quite tasty, but at the end of the day; still a cheese sandwich. I'll be back to sample Augusta's other nominally-priced delicacies later in the week.

After refuelling, it's time to watch some action. First-up, I park behind the green on No.2 and watch as the defending champion Adam Scott leaves his second shot just short of the green. It's an all-Australian affair in the 12pm group, with Scott flanked by recent PGA Tour winners John Senden and Steve Bowditch, plus 19-year-old amateur Oliver Goss.

Seven Aussies will compete in this year's Masters, with Senden, Bowditch and the weekend's Shell Houston Open winner Matt Jones all securing their places via PGA Tour victories in the past month. Scott should have made it four in four for the boys down under, if not for a severe case of the weekend yips at Doral. He looks a different player today in the dozen practice putts he makes on the undulating second green.

Onto Amen's Corner. I stop to catch Phil Mickelson's approach to No.15 – it's a more straightforward pitch from the fairway than the miraculous 6-iron he played from the pine straw here in 2010.

Standing behind the 14th tee, a group featuring Vijay Singh, Martin Kaymer and Bernhard Langer approach (with someone in the gallery dubbing them the 'fun lovers').

After Vijay and Kaymer play their tee shots – without any hint of emotion, of course – it's Langer's turn. Quite an impressive strike for a 56-year-old!

A patron to my left shouts something to Langer in his native German tongue, to which the two-time Masters champion replies, "Prost" (cheers), before signing and tossing him his golf ball. As the gallery begin to murmur with intrigue, someone asks the man in question: what exactly did you say? He replies in a deep southern American accent, "Hey Bernhard, a ball for a beer?" Practice certainly pays dividends at the Masters.

However the biggest cheer of the day belongs to young Englishman, Matthew Fitzpatrick, who as I mentioned yesterday, is making his first appearance at the Masters at the tender age of 19. The 2013 US Amateur champion played his first nine alongside Rory McIlroy (who finished 20th here as a 19-year-old on debut) before linking up with Graeme McDowell, Ian Poulter and Henrik Stenson for the run home.
STAT / PLAYER OF THE DAY
The cream rises to the top at Augusta... Since 1986, the Masters has been won 17 times by a player with an Official World Golf Ranking in the top 10, more than any other major...
| | | |
| --- | --- | --- |
| | | |
| Rory offers Matthew Fitzpatrick some wise words | The iconic 12th, beautiful yet treacherous | Augusta's culinary delights - food at 1980s prices |
The quartet reach the 12th, the iconic "Golden Bell", surrounded by arguably the most populated gallery on the course. After watching two of his senior counterparts find the dance floor, Fitzpatrick coolly steps up to the tee and sends a high-arching iron to six feet.

The crowd's response is the sort of uproar typically reserved for a certain gentleman with a penchant for wearing black and red on Sundays.

It's good to see the young lad can shoulder pressure. He'll play alongside Scott and Jason Dufner in Thursday's opening round.