Live from The Masters - Masters Diary, the Par 3 Contest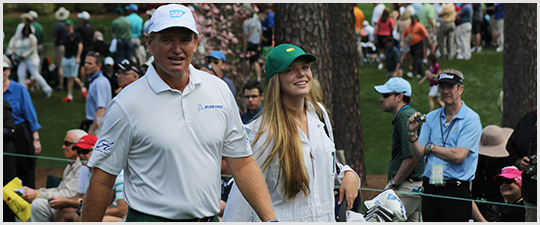 Every Masters eve, an assortment of kids, WAGs and the occasional celebrity don the caddie's traditional white boiler suit for the annual Par 3 Contest held on the picturesque banks of Ike's Pond.

If Augusta National is Disneyland for adults, then the Par 3 course is a Luna Park. While comparing the two would be unfair, the latter is just as conducive to entertainment as its larger sibling.
The Par 3 tournament provides a release valve for the players and a chance for them to share in the essence of the week with their loved ones. Although it's the kids who generally steal the show, a trio named Jack, Arnold and Gary usually have their share of admirers – this year was certainly no exception.

But it was Ryan Moore who potentially scuppered his chances of donning the Green Jacket on Sunday by winning the nine-hole contest. In its 53-year existence, no par-three champion has ever won the Masters in the same year.


"Rickie Fowler and I were partners today and he went on a tear. He shot 30 on the front nine; he eagles 13, he birdied 17 and 18, threw another one in on 15, I think. Just played remarkable golf."

Phil Mickelson
Have you ever wanted to go to The Masters?
from £1995
Packages for 2015 just released
Flights, Accommodation, Golf & Masters Tickets
Who will carry the favourite tag?

When asked about the "curse", Moore said: "I'm not afraid of it. You never know, someone has got to break that curse at some point in time, so hopefully it's me."

In the absence of perennial favourite Tiger Woods, it's Rory McIlroy who will carry the favourite tag when the Masters officially gets underway on Thursday.

In what is shaping as one of the most open Masters fields in history, I've singled out a couple of fancies who represent good each-way value – beginning with last year's runner-up, Angel Cabrera.

Has there been a more enigmatic figure at the Masters? Last year, having not recorded a top-20 in his previous 26 starts, the Argentine rolled up to Augusta and came within a whisker of leaving it with a second Green Jacket.

Since winning here in 2009, "El Pato" has finished outside of the top 20 only once. At 44, Cabrera still belts the ball an absolute mile (he left the galleries in awe with his driving at today's practice round) and it would be no surprise to see him burst into life again this year. You can back him at about 70/1.

Armed with his new Butch Harmon swing, Ricky Fowler could be ready to continue the recent trend of first-time Major winners.

According to Phil Mickelson, the 25-year-old needed just 30 shots to navigate his way around Augusta's tricky back-nine during Tuesday's practice round. He also looked ominous with a fast-finishing sixth at the Shell Houston Open.

That performance prompted me into having a nibble at the 81/1 on offer for him to triumph this week at Augusta, and the bookies clearly agreed, tightening the quote to around 66/1.

At the top of the market, I simply can't ignore Jason Day (16/1). This is a man with two top-three finishes in his past two starts at Augusta, a last-start victory at the WGC Accenture Match Play, and who played last year's combined four Major tournaments better than all bar Adam Scott. The course sets up so perfectly for his high draw and feather touch around the greens. If his gammy thumb is right, then Day is the one they have to beat.

While the food at Augusta may be cheaper than your school canteen, I discovered today that it's at the merchandise tent where you wind up sharing the wealth.

The main shop is a sight to behold. There you'll find everything from logoed teddy bears, coffee mugs and iPhone holders, to every type of shirt and hat imaginable. Patrons will queue in an amusement park ride type-line for up to half an hour for the chance to get their mittens on some priceless Masters mementos.

I felt the inevitable pull of its treasures. In less than 10 minutes - and three hats, two sets of ball markers, a pack of balls and a flag later – the damage came to about $140. But perhaps I escaped relatively unscathed.

"I went mad in there – about $420", exclaimed one male patron, beaming over his bag of souvenirs.

"Well spent $600," replied his accomplice.

Apparently the average visitor to the Masters will part with $650 in the gift shop.

With between 15,000 – 30,000 patrons through the gates each day from Monday to Sunday, that's a lot of pimento cheese sandwiches.


STAT / PLAYER OF THE DAY
No golfer under 25 has won the Masters since Tiger Woods in 1997, and no one older than 40 has won it since Mark O'Meara in 1998.
| | | |
| --- | --- | --- |
| | | |
| Vijay lets rip up the hill at No.8 | The gift shop is a must-stop for Masters visitors | Graeme McDowell practices from the bunker |
Among the many endearing aspects of Augusta is the hospitality of the locals. Wherever you go throughout the week, the people are beyond friendly and will do anything they can to help.

One such instance occurred when I tried to purchase a number of Augusta goodies from a concession stand on the Par 3 Course, to discover they accepted cash only – of which I had none. Overhearing my predicament, a gentleman generously offered to pay for my stash. Clearly spotting my Australian drawl, he asked, "Now where are you from, son?"

"I'm from Sydney ... Australia," I replied.

"I thought so," he responded in his southern twang. "...because my daughter lives in Papua New Guinea."

At least he was nice.