Another Open Championship has been etched into the golfing annals, with Rory McIlroy securing his third major championship and first Claret Jug at Royal Liverpool.
Sergio and Rickie battled on gallantly to finish joint runners-up, the wind proved an enemy (but only for some) while Tiger, in his second start back from injury, was never a factor.
So what do we take away for next month's PGA Championship, September's Ryder Cup, and next year's Open at St Andrews?
Here are 10 things we learned from this year's Open…
Rory is destined for greatness
In securing the Claret Jug, Rory became just the third-youngest player behind Jack Nicklaus and Tiger Woods to win three major championships. Now that's some fair company! The next target for the Ulsterman will be to add the Green Jacket to his collection, therefore completing the career Grand Slam and joining the group of just five players – Nicklaus, Woods, Gary Player, Ben Hogan and Gene Sarazen – to win all four of golf's modern majors. According to Phil Mickelson, it's merely a matter of "when" Rory will emerge victorious at Augusta. "With his length, and how well he plays that golf course, that definitely will happen and probably soon," Mickelson said.
---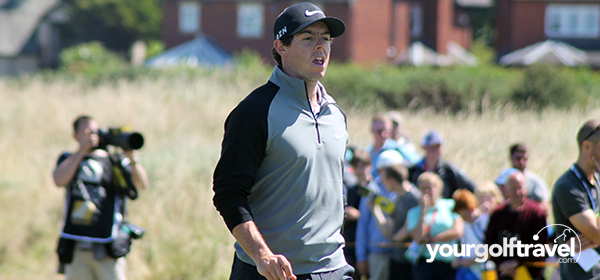 Swagger back … McIlroy has won the BMW PGA Championship and The Open since splitting from his former fiancee, tennis ace Caroline Wozniacki.
---
There's more than one way to skin a cat
After seeing the way Tiger picked apart a sun-baked Hoylake at the 2006 Open, many wondered whether players this year would adopt a similar ploy of playing conservatively off the tee. Rory certainly did not. Where Tiger nudged his way around Hoylake with precision, Rory bludgeoned it to pieces, ranking first in driving distance (averaging a whopping 327 yards) and 20th in fairways hit for the week. Having crushed a 436-yard drive the previous week at the Scottish Open, the 25-year-old followed up with a 396-yard monster on Hoylake's 17th on Friday.
It pays to be on the "right" side of the Open draw
Plenty was made of the vastly different conditions faced by the golfers who were drawn to play late in the first round on Thursday, and early in the second round on Friday. Justin Rose described there being two separate tournaments taking place between the two halves of the draw. It certainly told on the final leaderboard. Adam Scott and Shane Lowry were the only two players from the "unfavourable" side to finish inside the top 17, with the rest enjoying the benign conditions on Thursday morning and Friday afternoon.
---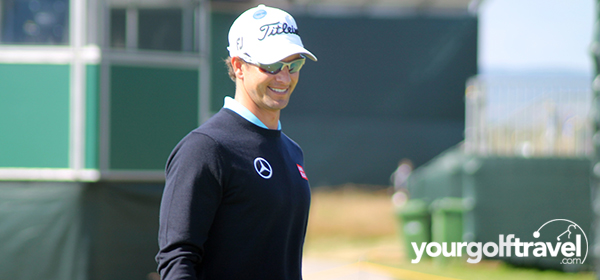 Adam Scott has now finished in the top five at his past three Open Championships. 
---
Sergio Garcia does have the guts to win a big one
Among the many words used to describe Sergio's attitude over the years, "gutsy" hasn't been one of them. Yet that's exactly the type of dogged display the Spaniard produced to push McIlroy all the way on Sunday afternoon. "I did everything I could," Garcia said following the round. "Everybody wants to make second a negative. Not at all." Despite the fact his runner-up finish made it six top-threes at a major without tasting victory, Garcia may have at last found the attitude to match his ability – putting him in prime position to break through for that elusive big one.
Thou shall not heckle Rory
Note: if you want to stick around for the full day's action at The Open, don't heckle the tournament leader – or any other player for that matter. One bonehead spectator found out the hard way when he chose to cough loudly during McIlroy's downswing to his drive on the 16th. "He was giving me grief all day," McIlroy said. "I sort of put it up for the first 15 holes, and then he deliberately coughed on my downswing on the 16th tee. I still hit a great drive. But I heard it halfway down and I knew who it was. So I turned around and got him chucked out, thankfully." If you know the offender in question, give him a clip around the ear for us.
---
Bonehead … this spectator's day  ended earlier than expected when he "deliberately coughed" during McIlroy's drive on the 16th.
---
Tom Watson is still really good at golf
It's been 31 years since Watson won the last of his five Claret Jugs. He reminded us in 2009 with his near-miss at Turnberry, and again on Sunday, that there is still some damn good golf left in those ageing bones. Having already broken his own record by becoming the oldest player to make the Open cut yet again, 64-year-old Watson shot a four-under 68 on Sunday to finish in a tie for 51st – level with Jason Dufner, five clear of Tiger Woods and seven ahead of last month's runaway US Open winner Martin Kaymer. We'll see him next year at St Andrews for his farewell performance.
Rickie Fowler will win a major
Only three players have scored in the 60s in all four rounds of the Open Championship and failed to win – Ernie Els (twice), Jesper Parnevik and now Rickie Fowler. The 25-year-old posted a 15-under total to finish tied with Garcia for second, an almost mirror result to last month's US Open where he placed second alongside Erik Compton behind tearaway winner Martin Kaymer. Fowler also finished tied for fifth at the Masters, making this a breakthrough year for the former Oklahoma State golfer. Should he continue putting himself in the mix, it seems only a matter of time before he joins McIlroy in the winner's circle.
Tiger Woods at Gleneagles is far from a certainty
A dozen of the USA's best golfers will return to the UK for the Ryder Cup at Gleneagles in September, but it's becoming a real possibility that Tiger won't be one of them. The former World No.1 struggled in his second event back from spinal surgery, limping home with a 75 to finish in 69th place at six-over – his worst major finish as a pro after making the cut. Now Woods faces a real battle to qualify for the season-ending FedEx Cup, meaning his Ryder Cup fate is likely to rest in the hands of Tom Watson. But according to Watson, both Tiger and fellow stalwart Phil Mickelson will be judged on present form rather than past glories. "Everybody is thinking that I'm going to pick them automatically," Watson said. "I can assure you that I'm not going to pick them automatically."
---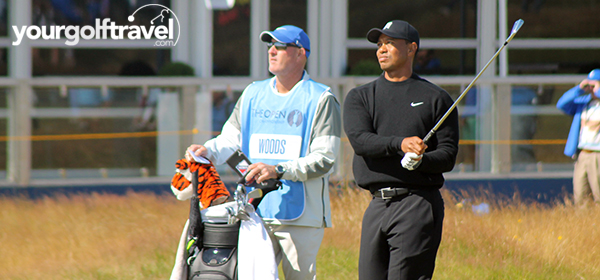 Tom Watson says Tiger Woods isn't assured of a place in the US team for this year's Ryder Cup. Could you pick him on current form?
---
Henrik Stenson's clubs have a poor life expectancy
In September, Henrik Stenson told Golf Digest: "I've lost count of how many drivers, fairway woods and wedges I've murdered." On Friday at Hoylake, he added another victim to the list. Having become entangled with the rough on the 17th and failing twice to reach the green, the big Swede decided to part ways with his gap wedge – snapping it over his thigh, before calmly handing it over to his caddie. The offending wedge joined several others in golf club heaven, including a driver from last year's BMW Championship and a wedge from the 2011 Open at Congressional.
If you've got a golfing prodigy in the family, find a spare £100, your nearest bookie and ask for some odds on them lifting the Claret Jug in the future
OK, so this one is a little bit far-fetched – but wouldn't you love to have shared Gerry McIlroy's optimism when it came to his son's talents? It's been reported that ten years ago, McIlroy snr and three friends placed bets on Rory, then just 15, winning the Open before the age of 26. They are understood to have placed £100 each at around 500/1, with Ladbrokes tweeting on Sunday night that it was paying out £180,000 to the syndicate. Look out for some flash new wheels zipping 'round Holywood.
---
Already excited for next year's Open Championship at St Andrews? You can be there to see Rory defend his title at the Home of Golf – click here to check out our range of newly released 2015 Open tournament packages.