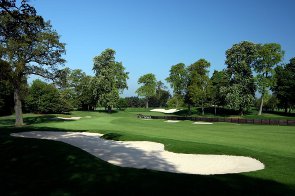 Whether it is the stunning contrasts of desert and mountains in Arizona or the blue azures of the Pacific Ocean framing the North Island of New Zealand, golf has acquired some of the most stunning landscapes upon which we can attempt to master this rather tricky sport. Following extensive research (and eating lots of club sandwiches in various 19th holes), we've come up with our definitive list of 5 holes you have to play, whether you are a seasoned pro or someone who just likes a nice view, these will tick off everything you'd ever need from a golfing bucket list.
TPC Sawgrass, Ponte Vedra, Florida, United States – 17th hole, 132 yards, Par 3

Without doubt, this is golf's most famous par-3. This stunning one-hit-wonder is, on paper at least, a rather simple proposition, at just 132 yards which is typically a wedge or 9-iron for a good player, this should be a great birdie opportunity – BUT golf is never quite that simple. Course designer Pete Dye set about creating the Stadium course in 1980 which was specifically formed for tournament golf. With narrow fairways and large water hazards, the Stadium Course is one of the toughest on the PGA Tour, these attributes should, in theory at least, make the course famous, it is however the stunning 17th hole which causes a stir for all who play it. With a bunker the only respite for anyone missing the island green, this hole causes problems for all who play it. (Including myself…apparently pitching wedge wasn't enough club!)

---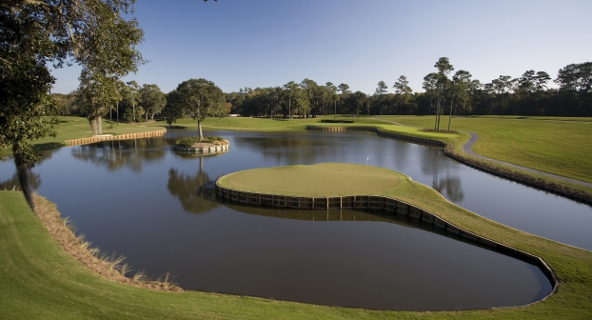 It is estimated that over 150,000 golf balls find their way into the water on this remarkable hole every year.
---
St Andrews Old Course, Fife, Scotland – 17th hole, 495 yards, Par 4

Golf is a sport built on tradition and history. From Old Tom Morris and Bobby Jones, to Jack Nicklaus and Tiger Woods, all of the games greats have walked the fairways at the Home of Golf where there are few holes that inspire and simultaneously strike fear into each and every player to step onto the tee as the par 4 17th, or "The Road Hole", as it is more commonly known.  A lengthy par 4 of 495 yards, this testing hole requires two solid blows to get up near the green but that is the easy part! The famous Road Hole Bunker awaits any shots short of the extremely shallow green while anything long may have to be played back off the wall (see below) on the other side of the tarmac road just over the back of the green. A par here is a real achievement!

---
Miguel Angel Jimenez showing us how it's done!
---
Pebble Beach, Monterey Peninsula California, USA – 18th hole, 543 yards, Par 5

There are few more dramatic holes in golf than the par 5. Long hitters view them as a chance to pick up one if not two shots by bagging an eagle or a birdie so in professional play, and indeed in the amateur ranks, we can expect to see longer hitters going for broke to try and get home in two. However the guys who designed Pebble Beach – two amateur architects named Jack Neville and Douglass Grant – constructed a hole that, while easily being reachable for modern golfers, will strike fear into even the bravest of souls! The crashing waves of the Pacific Ocean run all the way up the left flank of the hole and it doesn't get much better on the right as long, lush rough, trees and bunkers lie in wait for anything missing right. This hole is the epitome of the risk vs. reward par 5 and one of the most beautiful holes in the game to boot.

---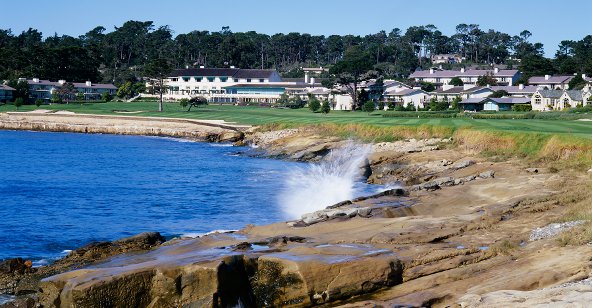 The view from the 18th tee at Pebble Beach can be a daunting one if you aren't "on it" with your driver!
---
Brabazon Course, The Belfry, England – 10th hole, 311 yards, Par 4

Perhaps the only type of hole that can match the reachable par 5 for drama and excitement is the driveable par 4 and The Belfry's Brabazon Course has perhaps the finest of the lot. Measuring 311 yards, this tempting little corker is certainly within striking distance for big hitters but it isn't simply a case of grip it, rip it and see what happens as anyone going for it will have to manufacture a deft cut through a galley of trees and over a treacherous little stream in order to find the putting surface. Pull it off and you're a hero but miss and you could easily run up a double bogey or worse. The temptation, hesitation and drama that this famous hole can produce have been well known to the world since the days of Seve in the Ryder Cup. What will you do when you step onto the 10th tee at The Belfry?

---
Advancements in technology have seen the 10th at The Belfry be extended to 311 yards.
---
Cape Kidnappers, Hawke's Bay, New Zealand – 15th hole, 549 yards, Par 5

There are few courses in the world that could claim to be as visually stunning or dramatically located as Cape Kidnappers in Hawke's Bay, New Zealand.  This three shotter not only requires distance off the tee but accuracy with hazards framing the hole. While some holes rely on a small pond short of the green to protect it, the 15th hole has the Pacific Ocean and 500 foot high cliffs to capture any shot finding itself long or left of the green. Any golfer walking off with a par 5 can count themselves very lucky and I'm sure are very talented (Ed. Yes I did make a par and yes it is on my CV!)

---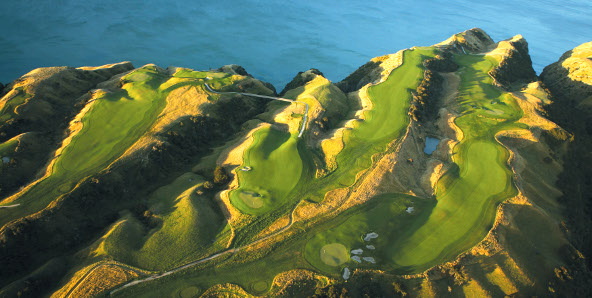 An aerial shot of holes 13 through 16 at Cape Kidnappers.
---
And one more for luck…
Legend Golf & Safari Resort, Limpopo Province, South Africa – Xtreme 19th hole, 437 yards, Par 3

While this hole may not be your classic "great golf hole" you certainly can't argue with the excitement and unique challenge it brings. The tee, some 470 yards above the green, is only accessible by helicopter and by most accounts it takes the ball over 30 seconds to hit the giant Africa-shaped putting surface below. To add to the excitement there is the small matter of $1,000,000 for anyone who bags a hole in one!
PS – Those with vertigo need not apply!

---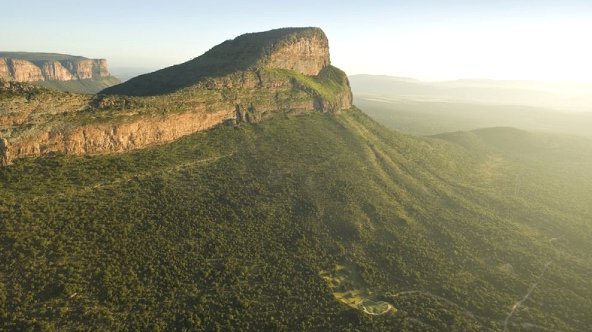 Despite looking rather small in the photo, the green on the Xtreme 19th is a whopper!
---
For information on UK golf breaks, South African golf holidays and American golf tours please visit www.yourgolftravel.com or call 0800 043 6644.
---