Arnold Palmer
Palmer was generally accredited for magnifying the status of the Open Championship throughout the professional golf in America as he was one of the first to make the considerable commute across the pond at a time when there were very few others that did.
He managed to achieve back-to-back wins in 1961 & 62, helping to convince others that it was definitely a worthwhile trip; the competition has since gone on to be one which the Americans have dominated. Perhaps we wouldn't have seen as many Americans competing in the Open if it wasn't for The King.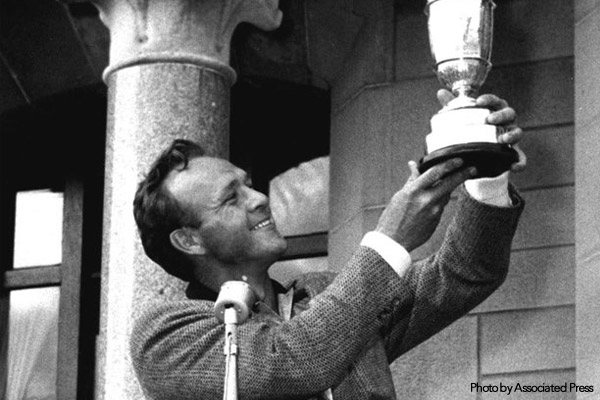 Barry Burn
The famous fast-flowing river that surges throughout Carnoustie – even the 16th is named after it! Its existence has meant disaster for many a golfer over the years; however none have been more memorably than Frenchman Jean Van de Velde in 1999 (we'll get to that later)
Car-Nasty
In the Unites States, Carnoustie has been infamously nicknamed "Car-nasty" – this being down to its legendary difficulty, especially under bad weather conditions. Carnoustie is known by most as the toughest course in the Open rota, and one of the most difficult in the world.
Daly
There have been two Dalys that have won The Open. Firstly, in 1947, there was Fred Daly from Portrush. During his acceptance speech, at Royal Liverpool, he said he was very honoured to receive the Claret Jug and take it back to Northern Ireland. He went on to say that the trophy had never been to Ireland and that he was hoping the change of air would help it.
The second Daly to have won the Open was John, in 1995. His win was one of the most unexpected in major history after winning a playoff against Italian Costantino Rocca at St Andrews. Unfortunately for John he has had to pull out of this year's event due to injury.
Ernie Els
The Big Easy has won the Open Championship two times – the first in 2002 at Murfield (this year's venue) and last year, in 2012, at Royal Lytham & St Annes Golf Club (making him the defending champion going into the 2013 event). The South African is one of the game's true gentlemen and if any player comes alive around Open time its Ernie Els.