After many months of battling through their regions 8 lady golfers found their way to The Algarve to do battle in their quest to become The Algarve Ladies Matchplay Knockout Champions 2015.
Taking place at Oceanico Amendoeira Golf Resort in the Algarve, the Semi-Finals saw pairs from Aldwickbury Park in Hertfordshire, Tewekesbury Park in Gloucestershire, Langland Bay in Swansea and Manchester Golf Club in Lancashire play an 18 hole match on the 5,766 yard Par 72 O'Connor Course for a place in the final.
Some photos of the teams at taking part in the Algarve Ladies Matchplay Knockout at Oceanico Amendoeira
The line ups were;
The Mops from Tewkesbury Park
Glo Slatter – 14 Hcap
Fiona Hudman – 9 Hcap
Team Golfy Jolfy from Langland Bay
Gillian Lennox – 9 Hcap
Joanna Bond -14 Hcap
Aldwickbury Park Ladies from Aldwickbury Park
Linda Reeve – 14 Hcap
Elaine Meagher – 6 Hcap
NW Birdies from Manchester Golf Club
Tracy Capal – 16 Hcap
Louise Aspden – 11 Hcap
Semi Final Results
Aldwickbury Park Ladies beat NW Birdies from Manchester by 4 & 3. Team Golfy Jolfy from Langland Bay beat The Mops from Tewkesbury Park had a very close match with the winners being decided on short par-3 17th Hole.
The Semi Finalists prior to their round on the O'Connor Course at Oceanico Amendoeira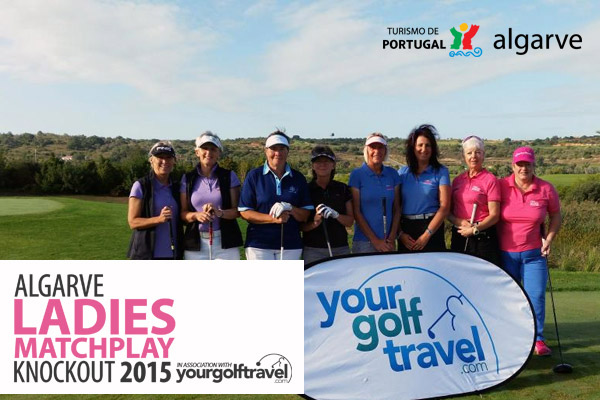 Gillian Lennox of Langland Bay Golf Club
[quote]Very excited to be through to the Final. One step closer to playing with Darren Clarke![/quote]
Who will take the title?
The Final is set for Tuesday 13th October between Aldwickbury Park and Team Golfy Jolfy with a chance to win the title and also a round with the 2016 Ryder Cup Captain Darren Clarke.
Champions hailing from Hertfordshire
Taking the title was Aldwickbury Park Ladies who won their match against Team Golfy Jolfy 2 up. The losing finalists went onto add "It was a fantastic round, possibly the best match we have ever played. We never made it up, kept being all square and just missed out."
For more information on the Algarve Ladies Matchplay Knockout and how to enter next year, please click here