Looking for your next UK golf holiday destination? We have come up with an essential guide into Q Hotels golf breaks, giving you an insight into some fantastic golfing destinations where you could be heading on your next UK golf holiday. The Q Hotels group was founded in 2003, and since then the group has experienced incredible growth, now  boasting 26 hotels across the country. We now take a closer look at all the fantastic golf courses including a 6 time European Tour host and a Seve Ballesteros & Dave Thomas designed course. Not just only the courses, we will also tell you what there is to do away from the course along with some very useful travel tips.
Slaley Hall
Northumberland, North East
Slaley Hall is rightly considered one of the top golf courses in the North East of England having been a 6-time European Tour host. With the likes of Lee Westwood, Retief Goosen and Colin Montgomerie amongst past winners, the Championship quality of The Hunting Course is clear for all to see who take on the challenge offered.
The par-72 layout has a wide range of tees from the Championship markers which brings the course in at an intimidating 7,088 yards, including the 463 yard par-4 finishing hole, for those looking for a slightly less challenging time opt for the Yellows which brings the course back down to 6,530 yards which still commands a SSS of 71 against the par of 72.
Whilst The Priestman Course might not have the same tournament credentials of its longer brother, the course does provide an enjoyable round as part a golfing break with total yardage of 6,951 off the back tees against a par of 72.
Slaley Hall is only 30 minutes by car from Newcastle International Airport and around 40 minutes from Newcastle city centre, perfect for those seeking a great night out during their golfing break to the North East of England.
[list type="arrow_right"]
Quad Biking
Indoor Swimming Pool
Late Night Bar
Clay Pigeon Shooting
[/list]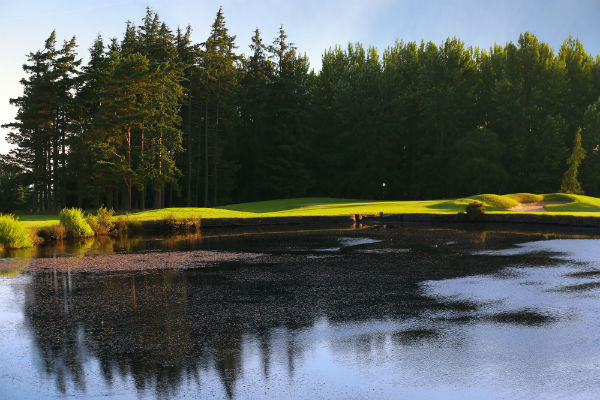 Westerwood Hotel
Glasgow & Ayrshire
Designed by the late great Seve Ballesteros and Dave Thomas, The Westerwood Hotel and Golf resort contains a magnificent par-72 course that winds it way through silver birches, imposing firs and the heather that is so typical of Scotland, and is without doubt one of Scotland's best hidden gems.
The standard yellow tees are 5,874 yards, but for the more experienced golfer the black tees measure a challenging 6,307 yards which doesn't sound much but mustn't be underestimated. The course boasts stunning scenery with many holes overlooking the Kilsyth and Campsie hills.
There are many fantastic holes on the course but perhaps the greatest hole is the par 3 15th. Created by Seve and known as the 'Waterfall hole' you hit from above, down towards a green surrounded by a 60ft rock face. This hole is one for the brave and the undulating greens certainly test your skills to sink those putts from a few feet out.
The Westerwood Hotel is located about 30 minutes from Glasgow airport and around 20 minutes from Glasgow city centre. It is also possible to charter a private plane and fly into Cumbernauld Airport which is just 6 minutes down the road from the Westerwood Hotel.
[list type="arrow_right"]
Tennis Court
Spa
Gymnasium
Indoor Swimming Pool
[/list]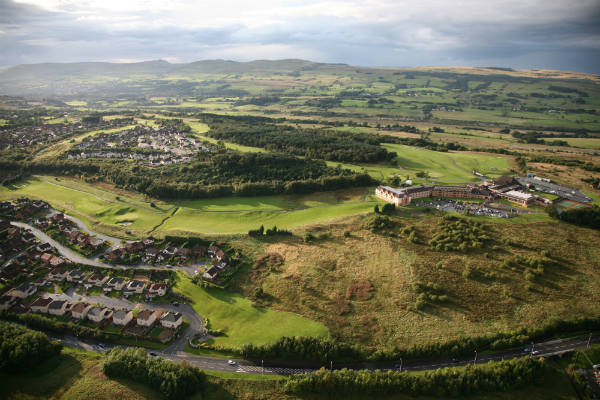 Aldwark Manor
North Yorkshire, North East
Located in the Vale of York and with the River Ure cutting straight through, golf at Aldwark Manor is always an enjoyable experience. This par 72 course is not one to be underestimated however with lots of water hazards and downhill shots. The course is set in 120 acres of parkland around a 19th century manor and so provides stunning views everywhere you look.
Despite only being 6,187 yards long this course is certainly not a boring one. There is a running theme of risk/reward holes, including the 10th, where hitting the green in two requires a quality long shot over water. When you reach the 18th hole there is no respite as you are faced with a par 3 over water to a target green that requires a lot of concentration.
York is the nearest city to Aldwark manor as it is only a 30 minute drive away. Aldwark Manor is located about an hour north of Leeds by car. If you would prefer to fly to Aldwark Manor you can fly into Leeds-Bradford Airport and then it is around a 45 minute drive.
[list type="arrow_right"]
Indoor Swimming Pool
Spa
Award Winning Restaurant
Gymnasium
[/list]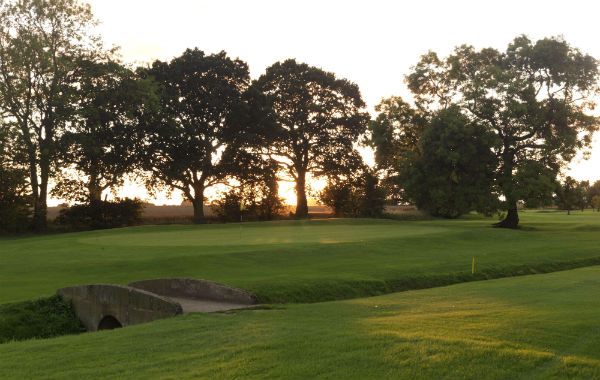 Telford Resort
Shropshire, West Midlands
Designed by renowned architects John Harris and Brian Griffiths and the setting of Ian Woosnam's first professional tournament win this 18 hole championship course is certainly one to visit. The course is located in the beautiful Shropshire countryside and set across 170 acres of picturesque parkland overlooking the Severn Valley and Ironbridge Gorge.
With a total length of 6,741 yards, this course certainly doesn't lack length. With tree-lined fairways, strategically placed water hazards and undulating greens laid on a suspended water table system this course has features that are similar to that of Augusta, home of the US Masters.
The Telford Resort also boasts great facilities for someone wishing to practice their golf before a big round. The resort has a chipping green, driving range, 2 putting greens and a practice bunker. The course's signature hole is the 8th, a 382 yard par 4. A good drive is a must when tackling this hole to ensure that you reach the safety of the fairway avoiding the two bunkers on the way. After this you must negotiate the water hazard in order to reach the safety of the green creating a brilliantly tough hole!
The Telford Resort and Hotel is just a 45 minute drive from Birmingham City Centre. If you wish to fly, the best option would be Birmingham Airport which is just under an hours drive from the Telford Resort. Telford Central station is only a 10 minute drive from the resort and so provides an easy option should you wish to take the train.
[list type="arrow_right"]
Gymnasium
Spa
Indoor Swimming Pool
Driving Range
[/list]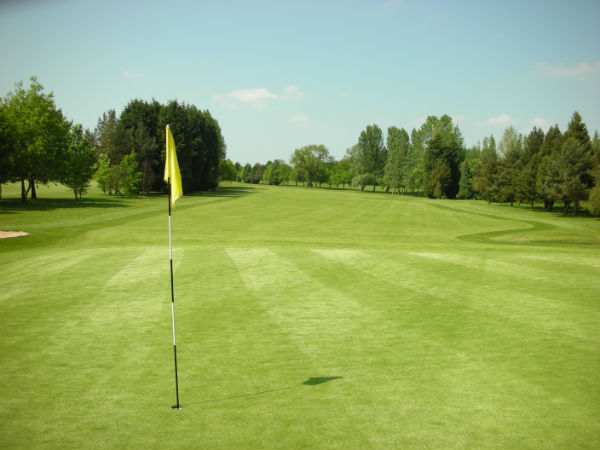 Hellidon Lakes
Northamptonshire, East Midlands
Staying true to its name, Hellidon Lakes has no fewer than 16 lakes acting as the jewels in the 220 acre crown. This par 72, 6,187 yard 18 hole championship course will challenge even the most competent golfer as there will always be a temptation to take a risk and take on a tricky water hazard when there is likely to be a safer easier option.
Other than the 18 hole championship course, there is the additional valley 9 hole course to complete the full 27 hole experience. There is also two putting greens and plenty of practice ground to fulfill the needs of any golfer wishing to perfect their game before attempting the course. In addition to the golf, Hellidon Lakes boasts excellent facilities including a Leisure Club, Spa and 106 spacious bedrooms. Hellidon Lakes is not only the perfect choice for a day out on the course but also for a fantastic golf break with friends, family or colleagues.
Hellidon Lakes is located around 1 hour southeast of Birmingham by car. If you wish to fly, your nearest airport would be Birmingham Airport and Hellidon Lakes is about a 45 minute car journey away from the Airport.
[list type="arrow_right"]
Tennis Court
Award Winning Restaurant
Spa
Croquet
[/list]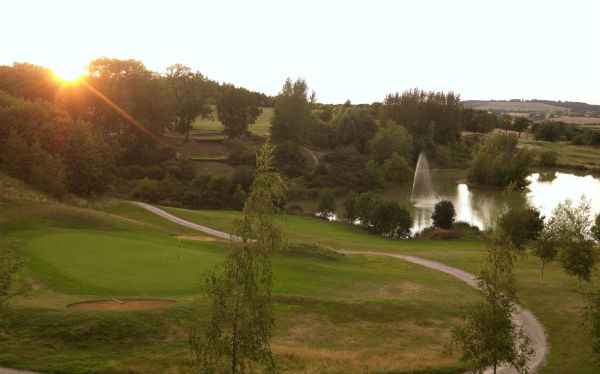 Forest Pines
Lincolnshire, East Midlands
Forest Pines is one of the most beautiful settings to play golf in Yorkshire and Humberside. Located in Lincolnshire and designed in amongst the towering pines, this 27 hole golf resort is up there with the best. Boasting one of the best championship golf courses in the country and an outstanding health club and spa it's fair to say that this hotel has it all.
As golfing venues go, the 27-hole Forest Pines Hotel & Golf Resort course is up there with the best and it has been rated one of the leading UK winter courses plus it has hosted numerous competitions including the R&A Boys Home Internationals, British Blind Open and the PGA Fourball Championships 2009 – 2013.
The three 9 hole courses combine to create three challenging 18 hole courses. The Forest/Pines course registers at par 73 and has a credible yardage of 6,859 yards from the back (white) tees. However for less of a challenge, the yellow tees offer a yardage 5,781 yards. The Pines/Beeches course comes in at par 72 and the white tees offer a comfortable distance of 6,670 yards. The Forest/Beeches course would be best suited to a less experienced golfer as from the back tees the total yardage is 6,393 yards and a total of par 71.
Forest Pines is located about an hour east of Sheffield. The closest airport is the Robin Hood airport in Doncaster, which is about 40 minutes away by car.
[list type="arrow_right"]
Gymnasium
Indoor Swimming Pool
Driving Range
Private Dining
[/list]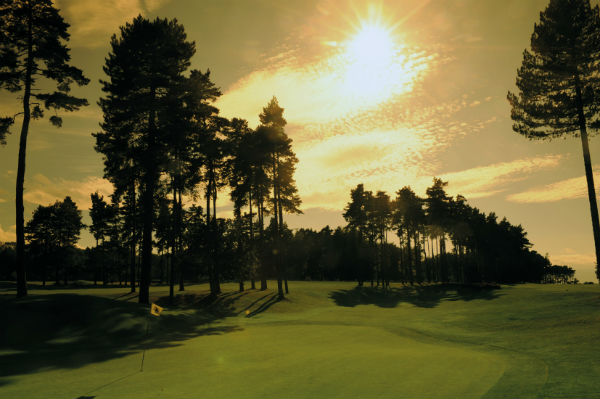 Belton Woods
Lincolnshire, East Midlands
The three challenging courses and outstanding facilities at Belton Woods mean that you will struggle to find anywhere else in Lincolnshire or even the East Midlands like it. Despite only being established in 1991 the golf courses at Belton Woods have matured and improved year on year to produce three of the best courses in the Midlands. With 45 holes of golf over 3 challenging and beautiful courses Belton Woods is a golfing haven.
The feature course at Belton Woods is the Championship Lakes course. Boasting long holes, tight fairways and, as the name suggests, numerous water hazards, this is an extremely challenging hole for any golfer. The other 18 hole course at Belton Woods is the beautiful Woodside Course. With its gentle undulating fairways it makes experience of the course key to scoring well. This challenging course follows the path of the many wooded areas surrounding the resort and to catch you out there are a number of newly constructed pot bunkers.
Belton Woods is located around an hour and a half north of Birmingham. Birmingham provides all the main transport links for Belton Woods, be it by Train or Plane.
[list type="arrow_right"]
Quad Biking
Clay Pigeon Shooting
Indoor Swimming Pool
Tennis
[/list]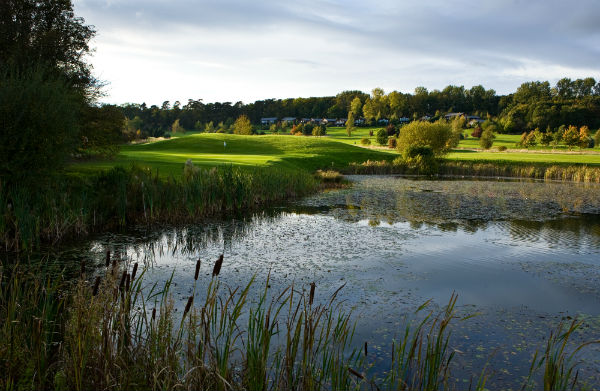 Dunston Hall
Norfolk, East England
Located right in the heart of Norfolk, Dunston Hall is a simply stunning place to play golf. At 6,275 yards, Dunston Hall is long enough to test even the best golfers but it is very playable for golfers of every standard, making it perfect for groups and families looking for a beautiful spot for a golf and leisure break.
If you are feeling a little rusty then Dunston Hall has the perfect answer. The 22-bay driving range is the perfect place to practice or to warm up before going out to play a round. If you happen to be out of inspiration to play, I'm sure that Dunston Hall's best hole, the par-4 16th, will tempt you out. A tough hole and certainly not one for the faint hearted. A hole where your approach shot must be well struck to carry the lake that guards the front of the putting surface, something about hitting over water brings a sense of excitement to golf.
The par 71 USGA rated course beautifully maneuvers around the whole estate. Magnificent parkland fairways dotted with trees and strategically placed bunkers, plus a 22 bay floodlit driving range. This is golf at its best. Dunston Hall offers you an all round golf experience in fabulous surroundings.
Dunston Hall is located around 15 minutes outside of Norwich by car. The nearest airport to Dunston Hall is Norwich International Airport located around 30 minutes north of Dunston Hall.
[list type="arrow_right"]
Nearby Beaches
BBQ
Indoor Swimming Pool
Gymnasium
[/list]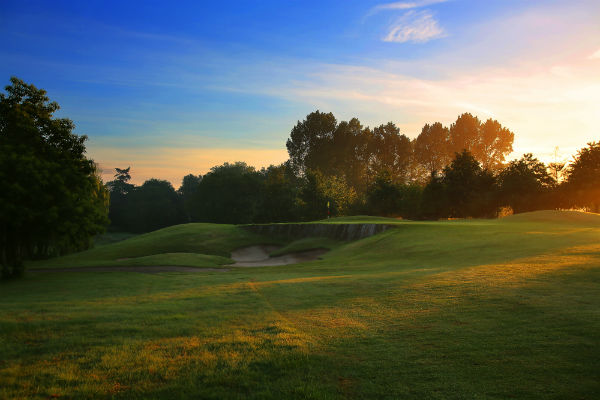 Mottram Hall
Cheshire, North West
Set in 270 acres of Cheshire's finest parkland, the Mottram Hall Championship golf course is located one mile from the village of Prestbury. In 2013 Mottram Hall hosted the European Senior PGA Championship. The wonderful Championship Course stays open all year round and encourages golfers of all abilities. Mottram Hall will most certainly fulfill your needs whether you are just looking for membership, society days, corporate days and more.
Mottram Hall also has some fantastic facilities on offer. In the last few years, the Clubhouse and Halfway House have opened and there are plenty of fantastic facilities on offer to make your round of golf that much better. These features are all part of a £1.5million refurbishment of the golfing facilities.
The 7,006 yard, 18 hole, par 72 Championship golf course is a wonderful example of how a golf course can be split up into a tale of two nines. The whole course provides wonderful parkland fairways dotted with oak and beech trees and tricky well guarded greens. The front nine, in view of the spectacular 18th Century Hall, gently rolls over soft meadowland and provides the golfer with some chances to score well. The back nine however winds through the woodland and provides the golfer with a much tougher test of their ability.
Mottram Hall is located around 30 minutes south of Manchester by car. If you were travelling from further afield and preferred to fly, Mottram Hall is only 15 minutes by car from Manchester International Airport.
[list type="arrow_right"]
Snooker
Gymnasium
Indoor Swimming Pool
Private Dining
[/list]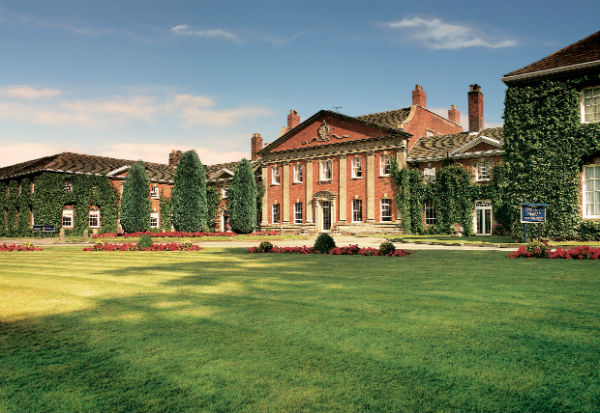 Oulton Hall
North Yorkshire, North East
Located in Yorkshire, Oulton Hall pays homage to its wonderful designer Dave Thomas. Thomas's layout for the course takes in the natural undulations of the land but he has incorporated different permanent aspects of the landscape to create hazards. The greens are unforgiving at Oulton Hall, the thing that makes them extra tough is just how subtle they are and therefore they create a good challenge, whilst keeping the course playable for people of all standards.
The course is always in a great condition and is a great test for all abilities. Whether you plan to play a round on the fantastic 27 hole golf complex or practice and perfect your game at the North of England's leading golf performance academy, Oulton Hall really does have everything you need to have the golf experience of a lifetime.
Oulton Hall is located just 15 minutes by car from Leeds. If you live too far to drive or simply want quicker travel, Oulton Hall is only 30 minutes from Leeds-Bradford Airport.
[list type="arrow_right"]
Late Night Bar
Family Suites
Spa
Indoor Swimming Pool
[/list]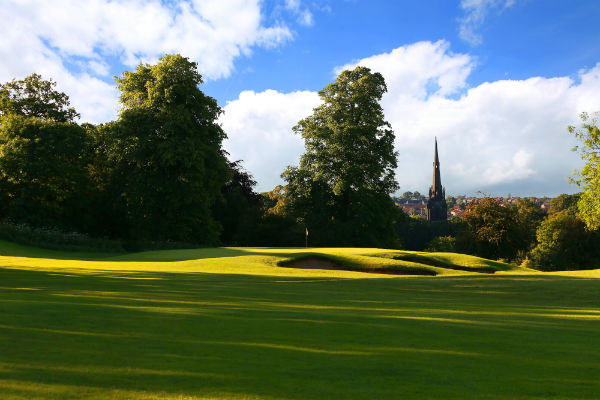 ---