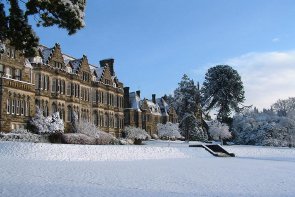 We all love to escape for a well deserved weekend of golf, pampering and over indulgence but for those with "a better half" it can often be difficult to drop everything and leave them in the lurch for a whole weekend without incurring some serious "I owe you points"! Thankfully, there are plenty of places in the UK & Ireland where golfers and non golfers alike can enjoy a few days of peace and quiet. With such venues in mind we thought we would ask a guy from yourgolftravel.com and a gal from Spabreaks.com for their take on one of the finest country retreats in England, Ashdown Park. Read on to see what they had to say…
What did you like most about Ashdown Park?
She says: The building and the grounds – they are beautiful.  The venue is an old nunnery and although the spa area is new the place as a whole retains that historic vibe.

---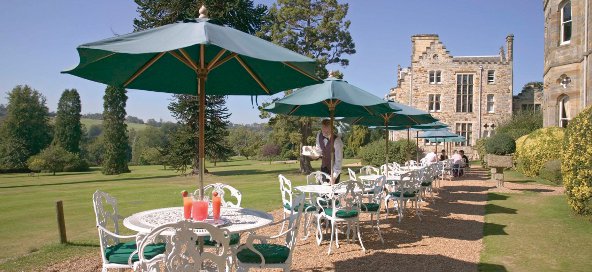 Ashdown Park is a quintessential British country rereat and the perfect place to enjoy a weekend break.
---
He says: It felt like a real country retreat – it's peaceful and is a proper getaway. It's formal without being stuffy, just about right.
What did you think of the spa?
She says: The spa itself is quite small so if you are looking for a specialist venue then it isn't for you.  However, it is a newly designed barn-style addition to the main building which complements the long-standing architecture – it is intimate and very romantic and a lot of care and attention has been paid to the treatments.  They use their own product line – I had a full body massage, and for a supplementary fee can choose a specific oil from their collection – all of which smell out of this world; I had the 'New Beginnings' oil, and it was extremely refreshing!

---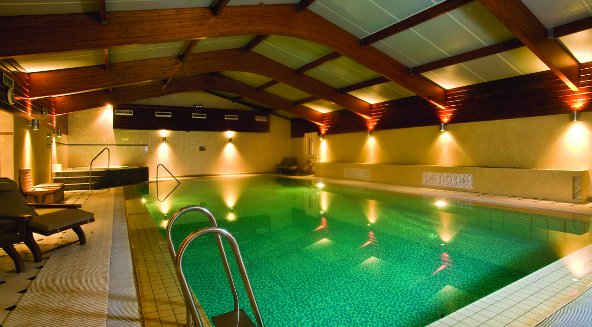 The Spa at Ashdown is the perfect place to unwind after a round of golf, whether its nine holes on-site or a full 18 at the neighbouring Royal Ashdown Forest.
---
He says: The pool's great and there was also a sauna, ideal for the post-golf wind down. The spa and leisure is all encompassed in the same area, just a short walk from the main hotel entrance so it was a breeze getting in and out.
What did you think of the golf course?
She says: When you drive up to the mansion you wouldn't think there was a golf course – it blends into the surrounding environment which adds to the rural sense of the place (it is surrounded by 186 acres) – but it also adds an extra dimension to the activities and includes a small driving range as well.

---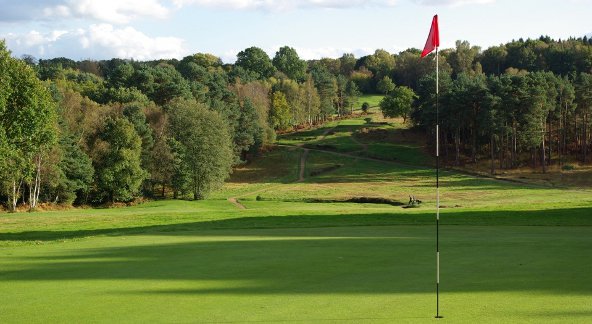 Royal Ashdown Forest is one of the finest traditional English golf courses around. Golfing purists will enjoy a warm up knock at Ashdown Park before a full round here.
---
He says: This is a pretty unique golf destination that can serve the needs of the serious golfer and the novice in equal measures. At the hotel itself, there is a small nine-hole course that's really entertaining and makes great use of the phenomenal estate grounds. And if you're a more skilled player, you have the option of adding golf at neighbouring Royal Ashdown Forest which is a top class championship venue.
What was the restaurant like?
She says:  There is one dining room at Ashdown Park, and the food is outstanding.  They are small portions, but it is very rich and very filling, and they are particularly good at catering to a wide variety of tastes and dietary requirements.  I went with someone who is quite fussy and there are a lot of things she can't eat, but even she was happy with the menu!

---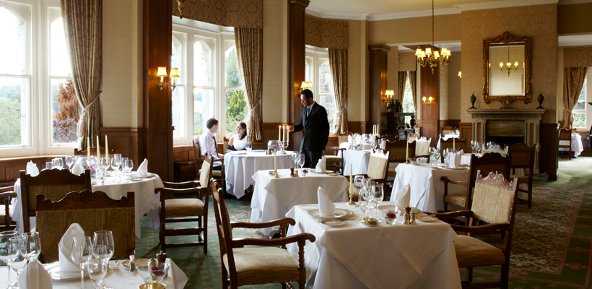 Dining at Ashdown Forest is an elegant affair.
---
He says: There's a fantastic feeling of ceremony in the main restaurant at Ashdown Park – very traditional service matches the food which is classical and rich. Make sure you take time to enjoy one of the superb cocktails at the bar before you sit down to eat.
What else is there to do at Ashdown Park?
She says: It's all about relaxing and enjoying the scenery.  The grounds are extensive and the Secret Garden is a beautiful place to go and contemplate things.  With lots of outdoor spaces they often have barbeques outside in the summer as well!

---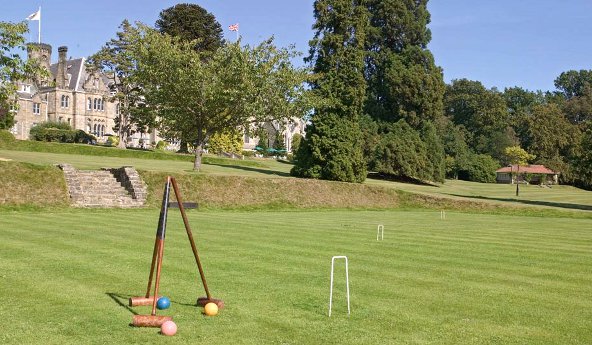 There are plenty of things to do and see in and around Ashdown Park during your time away from the golf course.
---
He says: Take the chance to explore the New Forest and the lovely surroundings, not just in the hotel grounds themselves, although they really are glorious.
Would you recommend going there?
She says: Definitely – particularly for couples or groups of women – it's ideal for a relaxing break … they have often played host to Tom Cruise, Tom Jones and the Travoltas – if it's good enough for them …
He says: Absolutely. It's really well suited for couples where one plays golf, or maybe just a really relaxing getaway.
What's your top tip for visiting Ashdown Park?
She says: Spend some time in the Secret Garden; when we were staying, there was a man who goes three or four times a year and after breakfast goes and thinks in the garden for the whole day – it was somewhere he used to go with his wife, so he goes back to remember her … it's a beautiful place!
He says: Make the most of your time by getting there early on your arrival day and don't feel in a hurry to leave. The hotel has some lovely lounges and reading rooms – with open fires during the winter – which are the perfect place to chill out.

---
Click here to learn more about Ashdown Park spa break packages.
---