Wales' status as a reputable golfing destination has, without question, been on the rise in the last ten years or so due to the addition of some world class tournament venues, and the following 2010 Ryder Cup at the Celtic Manor. However there is a wide array of golfing destinations in Wales, each with their own characteristics and contrasting values. So to help you to decide where you should visit on your next golfing venture to this fascinating Celtic country we've taken a look at one of its most dramatic areas – The West North Coast.
There are over 60 courses in the North Wales, many of which have a long history, and its often said that is has some of the best value green fees in Europe. What's the catch? There isn't one…and don't be thinking you'll have to sacrifice quality.
The North Coast of Wales is a magnificent destination for a golf break. The picturesque coastline is just a short drive from Liverpool and has easily accessible transfer links to the rest of the Northwest of England. Not only is the North Coast perfect for golf but there are also a whole host of other fantastic activities, including walking, cycling, fishing and watersports. As well as this there are also numerous breathtaking beaches and splendid areas of countryside to explore.
So let's take a look at a couple of the golfing highlights the North Coast of Wales has to offer:
First off is Royal St David's Golf Club, which is perhaps not the most easily accessible golf course to rank in the world's top 100, but its position is truly justified thanks to its unbelievable layout. Located in the impressive Harlech, Royal St David's echo's the natural qualities of the local land and has hosted a number of amateur and professional tournaments.
---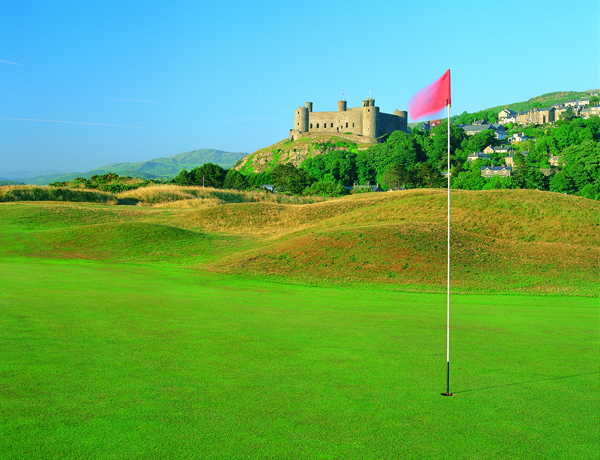 The forbidding medieval Harlech Castle and towering sand dunes guard Royal St David's.
---
The links itself is nestled between majestic hills and the Irish Sea, and is a course which is admired across the world. At only 6,500 yards, St David's plays to a par-69 which will provide a stern test for even the most seasoned golfers. The course combines a mixture of narrow fairways, penalizing rough and well protected greens to provide a great test of golf for all who head to the Welsh coast.
Secondly we have one of the UK's best kept secrets – The Old Course at Nefyn & District Golf Club; it manages to rival almost anything in regards to its truly outstanding location. The golf course has been proclaimed by many as the "golf course on the edge of the world", as it lies on a small headland that shoots out from the Lleyn Peninsula into the Irish Sea.
Likewise to Old Head at Kinsale, Nefyn & District provides its golfers with stunning sea views on three sides from the headland – thus the biggest challenge of your round will be keeping your eyes on the course. The course was originally just a 9-hole course, however further holes were added by the famous architectural duo of James Braid and J.H. Taylor, and now boasts 26 holes. Uniquely, Nefyn has an outward ten holes and then the option of two different inward sets of eight, which helps to make Nefyn even more memorable.
---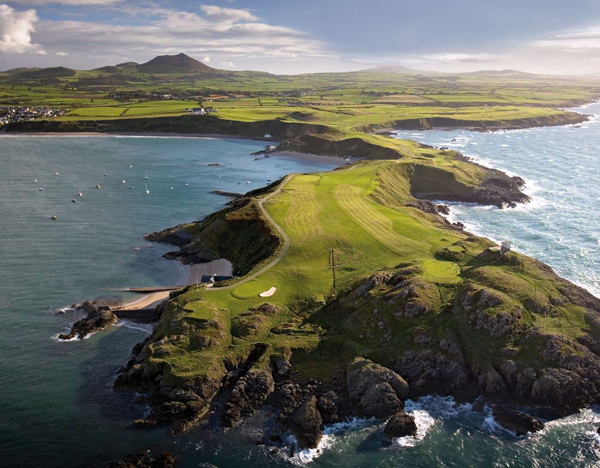 There are only a few courses in the world that you can see the sea from every hole, and Nefyn is one of them.
---
Heather, blind drives and daunting bunkers will await the daring Nefyn golfer, who on a clear day may be able to catch a glimpse of the peaks of Wicklow Mountains across the Irish Sea. You will be hard pressed to find a more amazing place to play links golf in the UK.
For information on the North West Coast of Wales and other UK & Ireland Golf Breaks please visit www.yourgolftravel.com or call free on 0800 043 6644.
---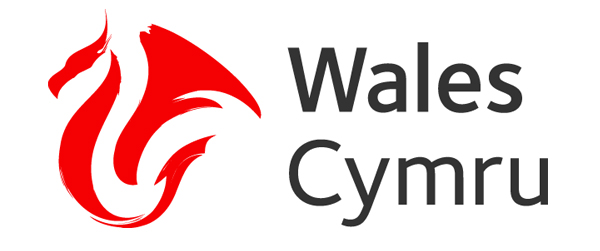 ---