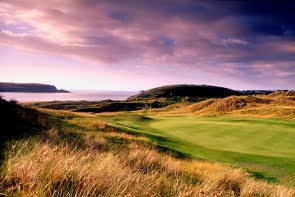 Although Scotland and Ireland are perhaps more famous for their collections of truly astonishing links courses, the likes of which include Turnberry and Ballybunion, England has a fair few of its own; especially in certain hotspots that often see the oldest of all golf championships, The Open Championship, pay a visit every few years.
The Kent coastline boasts the toughest track of them all, Royal St Georges, and a host of other top class courses that are within a stone's throw of the famous Sandwich monster, namely Royal Cinque Ports and Princes Golf Club which are both former Open Championship hosts.
The Southport area however, is perhaps the greatest English golfing hotspot of them all with championship classics including Royal Birkdale, Royal Lytham & St Anne's and Royal Liverpool, and lesser known gems such as Formby and Hillside all within a stone's throw of each other.
While these two areas of English coastline are currently hogging all of the Open Championship hosting, there is a lot to be said for the collection of courses in the South West of England, some of which are said to be the best courses never to have hosted an Open Championship.

---
The fine pedigree of the courses that comprise England's Atlantic Links has once again come to the fore as Saunton in North Devon has been announced as the host for the 2014 English Amateur Championship. Saunton boasts not one, but two championship links courses – The East and The West – both of which are recognised as two of the finest courses in the UK. This comes as no surprise as Saunton has undeniable quality and has already hosted a plethora of top amateur championships including the 1997 British Boys Championship which saw a certain young Spaniard by the name of Sergio Garcia claim the title. England's most successful golfer, Sir Nick Faldo, has also lavished praise on Saunton's East Course. Faldo once said,"I've no doubt if the East Course were located on the coast of Lancashire or Kent it would have hosted an Open Championship by now."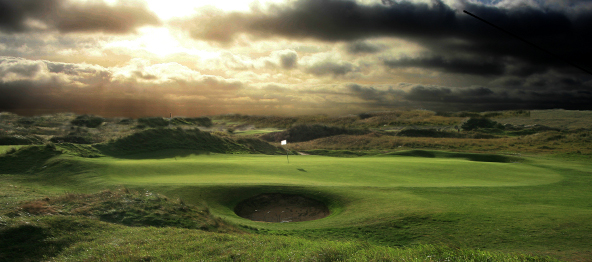 Of course Saunton isn't the only major golfing attraction on the Southern Atlantic coast of England. Somerset's Burnham and Berrow, Trevose and the stunning St Enodoc of Cornwall have all hosted important amateur events over the years and the oldest links course in England, Royal North Devon, is a throwback to golf of yesteryear which is overflowing with history and tradition. In fact, Royal North Devon will be hosting the World Hickory Championships in 2014!

---
Since hosting the 1906 Ladies British Open, this Somerset gem has hosted more than 40 national amateur championships, most recently staging last year's R&A Boys Championship and Brabazon Trophy. This is testament to the quality of the championship layout that awaits golfers visiting the South West of England.

This phenomenal club can trace its roots back to 1891 when it opened as a nine-holer. It was soon extended to 18 holes and over the next couple of decades was honed and improved by a succession of great architects of the day, including Herbert Fowler, Harry Colt, Harold Hilton and Dr Alister Mackenzie, designer of Augusta National. No surprise then, then that the Championship Course here is held in such high regard by golf's powers that be and the golfing public who flock to play here year after year.

---
The Championship Course at Trevose is the club's main attraction and is arguably the best example of a hidden gem anywhere in England. It is strange to think this course is still relatively unheard of considering its championship pedigree having also hosted the Brabazon Trophy amongst other top amateur events. Trevose is yet to disappoint as a championship venue and this year it will give the up and coming stars of English golf a taste of the big time at the Under 16 English Open Strokeplay event.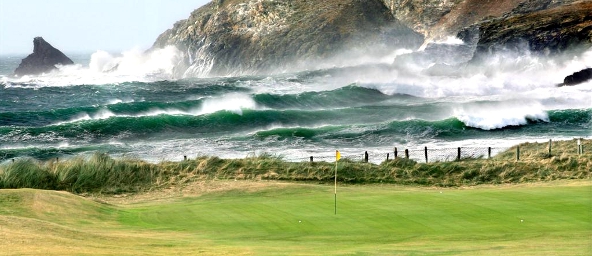 I addition to the spectacular Championship Course, Trevose also boasts two excellent nine hole loops making it an ideal destination for a weekend golf break.

---
St Enodoc may not have hosted as many tournaments as its illustrious neighbours but staging the English Ladies Close Championship, English Ladies Amateur Championship and the English Counties Championship is enough to prove its championship pedigree.

Like Saunton St Enodoc boasts two fantastic links courses, The Church Course and the Holywell Course, which make it an outstanding option for a weekend golf break. Both courses, designed by James Braid, are very much in the mould of your quintessential links course but have unusual features that make them really stand out as a unique test on the Atlantic Coast. Located near an estuary means the course has a couple of water hazards – very unusual for a links course as long as you don't count the ocean as an on-course water hazard! – and at various stages of the round the course is also populated by some towering pine trees, uncharacteristic for a seaside course, which add definition to the landscape and create a backdrop for some of the superb greens.

---
Whilst Royal North Devon may only have staged amateur competitions at county and regional levels, such as the West of England Strokeplay every other year, the uniqueness and history of the course complements the other Atlantic Links courses well.
Founded in 1864, Royal North Devon is the oldest golf links in England and is widely regarded as the St Andrews of England. Set on common land on which livestock still graze, a round on Royal North Devon is a representation of the game as it was played in Victorian England.

Royal North Devon was originally laid out by Old Tom Morris and subsequently revised by Herbert Fowler, and is a quintessential seaside course. That is, its character is totally dependent upon the land. From the traditional clubhouse, the view of the course is an array of dunes and brambles, with little to suggest a championship standard golf course. However the reality is much different, as Royal North Devon is a gem; any good tour of the fantastic golfing landscape of Devon should certainly include a stop at the remarkable Westward Ho!
As part of its 150th birthday celebrations, RND will stage the World Hickory Championships as well as the English County Finals in 2014.
Although the famed Open Championship is yet to pay the South West of England a visit, the championship pedigree of its links courses is clear to see and with the support of golf's leading names, such as Sir Nick Faldo, it is surely only a matter of time before it does. Either way, golfers looking to sample the joys of England's Atlantic Links could do worse than to embark on a golf tour that takes in Cornwall, Devon and Somerset.

---
For information on Devon Golf Tours and Cornwall Golf Tours please visit www.yourgolftravel.com or call 0800 043 6644.
---