[dropcap]As[/dropcap] I trudged with my old Callaway bag over my shoulders towards the driving range to dust a few cobwebs off my clubs before heading out onto Goodwood's spectacular Down's Course, there was already a figure going through his routine, confidently and accurately pinging golf balls right at his intended target.
That was when I was introduced to Darren Wright – the golfer who sits at the top of the EuroPro Tour order of merit and the man I was about to share 18 holes with. As a golfer who enjoys the odd round once or twice a month, content with my 15 handicap, I felt a mixture of nerves and excitement just hoping I could make my way round limiting myself to losing a maximum of three golf balls on this incredibly challenging course.
Unsurprisingly his tee shot on the par-3 first found the green – mine was hooked into the trees on the left. It had all the makings of being a long day.
After three holes, the nerves eased and the game slowly came together whilst Wright was constantly finding the short stuff. "I got to a plus one handicap when I was 15 so when you get past scratch it was when I realised I had a real bit of talent for the game," he said as another putt rolled into the back of the cup.
From hitting plastic clubs in his back garden to finding his way into the England squad as a 17-year-old and then finally turning pro, Wright is currently reaping the rewards for his hard work and dedication towards the game.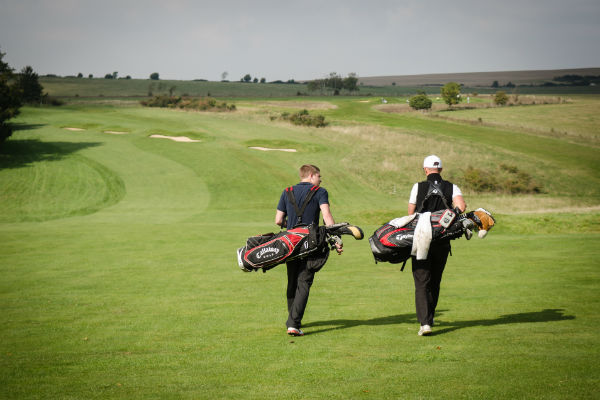 "I didn't really have anybody to look up to as a youngster. My mum and dad were a big support when I was younger but it was myself really and the love of the game that inspired me.
"If you put in the effort and dedication then that's what will drive you forward."
This season has been Wright's finest in his career. With earnings of more than £28,000 to his name on the EuroPro Tour including a £10,000 first prize win at Burhill last May, Wright has already guaranteed his spot on the Challenge Tour next year as well as earning a spot for Qualifying School as he aims to compete for big prize money on the European Tour.
[quote]"In previous years I have won events as a professional but I have not put a whole season together. This is the first year it has really come together and it has been really enjoyable because I have performed as I know I could."[/quote]
Before all of that, there is one more tournament to play – the Desert Springs in Spain starting on 28 October with a £20,000 prize fund for the winner. For Wright who is dressed by golf fashion retailer TRENDYGOLF.com, it hasn't all been plain sailing earning a living playing golf after spending seven months labouring through the winter.
"People say don't think about the money but it is hard not to think about it especially when it is double the money in the last event. Financially it will be massive for me because I don't have any sponsors and nobody helps me out. I've had to do it all on my own this year after labouring in the winter for seven months so it will be a big bonus if I can go on and win that.
"It's great to say you've won the Order of Merit and hopefully sponsorship-wise it can open a few doors and maybe some invites on the European Tour but it is mainly confidence for me.
"With European Tour school a week after the final event in Spain, I can go into the European Tour school with a load of confidence and that can change your life. If you get a European Tour card then you're not just playing for £10,000 every week you're playing for hundreds of thousands and million pound purses."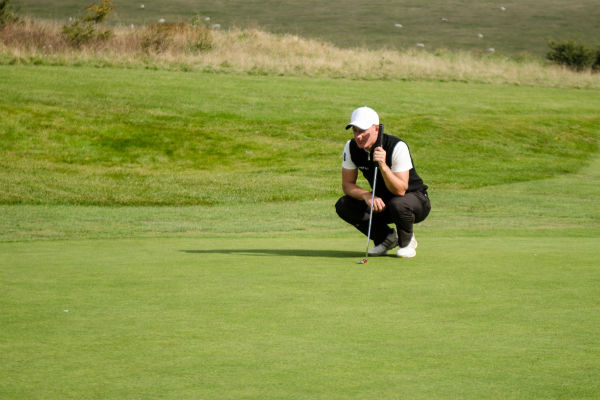 So how does a man, who spent hours painting and decorating to fund his golf career, mentally prepare himself for a £20,000 putt?
"At Burhill I had two putts for the win on the last hole and the greens were really quick. I had a 30-35 foot putt and I left it six feet short, downhill and left to right – probably the toughest putt you want for £10,000.
"All I've got going on in my head is 'I've been working for £75 a day labouring, painting and decorating for seven months and all of a sudden I've got a six-footer downhill for 10 grand'. All I did was think about where I was going to start the ball, get it rolling on line for the first foot or so and just hope that it falls in the hole. As long as you go through the routine and try your best, if it goes in it goes in."
As we approached the 18th green at Goodwood, it was clear that Wright had the confidence in his ability to make a name for himself not just on the Challenge Tour but on the European Tour too.
He finished with another par. Me? I finished knowing that I only lost one golf ball. A successful day all round.
Follow Darren's progress at www.europrotour.com and visit www.trendygolf.com for the latest golf fashion