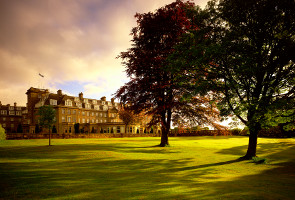 With respect to the world class golfers who strutted their stuff at this year's Johnnie Walker Classic there was a lot more glitz and glam on display this week at Gleneagles when 122 women contesting the 2011 Miss World pageant stopped off to hone their golfing skills with a bit of putting and a session on the driving range. The swings weren't quite up to Tour standard but the outfits certainly would have left even the most colourful professionals wanting.
Gleneagles is one of Scotland's premier golf break destinations thanks largely to its magnificent hotel which is widely regarded as one of the finest in the world. However for golfing purists it is the three world class golf courses that are the real attraction. The quality of the golf courses at Gleneagles has been recognised by the European Tour who awarded this year's Johnnie Walker Classic to the famous Scottish venue. The 2014 Ryder Cup will also be heading to Gleneagles.

---
For information on Gleneagles golf breaks and other top Scottish golf holidays please visit www.yourgolftravel.com or call 0800 043 6644.
---