While ensuring its intriguing past is not forgotten, Abu Dhabi is developing at a startling rate and, should you GO LONG to Abu Dhabi on your next golf holiday, you will enter a world that is not simply 5* luxury and world class golf courses, but one that boasts a fascinating heritage as well as awe inspiring modern attractions. Throw in the guarantee of excellent weather and a relatively hassle free journey and you have the recipe for the perfect golf holiday in the sun.
While Abu Dhabi's golf courses – Abu Dhabi Golf Club, Saadiyat Beach and Yas Island Links – are as diverse as they are delectable – all three courses are genuinely world class and each offers a unique and fascinating test – and its myriad of luxury hotels are among the finest in the world, what makes an Abu Dhabi golf holiday truly special is the off course attractions.
Abu Dhabi's culture is firmly rooted in Arabia's Islamic traditions and as such, there is a great wealth of cultural attractions and landmarks that are well worth exploring on your days away from the fairways.
Visit the Al Ain Palace Museum – once occupied by the 'Father of the Nation', Sheikh Zayed Bin Sultan Al Nahyan – to learn about the ruling family of Abu Dhabi; explore one of the UAE's most historic buildings, the Al Jahili Fort, built to defend the city and protect precious palm groves, or for something truly spectacular, spend some time marvelling at the Sheikh Zayed Grand Mosque.
---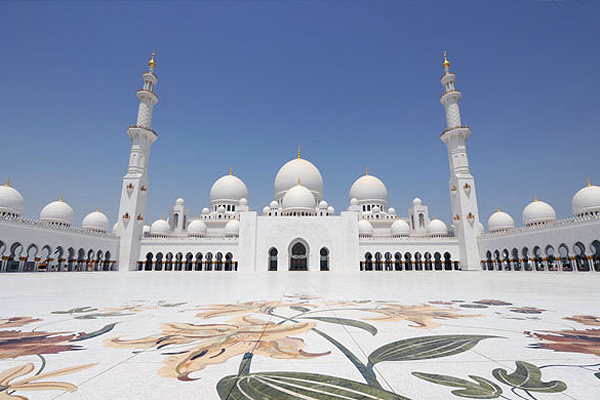 The Sheikh Zayed Grand Mosque is one of many amazing cultural sights to explore in Abu Dhabi.
---
One of the biggest and most spectacular in the world, this is one of Abu Dhabi's most spectacular constructions. It is difficult to imagine the sheer scale of this remarkable building but its 82 domes, 24 carat gilded chandeliers – one of which is over 10 metres wide and weighs a staggering 12 tonnes – and over 1,000 giant columns are truly a sight to behold; a bona fide photo opportunity!
Wherever you turn in Abu Dhabi, there are fascinating snippets of history and culture just waiting to be explored.
Of course, the oil rich UAE is also well known for its rapid development over recent years and Abu Dhabi – the capital and 2nd largest city of the UAE – is no exception to the rule.
Lying on a T-shaped island jutting out into the Persian Gulf, Abu Dhabi is a wonderland of modern attractions, the scale of which have to be seen to be believed. Whether you are visiting the capital, the eastern city of Al Ain or the western region of Al Gharbia, you will discover a genuine leisure haven, with attractions for every taste.
For cheap thrills, experience the speed of the world's fastest roller coaster at Ferrari World Abu Dhabi – the world's second largest indoor theme park, or make a splash at the massive Yas Waterworld. With its 43 rides, slides & attractions – five of which are truly one-of-a-kind, this is sure to be a sure fire hit for those travelling with youngsters.
---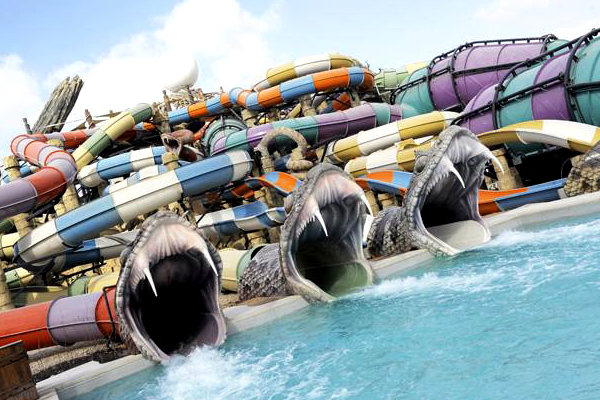 Things in Abu Dhabi are done on a seriously grand scale and the Yas Waterworld is no different.
---
For beach lovers, there is simply no other choice but the Abu Dhabi Corniche. With some 50,000 visitors per month enjoying the Corniche's separate family, singles and general public areas, this Blue Flag awarded stretch of sand, which is overlooked by the towering sky scrapers of the famous Abu Dhabi skyline is truly spectacular.
For a more secluded and peaceful experience you can always escape to one of Abu Dhabi's islands.
On Sir Bani Yas you can explore the Arabian Wildlife Park which is home to more than 10,000 free roaming animals. Taking up more than half of the island, this nature reserve is the perfect place to get up close and personal with Giraffes, Caracals and the iconic Wild Arabian Oryx.
One of the oldest known permanent settlements in the UAE, Delma Island is also worth a visit. More than 7,000 years of history, this picturesque patch of land was once one of the Gulf's most important pearl diving centres and has maintained strong links to its maritime heritage.
Of course Yas Island itself is also home to the amazing Yas Island Links. Designed by the man of the moment in the world of golf course architecture, Kyle Philips, this course is truly unique and has immediately gained status as one of the best courses in the world.
---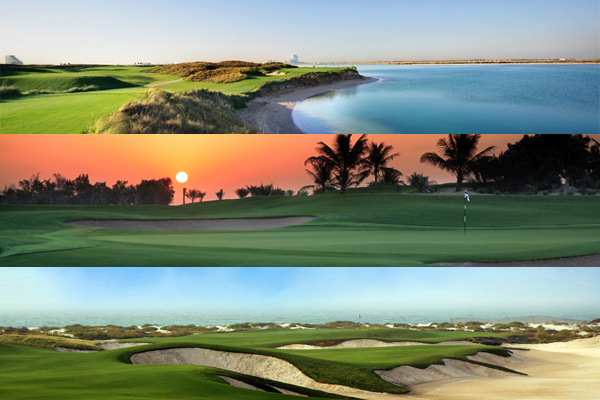 The three golf courses in Abu Dhabi are so different in character but each is equally as good as the last.
---
Saadiyat Island, like Yas, boasts a world class golf course of its own. Designed by Gary Player, Saadiyat Beach is the Middle East's first beachfront golf course and has become one of the most sought after in the UAE.
Of course with the desert lying on the doorstep, there is also the opportunity to be truly adventurous.
Experience the essence of old Arabia at the Arabian Nights Village or camp under the stars at the Al Badeyah desert camp which provides a unique insight into Abu Dhabi's traditions and customs. For a boost of adrenaline during the day, scale the 300 metre dunes while doing some serious off roading – known as dune bashing – or enjoy the surreal experience of sand boarding or skiing.
Wherever you turn in Abu Dhabi, there is adventure and excitement awaiting your arrival and with world class golf thrown into the bargain, there are few golf holiday destinations that can top it.