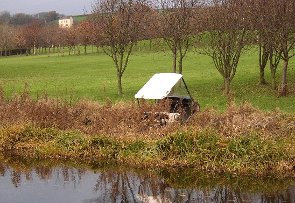 Corporate golf events, golf tours or routine rounds between friends and work colleagues can often result in all manner of accidents, ranging from the humorous to the downright tragic. These happen virtually on a daily basis and here are a few recent high-profile examples of when golf goes wrong.
---
Tate's tangle leaves Swans reeling
Footballer Alan Tate looks set to miss virtually all of Swansea's debut season in the English Premier League after breaking his leg when a golf buggy he was riding in at the end of August this year crashed. Tate, who started his career at Manchester United, fractured the tibia in his left leg while playing at Gower Golf Club and is expected to spend the next six months out of action.
Doctor duo go from fairway to courtroom
A friendship between two doctors in America ended in acrimonious fashion with a lengthy legal battle after a sliced shot from Dr Anoop Kapoor struck Dr Azad Anand in the head and left him blind in one eye. That 2002 incident then escalated and received international media coverage when Dr Anand sued on the grounds that Dr Kapoor had failed to follow the golf etiquette of yelling 'fore' after striking the ball. Dr Anand's case was eventually dismissed in December 2010.
William left wincing by wayward club
Even members of the royal family are prone to a bad day out on the golf course every now and then. Prince William revealed during a television interview in 2009 with children's news programme Newsround that an incident with a club had left him with what he dubbed a "Harry Potter scar". He added: "We were on a putting green and the next thing you know there was a seven-iron and it came out of nowhere and it hit me in the head."
Hawaii horror for Noguchi
Another golf buggy story to hit the headlines came back in 2002 in Hawaii. Harry Noguchi was reportedly returning to the club house at the Ewa Beach course when his cart collided with a fence and he was left impaled. Noguchi required surgery on his abdominal injuries after being airlifted to hospital and later lost a kidney.
Levet left to rue his celebrations
Thomas Levet could be forgiven for enjoying his first European Tour win in over two years back in July, but it was his over-the-top celebrations that ultimately forced him to miss the Open directly afterwards.  Levet claimed the French Open on home soil in dramatic fashion and then proceeded to jump into a lake at Le Golf National. Joy instantly turned to despair for the Frenchman as he sustained a fractured shin in the process and was forced to withdraw from the 2011 Open at Royal St Georges. Colin Montgomerie blasted: "It is not the way to celebrate – taking the next three months off because you've hurt yourself."
---
For information on UK golf breaks and European golf holidays please visit www.yourgolftravel.com or call 0800 043 6644.
---