Brexit.
A buzzword that splits opinion and gets people talking…and rightly so.
Back in 2016 when Britain voted to leave the European Union many were left with questions of what the future holds, especially UK travellers.
With Brexit negotiations now in full swing, we look at how it may impact those travelling abroad and the response from golfers across Britain looking to play golf overseas in 2018.
The initial concern
Following the referendum, there were several talking points about the effect of Brexit on the UK and while all of them are worth talking about, we just want to focus on the ones that are relative to Your Golf Travel and our clients.
1. Weakening of the pound
Almost immediately after the referendum, the pound dropped dramatically against the dollar and euro, thus raising concerns about the cost of travelling abroad.
2. Freedom of movement
As Britain will no longer be in the European Union, there was uncertainty at whether British citizens will need a visa to travel to particular European Countries.
Golf travel in 2018
Despite these worries, 2017 was another record breaking year for Your Golf Travel, as we sent more golfers around the world than ever before…but what about 2018?
We ran a recent survey to see what Your Golf Travel customers had planned for next year and 83% said they are planning to go on more golfing trips in 2018 than in 2017.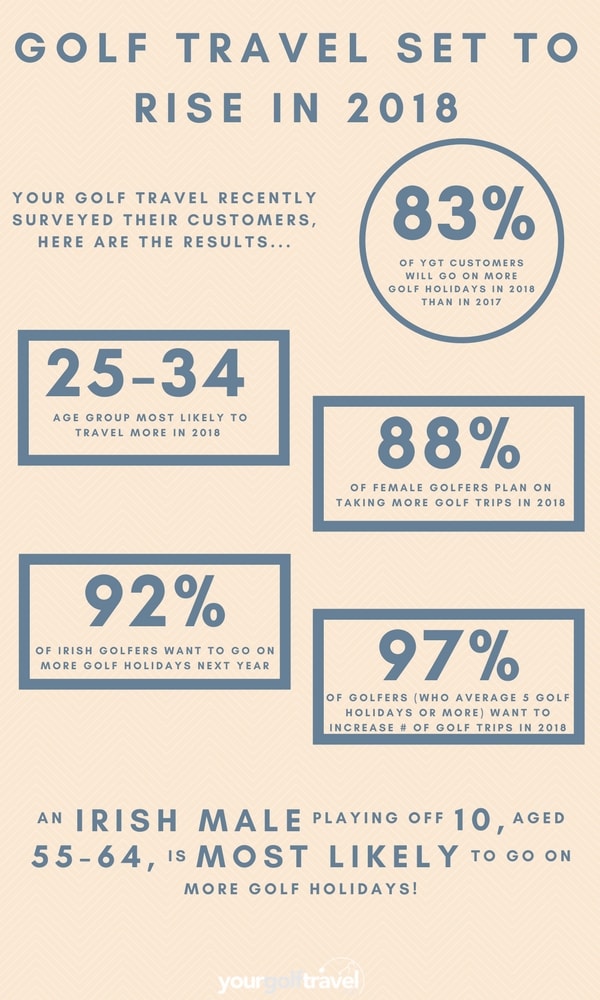 So, it looks like golfers will be taking to the fairways around the world no matter what, but why? Has anything changed?
Why have golfers bucked Brexit?
It goes without saying that we are delighted that golfers continue to want to travel to the best golfing destinations across Europe and the rest of the world. It's brilliant to see so many golfers experiencing the best the Algarve has to offer or ticking off the bucket list at Augusta National for The Masters.
But why do golfers continue to go on golf holidays despite the obstacles put up by Brexit?
Brexit doesn't happen till 2019
Despite everything that has transpired since the referendum, the official date that Britain is due to leave the European Union isn't until 29th March 2019.
This will cool any of the initial concerns amongst travellers. Yes, the pound is weaker, but is recovering and unlikely to fall significantly in the next year like it did post-referendum.
As for the freedom of movement, this doesn't become an issue until we officially leave and even then there are no guarantees what might happen. Most probable are longer queues through passport control with no need for a visa.
Quality of golf courses
While there are golf courses to be played, golfers will play them.
We should never underestimate the passion that golfers across Britain have for the game we love. Travelling to different countries and playing new courses is an experience that you never forget and while golf in Britain can be exceptional, we aren't blessed with the exotic courses you can find in Spain, America or even Barbados.
There are always ways to save
Regardless of the fluctuation of the exchange rate or increasing prices abroad, golf holidays don't have to break the bank.
If you know your budget and have an idea of where you want to go, we are sure that we have a golf holiday which will suit you!
And in the meantime if you want to save on your golf holiday, take a look at our 10 Tips to Make Your Golf Holiday Cheaper!
If you want to follow the trend and book a golf holiday for 2018, simply call 0800 043 6644 or visit yourgolftravel.com