Yesterday European Ryder Cup captain Thomas Bjorn announced his four wildcard picks for the Le Golf National showdown in just three week's time.
While Ian Poulter and to some extent, Paul Casey, were no surprises, Bjorn decided to go with Sergio Garcia and Henrik Stenson to complete the quartet of wildcards, much to Twitter's dismay.
Yesterday we ran several polls to get the fan's verdict on the much anticipated picks and it's safe to say that they weren't thrilled….
56% disagree with Europe Captain
It's not a landslide, but majority wins; 56% of golfers thought Bjorn was wrong in his selection.
Unlike Jim Furyk who was graced with less options than his counterpart, the Europe Captain had a long list of potential suitors, making his decision that much tougher.
But what did he do so wrong?
Experience over Form
Prior to the live announcement, golf fans were naturally questioning the possible motives behind a multitude of permutations regarding the picks, with the biggest being whether to back form or experience.
What's more important in a Ryder Cup wildcard pick?https://t.co/meYPvbNqLE

— Your Golf Travel (@yourgolftravel) September 5, 2018
So with Twitter firmly backing the likes of Matt Wallace, with 44% of them believing who should have made the team, Bjorn's ode to the old guard naturally ruffled some feathers.
Wallace won last weekend at the Made In Denmark with birdies on seven of the last eight holes, making it his 3rd win on tour this season.
However Bjorn's picks aren't unjustified at all; there are five rookies already on the team and with the likes of Tiger Woods, Phil Mickelson and co under Jim Furyk, some experience might just be important.
Europe's Ryder Cup Wildcards
With something so subjective, you're always going to upset somebody, but we have to trust that Thomas Bjorn has a masterplan and we will be successful at Le Golf National.
Here's a quick breakdown of his four picks:
Paul Casey
Paul Casey hasn't played in a Ryder Cup since 2008 but returned to the European Tour this year in a bid to get a pick and he did exactly that.
Good decision?

— Your Golf Travel (@yourgolftravel) September 5, 2018
He kicked off his year with a 63 on the final round at The Masters and then secured his second ever PGA Tour title at the Valspar Championship, holding off a resurgent Tiger Woods.
Sergio Garcia
Since his Masters victory in 2017, Sergio Garcia has really struggled to live up to expectations of a major champion – his inclusion in the team has certainly turned some heads.
Sergio Garcia has made the #RyderCup team!

Do you agree with this pick?

— Your Golf Travel (@yourgolftravel) September 5, 2018
This season he has missed the cut in all four major championships and failed to reach the FedEx Playoffs for the first time, but despite this poor run of form,  his Ryder Cup credentials are recognised by the man who called him.
"There's just something about him, and I for one have so much belief that he's going to go to France and deliver, as he normally does in the team, on the golf course, but as important, off the golf course."
Garcia is passionate and understands what the Ryder Cup means to the fans and to his teammates – while a rogue pick, I think it could pay off.
Ian Poulter
There is no doubt in my mind that this was Bjorn's easiest decision. Ian 'The Postman' Poulter is a Ryder Cup legend and leaving him out would have surely been a huge miss for Team Europe.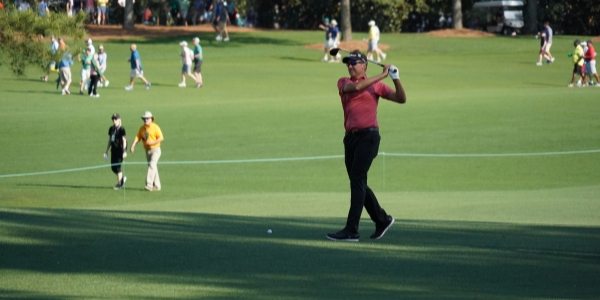 The thing is, his personality, character and dressing room presence alone would put him in the mix, but throw a season consisting of his best form in years and a stellar performance in the Houston Open which included iconic chest pump on the 18th green, then it really is a no-brainer.
Henrik Stenson
Stenson started the season in fine form, securing top five finishes in both The Masters and US Open, as well as mounting a challenge to Rory McIlroy at Bay Hill for the Arnold Palmer Invitational.
Since then, he has been riddled with an elbow injury which kept him from competing week in, week out and ultimately resulting in a slump in form. However, Stenson isn't a stranger to a continental tournament and over the years has formed quite a partnership with Justin Rose, something the captain will be well aware of.
Team Europe of Team USA
Despite the last member of Jim Furyk's team being added on Monday evening, we still have seven of our wildcards.
Based on this, 66% of Twitter believes the US picks trump the European and 59% have gone against their allegiance to predict USA retaining the cup.
Let us know on Twitter what you think & use #YGTRyderCup