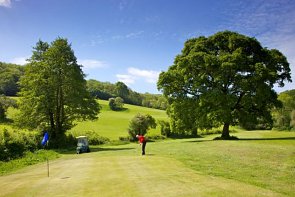 We all have a dream golf course we would do almost anything to play on a golf holiday but when it comes to really living the dream how about having your very own golf course…in your back garden!?
Well that dream is now a possibility if you happen to be on the hunt for a new house…and if you happen to have a spare £4 million lying around that is!
Idehill Manor in Devon, which is already a famous English golfing destination with the likes of Royal North Devon, Saunton and Bovey Castle already on the scene, has gone on sale and, among a million other things, it boasts its very own championship length 18 hole golf course in the garden!
The unidentified owner of the house has had the course to himself with relatives and friends joining him by invitation. The owner designed the course himself when he moved into the property a decade ago and included the longest recognised hole in Britain…a 740 yard par 6 monster!
The golf course extends to 6,117 yards and is a par 73. There are four par threes, 10 par fours, three par fives and a par six.
Now into his 70s, the owner is looking to move on which obviously opens the door for another golf enthusiast who fancies having the ability to roll out of bed and onto the 1st tee in the mornings.
If you think mowing the lawn is a pain you may be thinking how on earth does the course stay in playable condition? Well currently a local green keeper is employed to maintain the course, cutting the fairways and greens once every four days.
The main house boasts six reception rooms, a snooker room, heated swimming pool and no less than six bedrooms, of which one, the master bedroom, overlooks the pool and adjoining sun terrace so when you take into consideration that there is also a golf course this property becomes more of a resort than a house!
Just imagine being able to say to friends, family, business clients…whoever… "Fancy a game on MY golf course?!" We should all be so lucky.