Every year, the golfing world turns its collective gaze toward one of the finest and most exclusive clubs in the world, Augusta National. We all dream of playing golf there. The famous Amen Corner, Rae's Creek and Hogan's Bridge are just some of the landmarks we can't get enough of each year. This is no run of the mill golf club though. How can you become a member at Augusta National?
As we watch The Masters, we marvel at the pristine fairways and greens. The vibrant pink azaleas and the sumptuous white fairways make this one of the most pleasing courses on the eye. Imagine being able to call this place home. Imagine the people you would meet. Known to members as "the National", this is the most special of golf clubs on the planet.
Well we all know that joining is no simple or cheap thing to do. However, given that some of the members at Augusta are among the most powerful people in business, sport and politics, this could be a great networking tool. Only around 300 people have the pleasure of calling this place home.
Today on the blog, we want to help you. We want to give you some information on how you can join this exclusive golfing paradise. How much does it cost and just what do you need to do to get in. This is one you don't want to miss.

Let's talk money
Every course has membership fees, Augusta is no different. The first cheque you will need to write is for the initiation fee which will set you back somewhere around $25k-$50k. Now that may sound like a lot of cash, however, if you think about what this club represents and compare it to other super-exclusive clubs, it is actually fairly reasonable.
One of the reasons for the moderate price tag is that the club makes an absolute fortune from the Masters and the sales of associated merchandise. This means that, although the club spends huge amounts on the care of the turf, this isn't fully paid for by members. The yellow logo of the Masters Tournament is a money-making machine.
Members then need to pay something in the region of $5000 per year for membership dues. Again, this really isn't that much when you consider the club that we are talking about here. Augusta National is golf's Garden of Eden and this is a cheap entry fee for such a playground! Once you are there, the food and drink in the club is very reasonable too. During Masters Week you can get a beer for $5 and you get pimento cheese sandwiches for $3. This is the cheapest of all of the majors to attend once you are on site and the club is run with a similar ethos.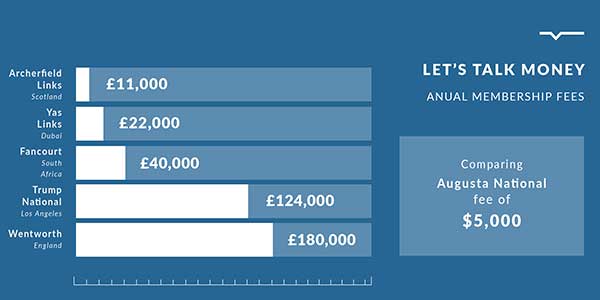 You can also use the many cabins that bejewel the property. The amenities at Augusta are as good as you would expect them to be. For this kind of stuff you are given one bill at the end of the year. Overnight fees for staying in one of the cabins is said to be around $100. Once you join here, it doesn't cost you a fortune to make the most of everything the club has to offer. This has to be one of the reasons that the club is so incredibly selective when it comes to membership.
The application process
We may be getting a little ahead of ourselves. This is an extremely exclusive club, it is also shrouded in mystery. Before we need to stump up some cash for the membership fees, how do we even apply? Do we just drive down to the pro shop and pick up a form? Do we find a member and schmooze him or her? Of course not.
Firstly, you can't let people know you want to join or ask to join. This kind of forthrightness is frowned upon and won't get you anywhere. In fact, joining is by invitation only. Membership is kept at around 300 and when someone dies or gives up their membership, the club decides who they would like to invite to take that slot. Obviously it is very rare for someone to give up their membership. Every time a member dies there must be a tense few weeks wait for people who consider them of the right ilk for Augusta.
You almost certainly have no idea that you are being considered as a candidate. Of course, many people will consider themselves to be Augusta-material, but you never truly know. You will just get one of the best letters that has ever graced your mailbox and that will be your first sign. So many details about this club are kept very quiet. It really is incredible just how much they have managed to keep secret.
Entry criteria
Much of what we know about the Augusta National membership comes from hearsay. However, a report in 2002 worked out that the average age of the members of the club was around 70. This makes sense as it is really the most powerful and successful that are invited to the exclusive club.
Your social status is what it is all about when it comes to membership at Augusta. Becoming successful takes time. Becoming successful enough to be noticed by the board at Augusta National takes even more time.
Your golfing ability seems to have no sway either. Whilst there are some members who are fairly handy around the greens, Jack Nicklaus is a current member and Arnold Palmer was until he died, the average handicap of the members is around 14. This makes it a bang average club in terms of golfing ability.
It must be said though, a handicap of 14 at Augusta means you can play. Colin Montgomerie once suggested that a decent club golfer would struggle to break 100 around the hallowed course. Whilst the course is not going to be set up for The Masters all year round, it is an extremely difficult course. This is a place that will test your short game like few other tracks.
Gender is also now something that will not hold you back. For almost all of the life of the club, there has been an all-male membership policy. However, thanks to huge public pressure, including some comments from Tiger Woods, the first female members were invited in 2012.
As you would expect, these were women of the highest calibre. Condoleezza Rice and Darla Moore became the first female green-jackets and so a new tradition was started. It is unknown how many women now make up the membership.
Some club rules
There are some quirky rules that are absolutely enforced for members of the National. Firstly, you must not talk too loudly, this will be met with a good tut from a fellow-member. You are also not allowed to run whilst on the property. Given the average age of the membership, I can't imagine this rule is broken often. You are also not allowed to use your phone except in designated areas.
This phone rule applies to all members and even patrons who are visiting on Masters week. It is one of the reasons why the tournament is so beloved, the tradition is kept and protected. People come to watch the golf, not to live-post and boast about it on social media. If you break the phone rule you will be kicked-off the property, no exceptions!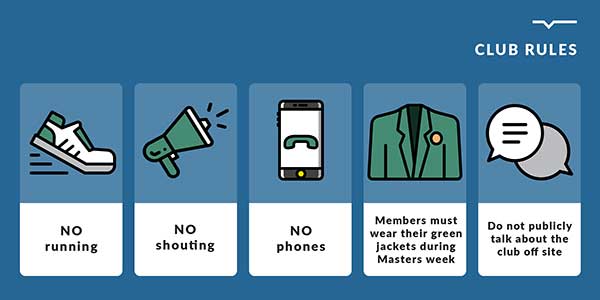 Despite the strict rules of secrecy surrounding who is a member. During the week of the Masters Invitational, members are required to wear their green jackets so that people know who they are. For a club so secretive this is odd. They are there to help patrons that week and they even wear a name badge. One of the most famous rules is that you are not allowed to wear your green jacket when you are off the property. That rule is relaxed for the current Masters champion who can wear it for promotional purposes.
Finally, members are not allowed to talk about the club. This strict rule, which is very well adhered to, has helped wrap the club in mystique and wonder. Only one person is allowed to publicly discuss the membership policies of Augusta National, the club chairman.
What do we know about current members?
One of the things that we know is that there are some huge names in there. Bill Gates, Rex Tillerson and Jack Nicklaus are three of the most recognisable names that we know own green jackets. That is some serious business and golfing clout right there. This is the kind of person that the club is looking for.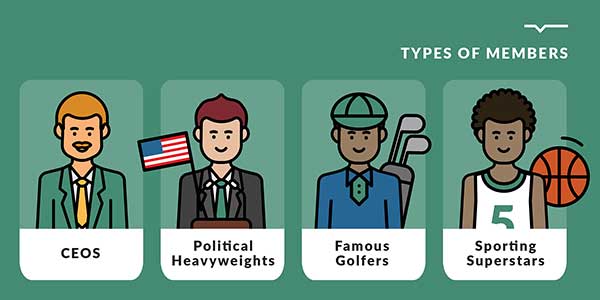 Here is a big tip for you, this is the kind of social status that you have to aspire to if you want to join the National. Just getting to know these people isn't enough, you have to become one of them. You need to be something like a high-powered CEO or the most successful golfer of all time, good luck.
What is it like inside Augusta National?
So you've received your letter and paid the very reasonable fees involved in joining. What is it like once you get in? Firstly, just imagine making the drive down Magnolia Lane as a member. This must be one of those "I've made it in life" moments.
As you enter the main door of the clubhouse, there is a secret stash of fine cigars. If ever there was a moment for a cigar, this is it. As you make your way through the historic building, the Trophy Room awaits. This is where lunch is eaten under paintings of the three men who really made the club what it is Bobby Jones, Clifford Roberts and Dwight Eisenhower.
Despite all of the rules surrounding etiquette of members, there is a really relaxed atmosphere at the club. This is where some of the most powerful people in the world come to switch-off and escape the pressure of their lives. You can really feel that in the place. "I think it is very comfortable but understated," Augusta National Chairman Hootie Johnson said of the clubhouse in an interview with Golf Digest. "We try to make everyone who comes to Augusta National feel at home, whether they are members or guests."
One of the most special things about Augusta National is the incredibly dedicated staff. These people are publicly unsung heroes but the members are very well aware of what they bring to the club. Many of these people have worked in the club for decades and have become great characters in the history of the club.
Conclusion
There it is then. The most comprehensive 'how to' on gaining membership to Augusta National. To summarise it, all you have to do is be wildly successful and hang about with those who are equally successful. Easy. Start your own business and try to become the next Bill Gates, that's your best bet.
Don't despair though, here is how to think about this. You probably won't become a member. 25 million Americans play golf and the membership at Augusta is around 300. That means that 0.0012% of the US golfing population call The National home. However, every year, you have the pleasure of seeing that sublime course again. Being a member would just spoil it for you as you would see it all of the time.
Maybe that is a weak consolation, it really is the best we can do though. So in the coming weeks, watch as much Masters coverage as you can. Gorge yourself on images of Augusta National and the live in hope that that tides you over until next April. The Masters is aptly described as 'a tradition like no other'. There is certainly something to be said about extending that tagline to the club as a whole rather than the tournament. This is, deservedly, some of the most revered golfing terrain on the planet. Unfortunately, the vast majority of us will never be lucky enough to play there. We can all dream.


If you have any questions about The Masters or would like to visit next year simply call 0800 043 6644.