As you may have seen on previous posts on the 19th hole, PGA Professionals and Youtube vloggers Mark Crossfield and Steve Buzza were whisked off to Ireland with YGT Rory at their side to film some of the amazing courses in and around Dublin, as well as some of the links classics on Northern Ireland's famous northern coastline.
<< CLICK HERE TO SEE HOW THE GUYS GOT ON AT CARTON HOUSE, THE K CLUB & DRUIDS GLEN >>
<< AND HERE TO SEE THE ACTION FROM NORTHERN IRELAND – CASTLEROCK, PORTSTEWART & A DAY AT THE IRISH OPEN>>
The general consensus from Mark, Steve & Rory is that Ireland is pretty awesome when it comes to golf holidays, but to give you guys a good idea of where to stay & play if you ever tee it up on The Emerald Isle, here are their favourite bits from the filming trip…
Mark Crossfield – PGA Professional

Favourite Place to Stay – The Fitzwilliam Hotel Belfast
All of the resorts we stayed at were great but I'm a real city person and loved our short stay at The Fitzwilliam Hotel which is right in the middle of Belfast. The hotel is really funky and luxurious and we didn't have to walk far to find places to eat and some local nightlife…an essential part of any golf trip.
Favourite Golf Course – Druids Glen
I'd heard lots of good things about Druids Glen from the golfers I spoke to in social media land in the lead up to the trip but it was way better than I'd expected.
---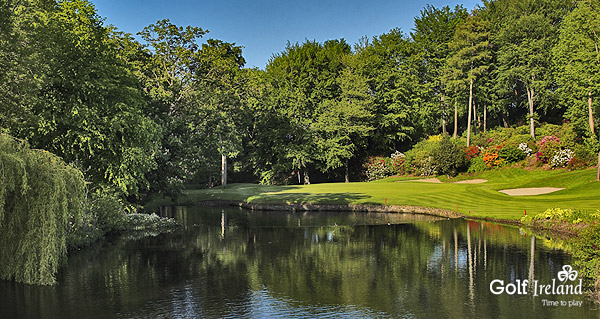 ---
The course is absolutely beautiful and I totally see the whole "Augusta of Ireland" thing on some of the holes. Playing here was an absolute treat and I'd say pretty much all golfers would enjoy it.

Favourite Hole on Tour – Druids Glen 13th
This is a really funky hole and the setting is just pure magic. You've just played the iconic par 3 12th with the giant Celtic Cross in the flowerbed and to follow it up with this one shows how good a course Druids Glen is…one of the best I've ever played. I might not have played the hole all that well but it's a great, great par 4.
---
Watch Mark and the guys take on Druids Glen, including Mark's favourite hole, the par 4 13th…
---
Top Travel Tip – You HAVE to go out for a night in Dublin…
Dublin had such a cool vibe. You've got the kind of olde-worlde pubs where you can enjoy a nice quiet drink, as well as the mental-ness of Temple Bar if you really want to go all out. We had such a fun night…and we went out on a Monday! Let's be honest…you've got to have at least one night out on a golf trip! It's the rules peoples…
Steven Buzza – PGA Professional

Favourite Place to Stay – Druids Glen
I have to say as much fun as we had when we stayed in The K Club (our Dublin night out!) and in Belfast, I really enjoyed our night in Druids Glen. Staying in such a nice hotel is always a good thing but after a long day of filming the golf courses, having the option to stay on-site was very welcome!
Rory and I actually had a pretty unexpected and funny night when the cast of Vikings came in for a few drinks after a tired Mr Crossfield had gone to bed. We ended up chatting to them and a few helicopter pilots…a very random mixture of people but great fun!
Favourite Golf Course – Druids Glen
To be honest our Ireland trip was one of those where we were just spoiled with the places we got to film at. I liked all of the courses we played in and around Dublin, as well as the links courses up in Northern Ireland, but this is still a pretty easy choice for me as Druids Glen was just spectacular.
---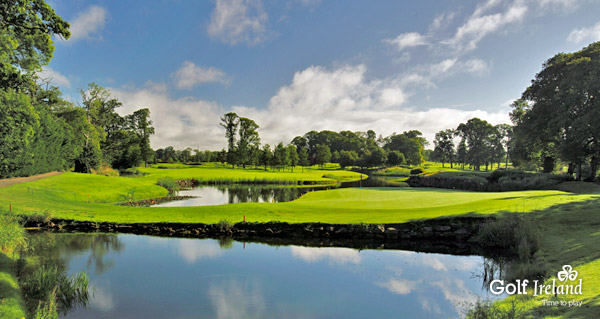 ---
The whole course is picture perfect and the it has probably the best collection of par 3s I've ever played. I also played a little better there too so that helped!
Favourite Hole on Tour – K Club Palmer Course 7th Hole
I thought the 7th at The K Club was a great hole. It kind of has an island fairway if such a thing exists so you've got to be really accurate off the tee…I was not!
If you find the fairway though there's still plenty to do as the green has water pretty much all around it as Rory proved with a hilarious Tin Cup episode. We've all been there and it's much funnier to watch than to do it yourself! Ray finally won his battle with the lake on the 3rd attempt and I think this hole was a great example of what the K Club asks of you…you need to hit your targets here or the course can really get you!
---
Watch the guys take on the Palmer Course at The K Club, including Rory's Tin Cup moment which Steve found particularly amusing…
---
Top Travel Tip – Be prepared!
Definitely go for a night out in Dublin, pack a camera because the courses are just beautiful, and if you're playing some links golf on your golf holiday like we did…pack your wet gear as even if it's summer, the weather can change in a heartbeat! We pretty much played in all four seasons when we were at Castlerock and if we hadn't been prepared, it could have been nasty!
YGT Rory – 7 Handicapper

Favourite Place to Stay – The K Club
We stayed in one of the Garden Apartments while we were at The K Club and it's the kind of accommodation I really like. Having your own apartment to share with your group of mates can be a good laugh and they have a nice, personal feel about them while still offering all the benefits of a 5* hotel which is just a short walk away. The full Irish breakfast was awesome too and the service was outstanding…the staff couldn't be more attentive and seemed really happy to help.
Favourite Golf Course – Portstewart
Like the guys I absolutely loved Druids Glen but as I don't get to play it too often as I live in London, I love a bit of links golf and the front nine at Portstewart blew me away…both with how amazed I was by the course and quite literally too thanks to the wind!
---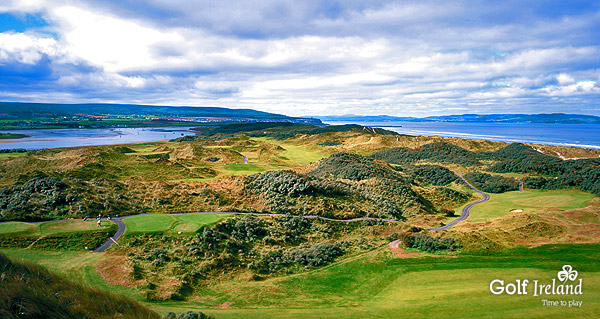 ---
The opening tee shot here is comfortably the most dramatic I've ever seen and despite missing the fairway about 150 yards to the left, the experience of smashing a driver to a fairway miles below the level of the tee, towards the course's giant dunes and with the Portstewart Strand and the sea serving as the perfect backdrop is one I won't forget in a hurry. Thankfully my reloaded tee shot was about 300% more accurate than my 1st attempt!!
Favourite Hole on Tour – 1st Hole at Portstewart
I loved the 12th and 13th holes at Druids Glen, as well as some of the other par 3s such as the 8th and 17th which had shades of Augusta and Sawgrass respectively, but I still can't get passed the 1st hole at Portstewart. I could hit drivers from that tee all day long and not get bored and it's a really strong test of golf too…one that, as you can tell from the videos, was far too strong for me on the day! Still lots of fun tough!
---
Watch as the guys take to the course at Portstewart, including Rory's favourite hole, the stunning par 4 1st…
---
Top Travel Tip – Research your courses
This is kind of a no brainer for any golf trip but when you're booking a trip to Ireland, there's such a variety of course, in both the style and difficulty departments, it's a smart idea to make sure you're choosing something you'll enjoy from a handicap / challenge perspective.
For those who've never played links golf, it can be really brutal when the wind howls so if you get frustrated by not playing to your handicap, the more tranquil surrounds of the parkland courses such as Carton House and Druids Heath might be more up your alley.
---