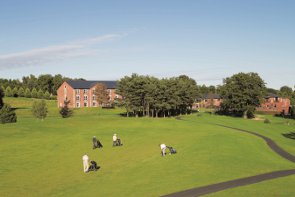 For many, gardening is an enjoyable hobby where years of hard work comes to fruition at various times of the year, but for two greenkeepers with more than 300 acres to look after it is a way of life and rather than have their work admired by visiting friends, it is scrutinised by choosy golfers 24 -7, 365 days a year.
Mike Evans and Roger Millington have been looking after the extensive grounds of Macdonald Hill Valley Spa, Hotel &Golf, including the two 18 hole golf courses, since they were teenagers. The duo have clocked 37 and 36 years of service each since they began and have no desire to quit any time soon.
"I love the outdoors, I think we both do, and looking after the machinery we use is great fun for us," said Mike, who lives in Norbury.
As with any long term working relationship, Mike and Roger have developed quite a unique working dynamic.
"It's like we've grown up together and we can nearly read each other's minds," said Roger.
Mike started working at the hotel when he was 15 as it was preparing to be opened and although he began with no experience or qualifications he has risen to become the Head Greenkeeper.
He is also Golf Course Manager, looking after the two 18 hole courses that make the resort one of the most popular golf break destinations in the UK. Hill Valley is fortunate to be the home of two excellent championship courses, the Emerald and Sapphire, both of which were designed by the legendary duo of Peter Allis and Dave Thomas. Since their inauguration in 1975, they have matured nicely, and are integral to Hill Valley's reputation as a fantastic golf resort.
The Emerald Course is named as such in a tribute to its lush, green environment, and is the perfect resort course, being suitably challenging for skilled players, whilst remaining playable for the average visitor. The natural undulations of the landscape work in harmony with the strategically positioned water hazards and sand traps to create many challenging holes, while the superb greens are expertly maintained to ensure that they putt beautifully throughout the year; courtesy of Mike and Roger of course!
---

There are a number of water hazards at Hill Valley which need to be avoided in order to post a good score.
---
"When I first started there were no machines like strimmers, no sit-on mowers – we had hand mowers cutting the greens and it took about five hours, now it takes half that time," said Mike.
"We now have a team of five and we build the bunkers and tees on the golf course, carry out general landscaping and maintain all the machinery, it is never boring which is great.
"It's hard work to keep the courses at a high standard but it's just such a fantastic job, I can't imagine doing anything else."
Roger, 54, began working at the hotel less than a year after Mike, as an 18-year-old and both men were lucky enough to be there when Welsh golfing great Ian Woosnam worked there helping to look after the fairways.
"He still comes back now and then to play on the courses and he shakes our hand and is just the same as he always was," said Roger.
Terence Southward, General Manager at Hill Valley Spa, Hotel and Golf, said: "Mike and Roger are absolutely passionate about what they do and it is rare to find people with their dedication to the job.
"After all these years they know the job inside and out and they are great to have on the team at Hill Valley."
As they say, good help is hard to find so with Mike and Roger still going strong at Hill Valley you can be assured of top class conditioning on your next weekend golf break.
The commitment shown by characters such as Mike and Roger has also spread throughout the hotel and resort which is why Hill Valley has maintained its place as one of the best value golf destinations in the UK & Ireland.
---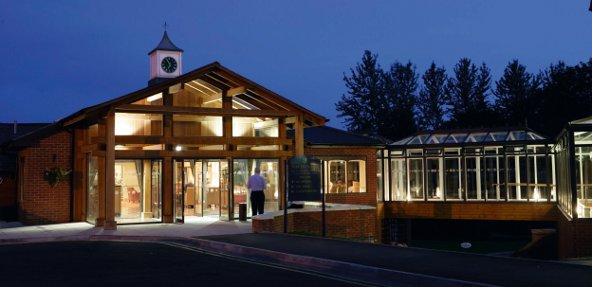 The hotel at Hill Valley complements the two golf courses prefectly and is a great base for a weekend golf break.
---
The two golf courses, so tenderly cared for by Mike and Roger, are complemented by the 81 outstanding guest bedrooms, whose quality is testament to a significant investment of over 10 million pounds in recent years. The bedrooms are all a good four-star level, featuring luxury extras like plasma screen televisions, and guarantee visitors a truly relaxing and comfortable experience.
---

Cooling off in the spa at Hill Valley is the perfect way to unwind after a round of golf.
---
Macdonald Hill Valley also boasts a fantastic spa and wellness complex complete with a 20 metre pool and a thermal suite. In the tranquil spa, golfers can wave goodbye to the stresses and strains of everyday life and, if the mood strikes, even indulge themselves with one of the luxurious face and body treatments.
Throw in the excellent Borders Restaurant, relaxing Lounge Bar and the vibrant Sports Bar and you have the perfect recipe for a weekend golf break.
---
For information on English Golf Breaks and other UK & Ireland Golf Holidays please visit www.yourgolftravel.com or call free on  0800 043 6644.
---