You may have seen some of our on course videos with Mark "Ask Golf Guru" Crossfield and not long ago, we sent YGT Rory to meet Mark and a couple of his partners in crime at The Belfry for a high stakes match on the famous Brabazon Course.
The guys all had a great time and only had good things so say about the course. Let's have a look at how the match unfolded and what the guys had to say about the mighty Brabazon…
---
The Big Match – Part 1
---
Mark
I love going back to The Belfry as it brings back so many memories of when I was there as a kid, watching the Ryder Cup and my golfing heroes, such as Nick Faldo. So often on the way around The Brabazon I'd be thinking, "oh this is where Faldo did this, Christy O'Connor did that, where so and so did that…" It really was great fun and we even had a go at the shot Christy hit into the 18th with um, mixed results…I'm looking at you Rory!
The course is a great matchplay course with plenty of risk vs reward scenarios on most of the holes and I really, really enjoyed it. I'd definitely give it a go if you're looking for a golf break in the UK.
---
The Big Match – Part 2
---
Lockey
I was a bit too young to remember all the Ryder Cup stuff Mark was going on about on the way around the course and apart from my "Lockey Out" at the end when Mark and Kev beat us, I had a great day on The Brabazon.
There are some really good looking holes and you've got to have a good combination of accurate driving and solid iron play. Unfortunately my irons weren't behaving themselves that day but a bit of Lockey Magic here and there saved me a few times!
---
The Big Match – Part 3
---
Harps
I had a great time on my debut on a Your Golf Travel blog so thanks to Mark and the guys at YGT for having me.
The course is really good fun and has a good balance of tough holes and others where you have a good shot at birdies. I was lucky to bag a few to keep Lockey and Rory at bay and actually finished the match off with a nice long putt for a 4 on the 17th.
Having a crack at the 10th was really good fun and so was our Christy O'Connor 2 iron challenge on the 18th!
If you're a fan of the Ryder Cup, I'd definitely recommend getting yourselves to The Belfry.
---
The Big Match – Part 4
---
Rory
My Ryder Cup memories don't run quite as deep as Mark's but, as the resident golf geek at YGT, I am aware of plenty of the famous shots that have been hit here down the years and it's fun to walk in the footsteps of so many golfing legends.
The Brabazon offers a lot more than just the famous 10th and 18th holes and it's a really fair course where, even if you get yourself out of position, you have a chance to rescue the situation with a bit of magic.
I was lucky enough to get out of a couple of sticky situations with a few "hit and hope" shots that turned out really well but in the end, Kev and Mark (really mostly Kev the birdie machine!) were too strong for me and Lockey.
With the newly renovated hotel and all the great facilities at the resort, a golf break including a round on The Brabazon is a must for any big golf fan.
---
The Big Match – Part 5

---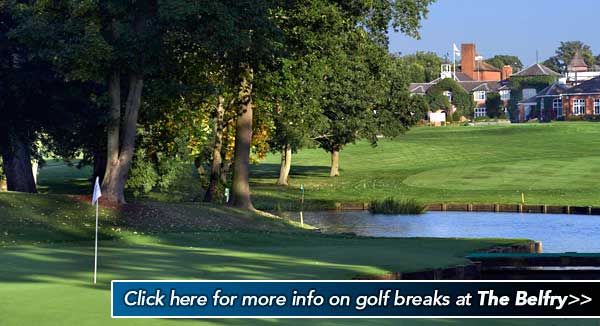 ---
The Big Match – Final Part!