2015 was a good year for me when it came to golf. My handicap went down (in general), I finally after 11 years got my name on an honours board at my home club, and I was lucky enough to tick plenty of amazing golf courses off my list. With any luck, 2016 will be equally as fruitful but like in all aspects of life, it doesn't hurt to set goals. Seeing as we're just into a new year, I thought I'd make some golfing new year's resolutions and here they are…
1) Attend a Major Championship…or The 2016 Ryder Cup!
I was lucky enough to attend The Masters in 2015…if I'm really nitpicking though…I was "working" out there for Your Golf Travel. So while I got a more than decent taste of an event I've always wanted to attend since I first played golf, as well as seeing Augusta National in all its glory, it wasn't quite the Full Monty.
---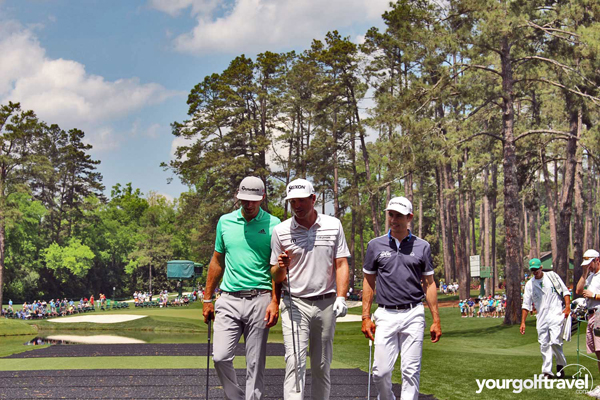 Perched behind the 16th tee on one of The Masters practice days was a blast. I only wish I could have gotten a taste of the tournament action too!
---
Attending a few hours here and there on the practice days did however make me realise I 100% wanted to return to Augusta one day to take in the whole experience. It made me realise too that I have yet to attend The Open Championship which of course is much more manageable…Royal Troon is up this year so I will be doing my damndest to make it up there to see the world's best players in action on one of the game's great links courses.
---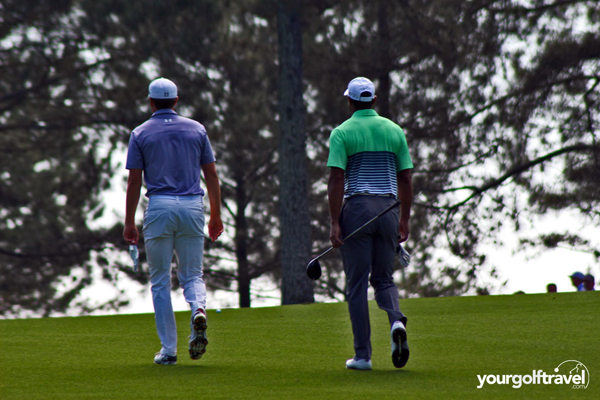 Attending a Major Championship gives you the chance to get up close and personal with the game's biggest names. Did we see the passing of the torch at Augusta National?
---
Or perhaps a trip over the pond to support YGT Ambassador Darren Clarke and his European Ryder Cup team is in order instead!
My taste of Augusta early last year drove home the fact that when it comes to watching golf live, there's nothing quite like going to one of golf's "big ones".
2) Hole out more in friendly games
"A gimme can best be defined as an agreement between 2 golfers, neither of whom can putt very well!"
That probably rings true for most golfers who struggle on the greens and I certainly fall into that category. I tend to struggle with the short ones from time to time so why on earth do take so many gimmes with such glee?
Now…I know I'm not entitled to decline a gimme in a proper match, but when it comes to a friendly fourball with my pals, surely it would serve us ALL better to suggest abandoning the freebies and putting EVERYTHING out? (With a close eye on pace of play of course.)
---
When you can putt this badly from 12 feet, you should NEVER be taking gimmes!
---
The "Oh I would've holed that if I'd concentrated" line is all too easy to peddle in friendly games and more putts taken from short range even under the most modest of pressures will surely lead to general improvements?
Whatever the case, holing out more will give you a better idea of where your game is and where you need to improve to shoot lower scores.
3) Play safe…LESS
I know…I know…this could well prove to be a little foolhardy, at least as far as my scores are concerned, but I am well aware that I will never win The Green Jacket at The Masters, or The Claret Jug at The Open, so why not have as much fun as possible when I'm out on the course?
Sure shooting a good score is important to having a good time, but it's not the be all and end all. Sometimes just throwing caution to the wind, taking yourself out of your comfort zone and trying something outrageous is pretty exciting too! It's fair to say Phil Mickelson probably would've won more had he been a bit more sensible…but as much fun? Heck no!
---
Skip to 23:40 to see the kind of usually ill-advised shot that, when you pull it off, is part of what makes golf so much fun!
---
When you pull off a seemingly impossible shot, you feel 10 feet tall and walk off to the next tee thinking, "HA! Take that golf!" Knowing full well that you've stolen a shot or two thanks so some guts and a rare bit of Seve magic is a great feeling.
I'll be having more of that in 2016…and probably more +0.1s as a result!
4) Curb my expectations / Have more fun
Why do I play golf in the 1st place? Because it's supposed to be fun.
I'm never going to make money out of golf, so apart from my own misplaced pride, why do I get so upset about it when things aren't going my way?
---
There'll be none of this from me in 2016…promise!
---
Thankfully, as I've gotten older, I've learned to take the rough with smooth a lot better but there's still room for improvement…I WILL laugh off as many bad shots as possible in 2016 and I'm hoping my "golf is fun" attitude will end up leading to better scores…as well as rubbing off on some other angry souls I sometimes share the course with!
5) Play as many "bucketlist" golf courses as I did in 2015
2015 was a good year FORE me as far as playing famous golf courses that no doubt sit at the business end of many a golfer's bucketlists.
Druids Glen, The K Club, Portstewart and Castlerock all got knocked off the list but the highlight from close to home was a round on a windswept Royal Portrush and while the conditions and the golf course got the better of me (they beat the snot out of me in truth!) it was great to see and play the course for the very 1st time. The fact that I was only a couple of groups behind a certain Darren Clarke made it all the more fun.
---
Royal Portrush was an undoubted highlight of 2015…Royal County Down up next this year?
---
I also visited South Africa in 2015 so while my sisters and mum went off on a riding safari, it was only right that my old man and I snuck away for a week's golf. Playing the likes of Arabella, Oubaai and the Fancourt Links was a real treat but I unexpectedly discovered my new favourite course in the world in Pinnacle Point and played the Extreme 19th too!
---
It's unlikely I'll have another golf experience as exciting as playing the Extreme 19th in South Africa in 2916…but here's to trying!
---
Here's to hoping 2016 is as kind to me in terms of golfing experiences as 2015 was…