Professional journalist, Adrian Michaels tell us about his Irish Golf Odyssey down the Wild Atlantic Way, playing courses including the likes of Tralee, Killarney and Waterville along the way…
The famous risk/reward shots of golf are all about how bold you are feeling. Faced with a massive dog leg and carry over trees, bunkers, water or clifftops, or all of the above, do you chicken out to the safety of the wide part of the fairway, leaving yourself a 220-yard route to the green? Or try to carve off half the fairway and leave a wedge in? The slight issue is that if you don't hit the ball like Dustin Johnson, your shot will end in the ocean.
None of these thoughts entered my head as I blasted my best drive of our recent week's golf trip at the 8th hole at Tralee, County Kerry. Sure I was standing on a tee box on the edge of a cliff. Sure I could see the fairway on the other side of the bay bending away sharply to the left to a green miles away. But this was my first time on the hole, and the carry didn't look that bad. I couldn't even see how I would be saving very much by aiming further right. So I slashed one hard. Only when we got to the ball, about 100 yards from the green on a 400-yards-the-hard-way par 4, did we realise that it must have cleared the drop into the Atlantic by about 3 inches.
But these are the joys of playing golf courses for the first time, the reasons why we go on golf tours. It isn't all rued opportunities and shots smashed into hidden piranha pools because you had no idea where you were going. Just as often, you get a great result precisely because you had no idea where you were going. There is no way I would have taken on that Tralee tee shot if I'd had a clue how difficult it was.
---
The tee shot at Tralee's 8th hole…to go for it or not to go for it…go for it of course!
---
The varied and ignorant experiences of the travelling golfer are what inspire us to take to the road. I cherish the excitement of pulling into an unknown car park, punching in the just-obtained PIN for the locker room, and hoping the wind will drop, or the rain abates, or the bacon sandwich arrives before tee time. Ah, the knots in the stomach as you survey the white horses on the ocean and the flag on the 18th green bent double by a wind that would cause Ahab to return to port.
And then we're off. That chance of glory that exists on every first tee, sometimes lasting only as long as the first shot. You can go play your home course over and over if you like – but what fun to see where others play, the hazards they negotiate, the food they come back to the clubhouse for.
This year our bi-annual Ryder Cup-style tournament hit Counties Kerry and Cork in southern Ireland. The matchplay gathering is called The Amis – so named because we once discovered that Kingsley Amis had written a book called Everyday Drinking, and it seemed to embody the spirit of everything we were trying to achieve on our golf holidays.
We had four GB&I players this year lined up against a Rest of the World team comprising three Americans and a Frenchman from Milan surprised to find himself in the wrong team. With Your Golf Travel's help we were scheduled to play at Tralee, Dooks, Waterville, Killarney and Old Head. As well as the golf, YGT also seamlessly arranged accommodation, as well as transport between airports and all of the courses. This part of Ireland was easy to reach for most of our crowd. The Americans flew into Shannon, about 90mins from the town of Killarney itself, where we stayed. The Europeans had a slightly shorter transfer from Cork, and it all ran like clockwork.
---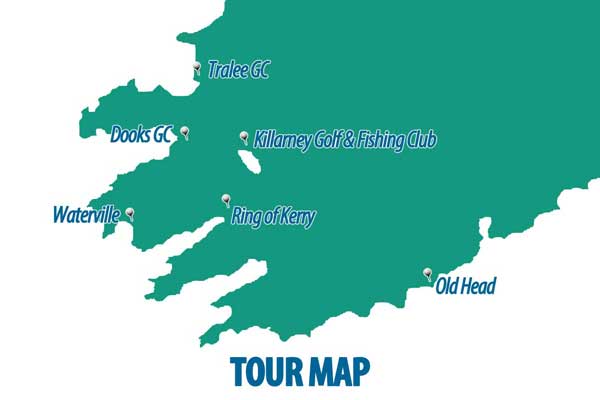 The South West of Ireland boasts some unbelievable scenery. Be sure to switched on while you drive from course to course along the "Wild Atlantic Way" to fully appreciate this amazing part of Ireland.
---
We stayed in the extremely suitable Killarney Plaza hotel, which had massages for the decadent and tired, was unfailingly hospitable, and arranged early takeaway breakfasts for the day we needed to hit the minibus early.
Killarney is a pretty town in which the shops are pleasant to browse and refreshingly free of the dull chain stores which dominate our UK town centres. Every other doorway meanwhile, hosts a restaurant or pub.
The town happened to be staging a biker convention when we visited, which nicely drowned out the busking. And the evenings found our weary golfers working their way doggedly through the seven stages of drunkenness, though often in an unexpected order. Who knew catatonia could come before belligerence?
The culinary highlight for us was Treyvaud's restaurant on the High Street. This was the place where the waiter told us regretfully that he was out of one dish and had "only medallions of venison" as a replacement. Poor us. The menu has lots of local lamb, pork and seafood, but also a hint of oriental here and there, all extremely well prepared and presented.
Kerry and Cork are deservedly noted for their stunning beauty. One day when we drove from the Dooks course to Waterville we encountered the Ring of Kerry, a fabulous circular tourist route all mountains and sea and unspoilt green countryside. One stares out of the car window and dreams of leaving the rat race to open a bar, or local newspaper, or dance studio.
It was all I could do to stop singing Whiskey in the Jar all week ("As I was goin' over / The Cork and Kerry mountains…") but it was lovely to think of Phil Lynott and the beautiful Irish countryside as we wandered from venue to venue.
The weather can be extremely variable and it was difficult to know from one minute to the next what clothing to wear. A couple of the courses were a bit too hard to play in weather that wasn't variable, just miserable. But we'll be back for those and for now they remain thrillingly to be discovered. When I'm back, I might unwittingly take on a blind carry to a multi-tiered green and end up with a tap in for eagle. I might shoot 75. I might not.
Course notes
This is a fabulous Arnold Palmer-designed course on the ocean just north of the Dingle Peninsula. In fact as you stride out to the first tee you go past a rather lovely statue of Arnold, looking ever so slightly camp and proud of his creation.
Most of the front nine is played along the water. It starts with an utterly spectacular and straight par four with the sea on your left. Soon you encounter views of massive deserted beaches just crying out for some cricket to be played on them.
---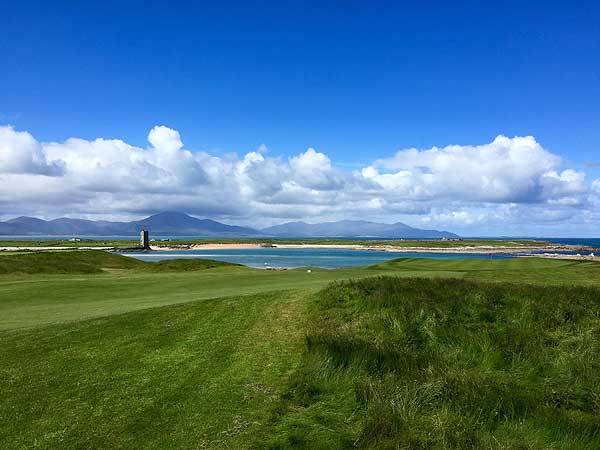 ---
The back nine is higher up, tighter and far windier. This is where not knowing the course can be a major handicap. Make sure you carry the ball all the way to the 13th, a short par 3. However bad it may look through the green, it won't be as bad as watching your ball, mine in this instance, pitch about a yard short of the green and then slowly bounce and wind its way down about 200 yards into the bottom of a chasm.
We rolled up to Dooks early on a weekend morning to find it deserted. It is so pleasing to find that not everyone has that go-get-em spirit that propels us to our home courses for absurd 7am start times.
---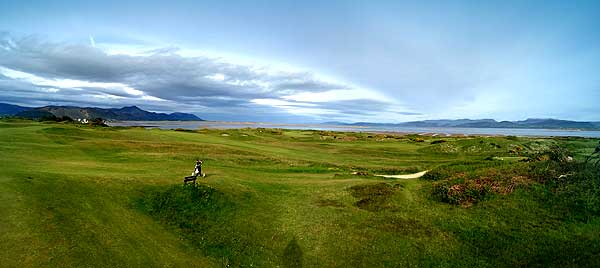 ---
All the way around Dooks you are offered beautiful views of the Dingle Peninsula to the north. It was so tranquil and idyllic when we visited: just us, the views, an early morning hazy sun struggling through and not even that much wind. We shared the whole experience only with hundreds of hares who emerged on each tee box to stare at these strange golfing creatures and their misfiring iron play.
Unusually for a links, the Dooks greens were often elevated and therefore pretty hard to hit. There was matted gorse everywhere too. But the course played fair; the calm and quiet settled the whole group, and the club-throwing tantrums were reserved for later.
This was the first of our truly rain-affected rounds. We made it there from Dooks on a beautiful drive round the Ring of Kerry. But by the time we arrived the rain was lashing down and the wind had really picked up. Waterville was the top-ranked course on our trip and from what we could see through 18 layers of waterproofs and steamed-up spectacles it really was an incredible place.
The third is a stunning hole that runs right along the water's edge. The design means the fairway is like one of those infinity swimming pools whose edges seem to promise nothing on the other side but a terrible drop into an ocean. There is no beach or shingle to see between green strip and sea.
---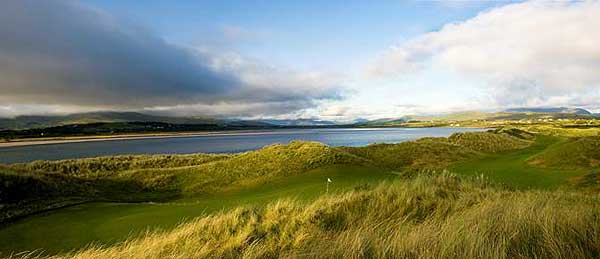 ---
My playing partner hit one wide that looked for all the world like it would get wet, but there was always a chance of a hidden ledge over the infinity fairway saving him. Sadly there was no ledge and no ball. Watch it with your remote control golf carts.
A tip for the rain is to carry enough wipes for your glasses. But the amazing thing was that the French chap, whom I had stupidly lent to the American team, turned out to be the Greatest Putter In The World once he had been forced to take off his glasses because of a lack of wipes and was essentially blind.
Meanwhile the gentlest American in the world, let's just call him Zen John, went into some house-high grass and wasn't seen again. The golfer who emerged several shots later was rather less calm.
The Killeen course at Killarney has been home to several Irish Opens and a Curtis Cup, and it does have that more polished, slightly corporate feel to it. It's more inland than the others but borders a beautiful lake and the whole set up is professional and gorgeous.
A squally bit of hail hit us on one hole, followed 30 seconds later by warm sunshine. You could be standing in total tranquility on one green, sheltered by a huge stand of trees, and watch the flag blowing out of its hole on another green just 50 yards away.
---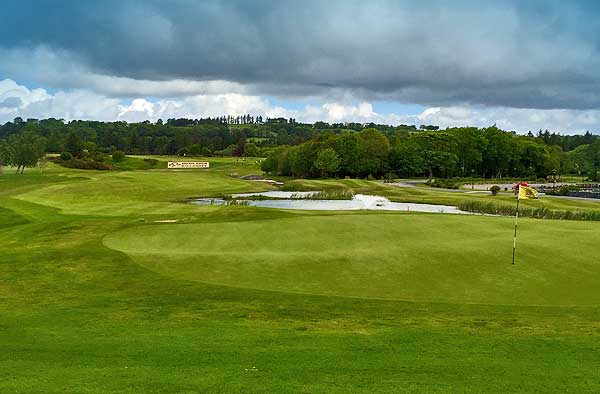 The Killeen Course at Killarney Golf & Fishing Club
---
All the waterproof layers, and extra gloves and hats, and bag covers, and umbrellas, had to be put away when the wind dropped and the sun came out. Minutes later the wind whipped up, an icy chill came in, and another fast and shocking downpour descended, for about three and a half minutes. All the gear was on, then off. Then on, then off. "Now you know what it feels like to be a Las Vegas dancer," shouted one of our group above the gale.
The 18th at Killarney is a real presentation wedding cake of a hole. From an elevated tee, the golfer looks at a long straight hole with water all the way down the left. There is a large fountain spouting near the green and show-stopping flora in abundance. The lake by the green is a huge carry if you hit a rubbish tee shot, though that won't stop amateur golfers from having their Tin Cup moment and trying again and again for glory.
The Old Head of Kinsale is home to a stunning golf course, built on the top of a dramatic and isolated finger of land near Cork. The area was farmland until pretty recently and its claim to fame is that it was near here that the Lusitania was sunk in 1915. Many of the survivors were brought ashore here and the clubhouse has a number of thought-provoking artifacts and newspaper cuttings dotted around.
Even golfers with a bent towards melodrama won't be crass enough to pretend that their travails compare with those on the Lusitania. But we did arrive in 50mph-plus winds and a horizontal monsoon. Sadly that was the way it stayed all day. One visitor went out and returned after less than a hole, looking like he had done 15 rounds with Mike Tyson in mid-ocean.
---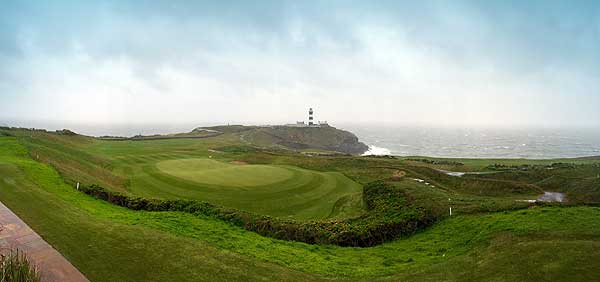 ---
You can see pictures and videos of Old Head all over the internet and it's been described as the most beautiful course in the world.
Our views were confined to what we could see while eating the great food in the restaurant. The clubhouse was crawling with frustrated golfers, and all credit is due to an immensely patient and helpful staff, who were sympathetic and gave us a credit to go back when we inevitably were forced to give up waiting for conditions to become playable. We'll be back.