When it comes to golf holidays and the perfect blend of quality vs quantity, there are few countries that hold a candle to Ireland.
From the endless links classics such as Tralee, Lahinch and Rosse's Point that sit along the Wild Atlantic Way, to Northern Ireland's famous coastline, home to the likes of Portstewart and Castlerock, as well as the countless top class golf resorts within driving distance of the Capital City of Dublin, Ireland has it all.
We recently sent PGA Professional and Youtube Golf Guru, Mark Crossfield, along with a couple of sidekicks including our very own YGT Rory, to film some of Ireland's courses and show you guys what they're all about.
The gang started in and around Dublin, sampling the likes of Carton House, The K Club and Druids Glen, then made their way into Northern Ireland to sample a couple of the finest links courses around, as well as spending a day at Royal County Down for the Irish Open.
Here's how they got on…
---
Coleraine, County Londonderry – 1 hour 20 minutes from Belfast
---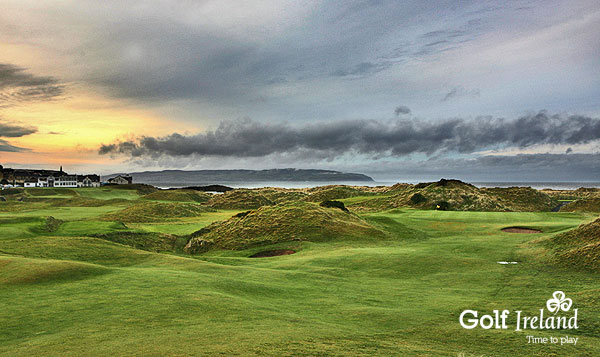 Castlerock has been crafted through the beautiful rolling sand dunes of the Northern Ireland coastline and offers a cracking test of links golf.

---
1st up in Northern Ireland for the gang was Castlerock Golf Club which is home to a championship links course refined by the great Harry S. Colt in 1926. The character of the Mussenden Course has remained the same ever since and has proved its championship pedigree by hosting, among other presitgious national events, the Irish PGA Championship.
---
Castlerock Golf Course Vlog – Part 1
---
Ranked among the very best that Northern Ireland has to offer, Castlerock is a genuine links gem and one of the toughest courses in the area. Despite being just a stone's throw from both Portstewart and Royal Portrush, Castlerock is certainly not overshadowed which speaks volumes about the course's undeniable quality.
<< CLICK HERE TO WATCH PART 2 >>
<< CLICK HERE FOR MORE INFORMATION ON CASTLEROCK GOLF HOLIDAYS >>
---
Portstewart, County Londonderry – 1 hour 20 minutes from Belfast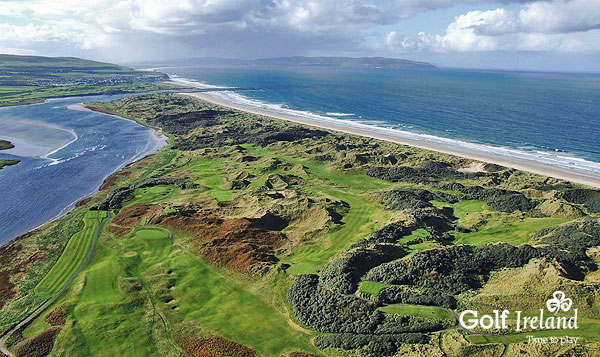 ---
Portstewart, which is just a stone's throw from Castlerock, was up next and depsite hearing plenty of positive reports from local throughout the week, they weren't ready for the sheer beauty of the views from the 1st tee. Portstewart boasts one of the best, and toughest when the wind blows, front nines not just in Ireland, but in the world. Do you know of a more stunning opening tee shot than that at Portstewart?
---
---
Portstewart was founded way back in 1894 but the current layout, which takes advantage of the dramatic nature of the sand dunes known fondly as "Thirsty Hollow", only opened for play in 1992. Still…it seems to have been here a lifetime and as you make your way through the gigantic sand dunes, every now and again you emerge and are greeted by the most amazing panoramic views across the Atlantic mouth of Lough Foyle, to the Inishowen peninsula and beyond.
<< CLICK HERE TO WATCH PART 2 >>
<< CLICK HERE TO WATCH PART 3 >>
<< CLICK HERE FOR MORE INFORMATION ON GOLF TOURS INCLUDING GOLF AT PORTSTEWART >>
---
THE IRISH OPEN AT ROYAL COUNTY DOWN
Newcastle, County Down – 50 minutes from Belfast
---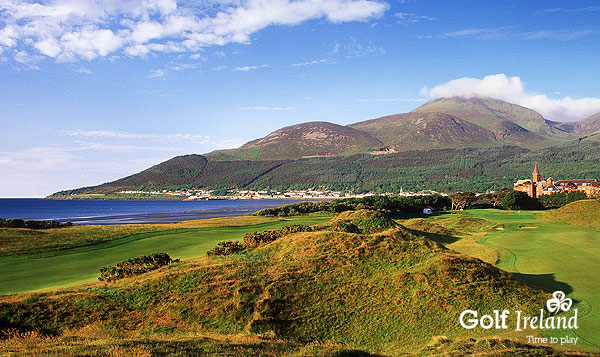 ---
With Rory McIlroy acting as host, it came as no surprise when a whole host of the biggest names in golf signed up to play in the Irish Open and the likes of Rickie Fowler, Sergio Garcia and Graeme McDowell, not to mention Your Golf Travel Ambassadors Darren Clarke and Lee Westwood, and of course Rory himself added real star quality. And so did the host course…
---
At the Irish Open, we got up close and personal with Rory McIlroy during one of his practice rounds.
---
Royal County Down is arguably the best links course on the planet and is a perenial presence on lists of the world's best golf courses. The Championship Course at Royal County Down boasts an exhilarating location for a classic links course,  with the Bay of Dundrum sweeping out into the Irish Sea and the peak of Slieve Donard, the highest in Northern Ireland, looming imposingly in the background. The course is somewhat eccentric, featuring a number of blind tee shots which aren't everybodies cup of tee, but when it comes to sheer volume of standout holes, as well as stunning scenery, it's hard to top a round at Royal County Down. It's a tough course too so thankfully, the guys left the golf to Rory & co!
<< CLICK HERE TO WATCH SERGIO GARCIA >>
<< CLICK HERE TO WATCH RICKIE FOWLER >>
<< CLICK HERE FOR MORE INFORMATION ON PLAYING GOLF AT ROYAL COUNTY DOWN >>
---