An awful lot to play for this week, for a great many players: this is the last tournament before the FedEx playoffs get going and a good showing here could lead to great riches in a few weeks' time. That's why Tiger Woods is making his debut at an event he would never have remotely considered previously: in fact he needs to win it to qualify for the playoffs.
Chances are he won't, although there have been frustrating glimpses this summer of some sort of consistent swing, although it seems to desert him completely when the majors come around. Tiger will be pleased there are no more majors for eight months so that he can work on his game in regular tournaments.
The Wyndham is played at Sedgefield Country Club, a classic par-70 that is not desperately long at just over 7,100 yards. It's a course for ball strikers and players who can get their ball in the right positions. If it rains (the forecast suggests it could do) then it will become a darts contest based on who can knock it closest and hole the most putts. Last year, Camilo Villegas was in the top ten for GIR but also led the field for scrambling; so while there are plenty of birdies out there, avoiding bogeys is equally important.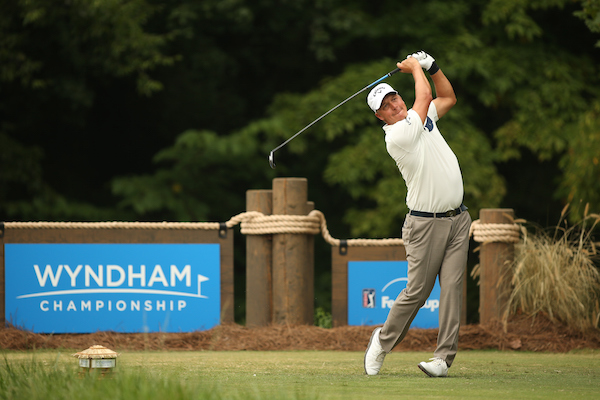 Favourite is young Brooks Koepka, who began the PGA Championship disastrously (+4 through his first nine holes) but still finished in a tie for fifth. But while he's a player of immense ability, this course does not immediately seem to suit him – he hits it miles and that's not the prerequisite here. But the man just behind him in the betting would appear to have a game made for this place.