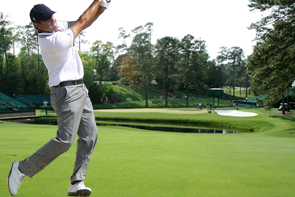 As one of golf's most iconic figures, Seve Ballesteros left an indelible mark on the sport. It is, however, at Augusta National and it's Masters Tournament where Seve's stamp is at its most prevalent.
Having burst onto the professional scene in the late 1970's with swashbuckling performances in Europe, including outstanding Open Championships, much was expected of Seve in his appearance at the Masters in 1980. Needless to say, the showman from Santander did not disappoint. Leading from the front, Seve played a game full of skill and stunning driving. Although he fell just short of Nicklaus' scoring record, his victory and first Green Jacket opened the floodgates for overseas golfers to begin their ascension at Augusta.
This week saw Seve remembered at the Champions Dinner, the traditional prelude to the tournament for past Champions and selected Augusta National committee members. Jose Maria Olazabal, Ballesteros' fellow countryman and Ryder Cup partner said "There is always a mention during the dinner of players who have passed away in the year just gone. It's one of the beauties of this place that they show their respect in this way."
Whilst we can expect many golfers vying for the Green Jacket this week, it is safe to say that no one will wear it in quite the same style as Seve.