It's difficult to argue against South Africa being a premier holiday destination when it comes to golf. From the Gary Player designed Links at Fancourt, Africa's top ranked course, to the stunning Pinnacle Point set atop the stunning cliffs of Mossel Bay, the quantity and quality of golf on offer in South Africa is arguably unrivalled anywhere else in the world.
It's not all about golf in The Rainbow Nation though. Away from the fairways; 5* luxury, world class food and wine, as well as endless adventure awaiting budding travellers eager to explore one of the world's most diverse countries…
I was lucky enough to travel to South Africa towards the end of 2015 and again this year with fellow Team YGT colleagues. This particular destination remains not only the best golf travel experience I've ever had, but the most magical holiday experience too.
This is what I got up to in 'The Rainbow Nation'…
We'll kick things off on the golf course.
Originally, we had only planned to play golf in and around George, having booked a stay at Fancourt, as well as additional rounds at Oubaai and Pinnacle Point. More on those later…
Based in Franschhoek for a week prior to heading to George (a 50 minute flight from Capetown), we (my family and I) were within reasonable driving distance of a handful of golf courses including the likes of Erinvale, Pearl Valley and Arabella. With a little bit of down time to spare, my Dad and I just couldn't resist adding a 6th round of golf to our South African golfing bonanza and ended up plumping for a day trip to Arabella, situated a little over an hour from the house we had rented in Franschhoek.
Arabella Golf Estate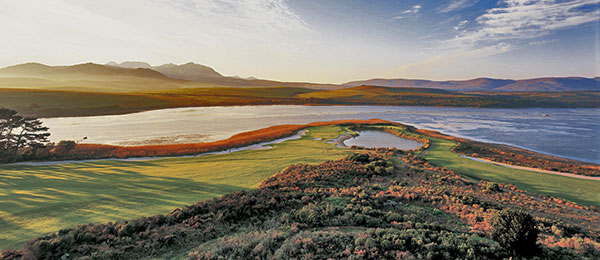 Perched dramatically on the edge of the Bot River Lagoon, Arabella is one of the most picturesque courses I've played to date (currently I'm on 19 countries and counting, with the number of courses I've played comfortably in the 100s) and playing from separate sets of tees, myself and my old man (7 and 23 handicaps at the time of writing this) enjoyed a nice competitive game all things told. Arabella have a fun challenge in place too, whereby if you play holes 4, 5 and 6 in level par, you are rewarded with a voucher for a FREE round of golf should you ever return. I actually parred my 1st eleven holes (I was as shocked as you're probably feeling right now reading this) so I've got my voucher tucked away safely for my return to South Africa!

After a week in Franschhoek which included world class meal, after world class meal at restaurants including Ryan's Kitchen, Dutch East and La Petite Ferme (all an absolute must!); myself and my Dad, leaving my sisters and Mum behind who embarked on a horse-riding safari, were ready to tick the rest of our pre-booked golf courses off the itinerary.
---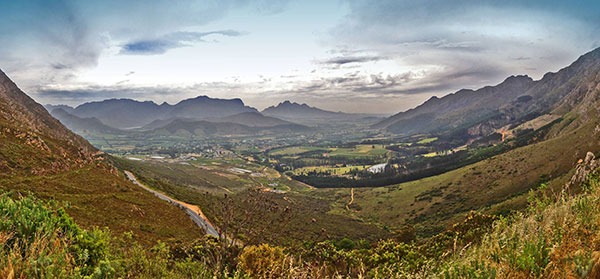 Franschhoek
---
Another word on Franschhoek though while we're still here: this place is widely considered the food and wine district of South Africa, and it also offers the opportunity for excursions such as ziplining and cage diving with Great Whites, not to mention visits to the stunning city of Cape Town to take in sights and attractions such as Table Mountain, the V&A Waterfront and Robben Island.
---

The view from atop Table Mountain – My tip is to go in the evening when the crowds are all gone and queuing is at a minimum 
---
YGT RECOMMENDS: TABLE BAY HOTEL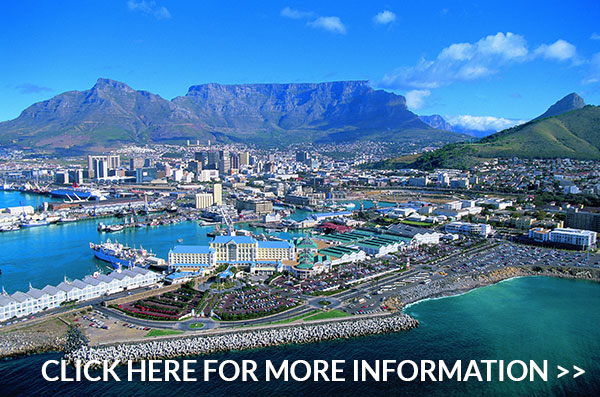 Unveiled by Nelson Mandela himself, Table Bay Hotel is a superb 5* luxury accommodation option for those visiting the stunning seaside city of Cape Town. The hotel's enviable location on the V&A Waterfront affords guests easy access to countless shops and restaurants, as well as some of Cape Town's most famous attractions.
---
As I said we'd chosen the Fancourt Estate as a base and that was a decision I think it's safe to say we didn't regret. This resort quite simply offers guests flat-out luxury at every turn, from 5* accommodation options to top class restaurants including La Cantina, the Club Lounge and Bar and Henry White's, the resort's flagship restaurant and one of the most charming and intimate fine dining experiences you could wish for. Try the loin of seared springbok and you won't be disappointed.
---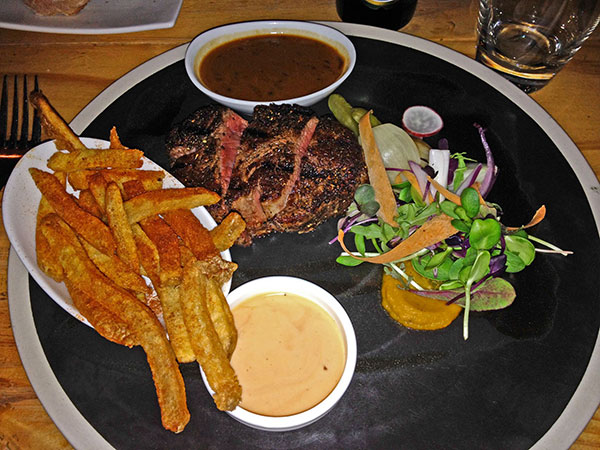 The food in South Africa is a particular highlight…try Ostrich steak if you get the chance!
---
As far as golf goes on the resort, the practice facilities are out of this world. I hate practicing. But when you've got a driving range, practice putting green and ample short game facilities in such a setting; you suddenly get the urge to put the hard graft in trying to get your game ready for your rounds of golf on the Montagu, Outeniqua and Links Courses.
The Montagu and Outeniqua courses weave their way through the pretty cottages that are dotted around the resort and offer enjoyably relaxing resort style golf in a truly unique setting. Higher handicappers will be right at home here, while playing from the back tees make the courses challenging enough for lower handicappers.
The Links Course – the top ranked course in all of Africa – is a different proposition altogether.
---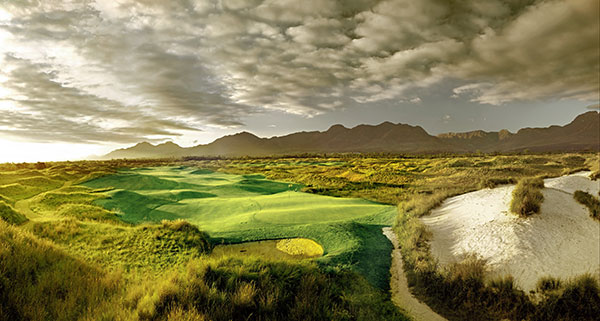 Fancourt Links
---
Designed by Gary Player, The Links is a thoroughbred championship test and without question one of the most spectacular courses I've ever set foot on. I'm not usually a fan of "mock links courses", preferring to sample the real thing rather than an imitation. But Fancourt Links is as close as you'll get to the real thing and the setting is breathtaking, with the Outeniqua Mountains providing the most spell-binding of backdrops.
---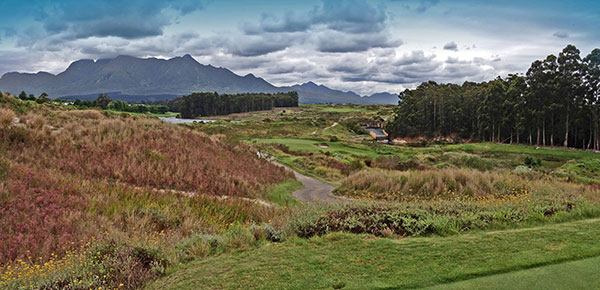 Fancourt Links, with the Outeniqua Mountains looming large in the background 
---
Having spoken to a colleague "in the know" who spent years playing on the Sunshine Tour, we took the short drive (20 mins or so) to Oubaai, where an Ernie Els designed course awaits. Like the Links at Fancourt, Oubaai offers a stern test of your game, and boasts a handful of truly awesome golf holes, particularly at the close of your round, where the course skirts along the cliff's edge.
---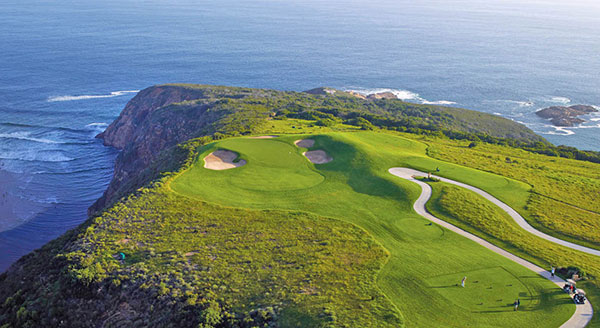 The 17th at Oubaai
---
The par 3 17th is the standout hole. I'd heard of infinity pools before, but this little gem has an infinity green! Shame I missed my 2 footer for birdie then.
Unintentionally, I've saved the best for last, as the final course on our South Africa tour was Pinnacle Point, which remains my favourite course on Earth to this day. Watch the video below for more on that!
Perched on the cliffs of Mossel Bay, Pinnacle Point probably isn't for traditionalists, but I fell in love with the place, with 7 holes set right on the cliff's edge, and forced carries over gaping ravines a plenty providing a golfing rollercoaster from start to finish. Play badly from the back tees and this place will eat you alive (luckily I enjoyed one of the best rounds of my life) but your score is largely irrelevant when playing in such a dramatic location.
Darren Clarke said of the course: "It won't matter how badly anybody is playing, golf here is not a good walk spoiled. It is simply one of the most stunning places I have ever seen and I don't think I was over the top when I described it as heaven on my first visit."
---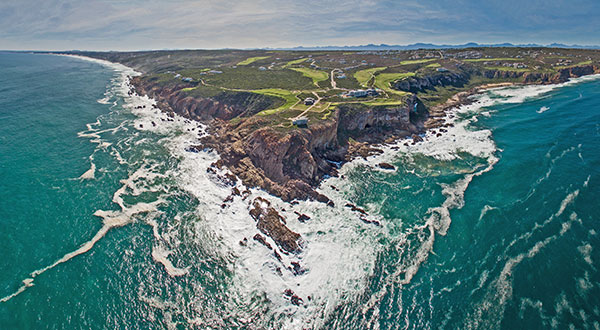 Few courses on earth can rival Pinnacle Point when it comes to sheer drama
---
I'll have to side with Darren on this one and the only downside of having played Pinnacle Point that I can think of is that I'm fairly sure I'll never play a course that will top it. Unless of course I get all pally with Bill Gates, Warren Buffet or Condoleeza Rice and bag myself an invite to Augusta.
That's unlikely to happen (unless you're reading this Bill, Warren or Ms Rice in which case drop me a line at rorya@yourgolftravel.com) but one thing is for certain: I will be back for another crack at Pinnacle Point one day.
---
YGT RECOMMENDS: PEARL VALLEY GOLF CLUB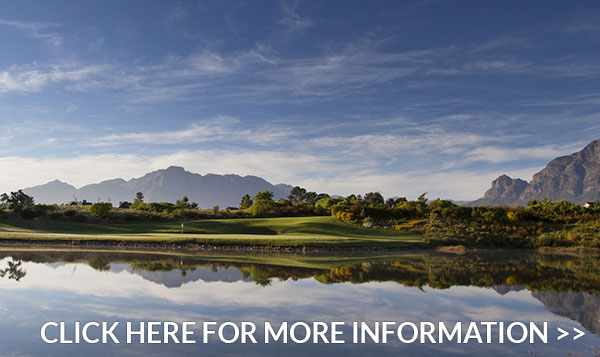 "It really is a fantastic course with stunning views and many memorable holes. The stand out hole though was for me the 4th, a par 5 that has a creek twisting and turning throughout. You have to place your drive up the right hand side, a second across to the lay up area on the left with water in play again and then a third shot over a green protected by the creek at the front and bunkers behind. It's a fantastic looking hole and it offers a great test of your skills." ~ Jason Launder, South Africa Sales Specialist at Your Golf Travel
---
Once golf was done, we were yearning for more adventure; as if horse-riding tours of Franschhoek's vineyards, ziplining over jungle canopys and cage diving with the Great Whites lurking in the waters of Gansbaai hadn't satisfied that urge!
---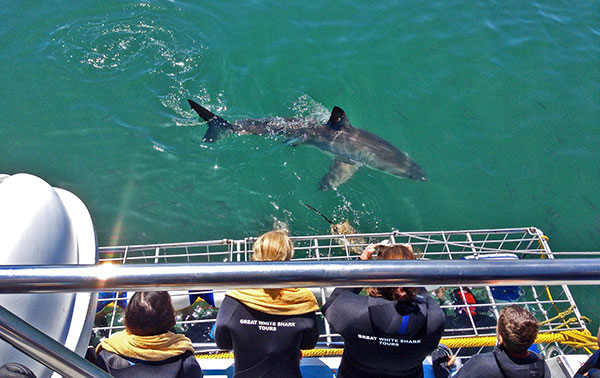 This is just a "little one" but I can assure you: it's big enough when you're in the water!
---
Of course, South Africa is synonymous with Safari, so it would've been remiss of us not to have gone on one. With that in mind we flew north to Johannesburg (1 hour 45 mins from George) to join up with the girls who had just finished their horse-riding safari at Ant's Hill, for a 2 day jeep safari at the Legend Golf and Safari Resort.
Little did I know upon arriving at the resort (because I'd been a lazy bugger and taken a back seat in the organisation of the trip outside of the golf element) that we were on the same resort as the one and only Extreme 19th Hole. More on that later…
---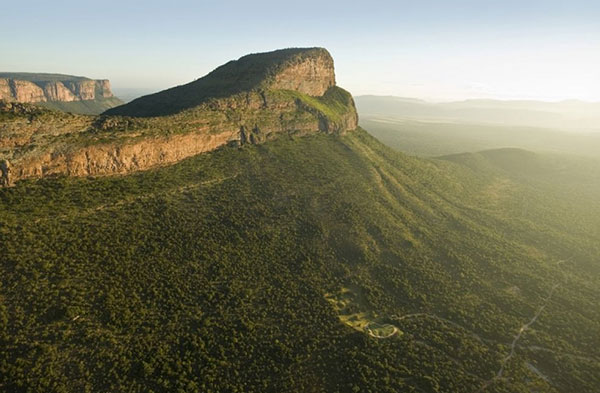 The Extreme 19th
---
The Entabeni Safari Resort is tiny in comparison to places like the iconic Kruger National Park, but that serves you well over the course of a couple of days. In just 2 days, we saw the majority of the "Big 5", including Elephants (might've gotten a little too close on one occasion prompting a little charge from a bull in heat), Buffalo, Rhino and Lions. The only thing missing was a Leopard. Slippery little chaps they are!
We also saw every type of "Bok" imaginable, Giraffes, Crocodiles, Hippos…you name it, we pretty much ticked it off the list.
---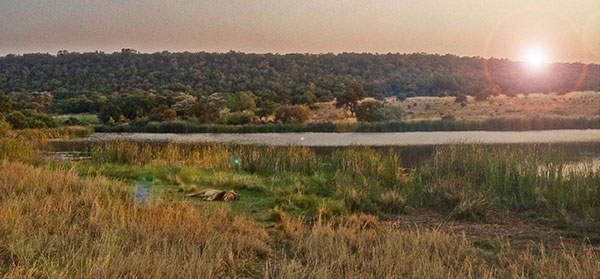 The male lion at Entabeni put on a real show for us one evening, before relaxing while the sun went down
---
While driving around Entabeni, I also kept noticing this mountain in the near distance, finally clicking that it was Hanglip Mountain. Golf geeks will recognise the name and the fact that this particular mountain features one of the world's best, most unusual and completely bonkers golf holes; The Extreme 19th.
Some 400m up from the level of the green shaped like the continent of Africa, the tee on the Extreme 19th is perched on a cliff's edge, where golfers hit down towards the giant green which is also 400m out horizontally from the base of the mountain. Balls take upwards of 22 seconds to land and the only way to access the tee and return safely to green level? Helicopter of course.
---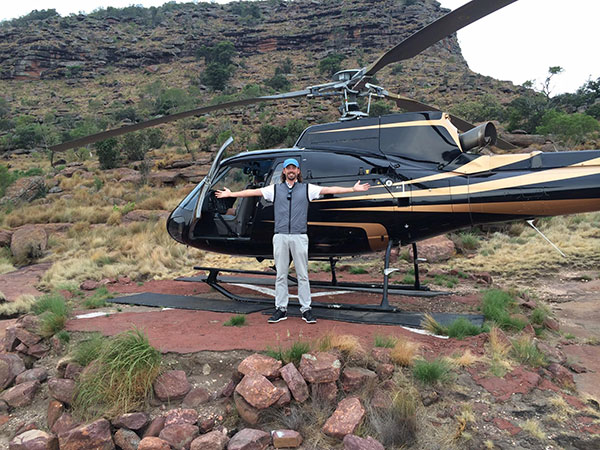 Your ride to and from the tee on the Extreme 19th…little bit more exciting than a golf cart!
---
I can honestly say this is the best golfing experience (and I've been lucky to have attended The Masters twice) I have ever had…by quite some distance too.
---
YGT RECOMMENDS: GONDWANA GAME RESERVE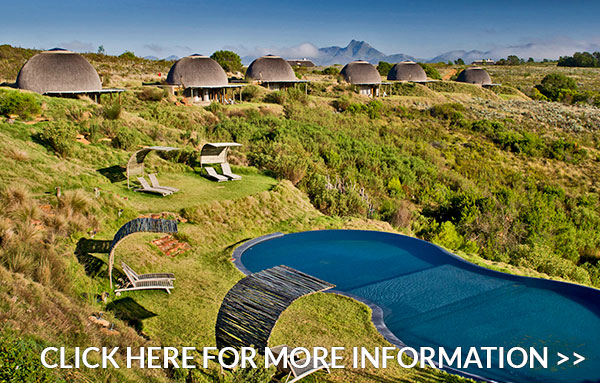 "There aren't many game reserves in South Africa that can rival Gondwana when to comes to luxury accommodation and fine dining away from the plains. The Big 5 all reside here so safaris are excellent – I didn't quite get to see all 5 but 4/5 is a pretty good haul – and the scenery is an added bonus, with the Outeniqua Mountains providing a superb backdrop. The accommodation options are amazing and I'd definitely recommend the eco-tourism option which is a really immersive experience. The food…well…what can I say…I most definitely packed on a few pounds when I visited! The location of the reserve is excellent for golfers too, with the likes of Oubaai and Pinnacle Point not too far away at all." ~ Jason Launder, South Africa Sales Specialist at Your Golf Travel
---
In short, just like a round of golf at Pinnacle Point, it's going to take an awful lot to beat a golf holiday in South Africa and while I'm willing to try my best to do so in other parts of the world; I'll also be back to 'The Rainbow Nation' as soon as possible! My favourite country in the world; home to fine dining and delectable wine, luxurious accommodation, world class golf and endless adventure away from the fairways.
---