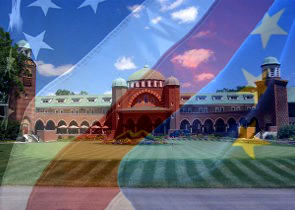 The next instalment of golf's greatest show, the Ryder Cup, is almost upon us so here at Your Golf Travel we thought it would be a good idea to see how the two teams are shaping up before they lock horns at Medinah Country Club in a couple of weeks time. We take a look at world rankings, current form, tournament wins, Ryder Cup history, the captains and much more in a bid to find out hwo we are putting our money on to get their hands on the cup donated to golf all those years ago by one Samuel Ryder.
World rankings – Advantage USA
Whilst the European's are boasting the world number one and form player in the world in Rory McIlroy as well as numbers three and four in the world in their ranks, only one member of the American side – Jim Furyk – is not currently in the world's top 20. Europe on the other hand have half their team coming from outside of the top 20.
If the world rankings are to be the best barometer for golfing quality, then we're in for a real treat, as Hunter Mahan (ranked 20) is the only top 20 player eligible for the tournament who was overlooked for a wild card pick, perhaps on the back of his infamous 'chip' at Celtic Manor in 2010…apparently he won't be watching on TV…boohoo…toys…pram…you get the picture! The other top 20 players not playing for obvious reasons include Australia's Adam Scott (5) and South African Louis Oosthuizen (9). So with 17 of the world's top 20 on show we're in for three days of incredible golf!
Tournament wins – Advantage USA
Totalling up the combined career wins of the players in each team, the USA again have a clear advantage, with a whopping 258 career victories to the European team's 173 career wins. The American's are significantly boosted by Tiger Woods and his incredible 101 worldwide career victories, which is far in advance of Europe's top trophy hunter, Lee Westwood on 39.
This tournament success also translates into major victories, with seven of the American team having picked up one of the big four, and between them they have amassed 23 majors, far outweighing the five gained by the Europeans….let's just see what Rory can do before Gleneagles 2014 rolls around!
2012 form – Advantage USA (just)
Things start to get a little tighter here, with the USA just about edging out Europe with 15 victories to 13. Jim Furyk is the only man in the American ranks yet to taste victory this year, although with 26 career victories, the winning feeling isn't alien to him. By contrast, four members of the European team (McDowell, Poulter, Kaymer and Colsaerts) have failed to win this year, but in Rory McIlroy they have THE form player of 2012, with his four wins being more than any other player in the Ryder Cup, on the PGA Tour and so on and so forth!
Three of the four major winners from 2012 will be on show, with Masters champ Bubba Watson and US Open victor Webb Simpson both representing the USA and Rory flying the flag for Europe after his recent stroll in the park at the PGA Championship on the infamous Ocean Course at the Kiawah Island Resort.
Ryder Cup appearances – Too close to call
Whilst the American's have amassed 28 appearances in the Ryder Cup to Europe's 26, 21 of those come from Mickelson (8), Furyk (7) and Woods (6), leaving four rookies (Simpson, Duffner, Bradley and Snedeker) in the side.
Europe on the other hand have just the one debutant in Nicolas Colsaerts from Belgium, and in Lee Westwood have a man who is making his 8th appearance in the match.

---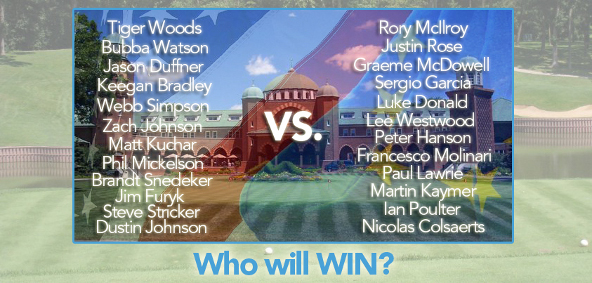 The teams are in place and the tension is mounting as the big day (Sept 28th) draws near…who are you backing to win this year's Ryder Cup? Lets us know in the comments section below…
---
Ryder Cup form – Advantage Europe
When comparing the number of points contested by each of the players in their previous Ryder Cup appearances, Europe have a distinct advantage. The 12 Europeans taking to the fairways at Medinah have picked up 69 points from a potential 110, a 63% success rate. This is considerably higher than the Americans who have picked up just 48 points from a possible 115, a conversion of 42%.
In terms of the players to watch, the Europeans will be looking to Luke Donald, who has taken 77% of his points, along with Ian Poulter who has claimed 73% of his points and Sergio Garcia with 67%. In fact, of all the Europeans to have played in multiple Ryder Cups have picked up more than 50% of points they contested.
It's a totally different story for the American's, with Steve Stricker and Zach Johnson both collecting 50% of their points being the best from across the pond. Despite 101 career victories in individual tournaments, Tiger Woods can only claim a record of 48% (perhaps better than many would expect considering his Ryder Cup reputation) having taken 14 points from a possible 29. Worse still are the records of Phil Mickelson and Jim Furyk who have taken just 41% and 37% of points they contested respectively.
The Captains – Advantage Europe
Whilst not taking their clubs with them, the roles of Jose Maria Olazabal and Davis Love III cannot be underestimated as the figureheads for their teams. It is here that Europe's edge in Ryder Cup battles takes over again with Olazabal's superb record.
With four wins from seven appearances, the Spaniard, who formed a legendary partnership with the late Seve Ballesteros, is streets ahead of Davis Love III, who was on the winning team just twice in his six appearances as a playing member of team USA. At an individual level Olazabal again comes out on top, with 20.5 points from a possible 31, putting his counterpart's record of 11.5 points from 26 well and truly in the shade.
In their overall careers Love picked up more tournament wins with 34 to Olazabal's 31, but the Spaniard claimed two majors to the American's one.
Finally, how will the captains inspire their teams? Well, Olazabal should be confident that his team will respond to the man who holds the world record for the longest putt – over 9 miles on a Concorde flight – and is a member of the World Golf Hall Of Fame. This surely beats having a section of a highway in Georgia (the I-95 from the McIntosh County Line to Highway 341 at exit 7A if you want to see it) and the Davis Love Grill restaurant in his hometown named after you! Although…he may be able to coax a few more yards out of Bubba Watson by showing him a clip of his 476 yard drive in the 2004 Mercedes Championship, the second longest ever record in tournament golf.
Twitter – Advantage Europe
Although not likely to have a huge bearing on the course (none at all really!), the European team boast over 300,000 more followers on the social network than the American's, which could prove vital with those morale boosting retweets!
Top of the Tweets is Tiger Woods who, with over 2.6m followers, is responsible for the majority of the 3,756,447 the team has in total. The Europeans are led by Twitter fanatic Ian Poulter, who with 1.3m, just shades out Rory McIlroy's 1.25m followers both of which contribute to the European total of 4,075,533.
If it was a battle of the tweets, then our friends from across the pond will surely regret giving a wildcard to Twitter free zone Jim Furyk over Rickie '402,042 followers' Fowler who would have tipped them into first.
Conclusion – Too close to call!
The American's are coming in with the better rankings and 2012 form (apart from Rory of course who is the form player of the year without question), but the European's love of the Ryder Cup and team spirit (pay attention now Tiger and Phil…), along with Olazabal's Ryder Cup history make this one far too close to call.
I guess we'll just have to tune in to see the action unfold at Medinah and if that is not enough to satisfy your Ryder Cup bug then being in Chicago to see the action live is the only option! Luckily we have a great range of Ryder Cup ticket packages on offer so if a last minute American Golf Holiday appeals then now is the time!…life is tough for us golf fans sometimes isn't it?

---
Be sure to keep an eye out for our next instalment of Ryder Cup based trivia on the 19th Hole Blog!
---
---