So The Masters has been and gone yet again and as usual, Masters Sunday was at its unpredictable, electric, sad and joyous best from start to finish.
With 359 days, 14 hours and 6 minutes until Augusta and The Masters are back on our radars and TV screens, we thought we'd take a look back at this year's tournament and heap special (and not so special) praise on certain players.
So…without further ado, here are our Alternative Awards for The 2016 Masters:
The Flying The Flag Award – Best Nation
While English sports fans have long had a bit of a shortage of things to cheer about, famously so on the football side of things, that was certainly not the case at The Masters.
Not only did Sheffield-born Danny Willett waltz off into the sunset with what was looking likely to be Jordan's Green Jacket, but he enjoyed a strong supporting cast from Old Blighty too. Your Golf Travel Ambassador Lee Westwood put in his usual strong showing at Augusta, finishing in a tie for 2nd with Jordan Spieth – his 5th Top 10 finish at The Masters since 2010 – and he was followed closely by the trio of Paul Casey, Mathew Fitzpatrick and last year's runner up Justin Rose.
England certainly had plenty to cheer about on Masters Sunday.
WINNER: ENGLAND
Old Man Par Award – Augusta National comes out on top
While the likes of Rory McIlroy, Jordan Spieth and Jason Day turn plenty of heads in the world of golf, as usual, Augusta National stole the show at The Masters.
Enduringly majestic, Augusta backed up its undoubted beauty with plenty of beast this year, thanks in large part to unusually strong winds which, combined with Augusta's well known challenges, wreaked havoc on the players chances of posting low number.
---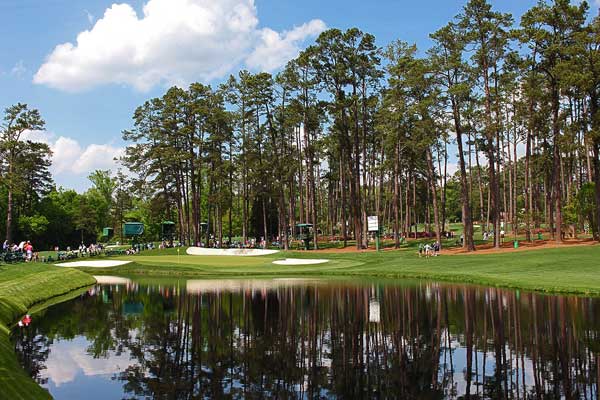 Due to high winds and a hard and fast setup, Augusta National wasn't quite the birdie fest we've grown accustomed to over the years.
---
It was more murder on the scoreboard than on the dancefloor at The 2016 Masters and Danny Willet's winning score of -5 (which would have only been good enough to win one Masters title since the turn of the Millennium) is testament to the challenge faced by the world's best this year.
The question is was the course too hard? Granted Augusta can do nothing about the freakishly high winds but surely after debacles like Billy Horschel's ball being blown into the drink short of the 15th green AFTER he'd marked it, they might have watered the course overnight to counteract Mother Nature being nasty to the players?
Maybe they didn't want a repeat of Jordan's -18 winning total from 2015…
WINNER: AUGUSTA NATIONAL
Ready for The Ryder Cup Award – Lots of Euros on the leaderboard
While there is plenty of golf to be played between now and The 2016 Ryder Cup in September, if we go by the season's first major as a Ryder Cup barometer, Team Europe, lead by Your Golf Travel Ambassador Darren Clarke, are looking in mighty fine fettle in comparison to Team Stars & Stripes.
There were 6 Europeans in the Top 10 at this year's Masters and only 3 Americans. In fact only 6 Americans made their way into the Top 20. At an event historically dominated by players from the USA, the Euros reigned supreme at Augusta.
If The Ryder Cup were to be played next week, I know who I'd put my money on.
WINNER: TEAM EUROPE
The Best Intentions Award
Unless you've been living under a rock for the past few years, you'll know that Rory McIlroy has had his fair share of success in Major Championships. In fact, for the past two Masters tournaments, at the tender age of just 25 and 26, Rors has been looking to become just the 6th player in history to complete the Career Grand Slam as a winner of all four Major Championships.
That amounts to added pressure in anyone's book and the pressure is being mounted on Rory both by the press, the golfing public and the man himself.
Watching McIlroy this week it seemed like he wants that elusive Green Jacket a little too much if such a thing were possible. Rory gave his all until the bitter end but there were so many uncharacteristic mistakes from tee to green – we've become accustomed to seeing Rors miss his fair share of putts – you've got to think he's putting himself under a little too much pressure to pop his Masters cherry.
---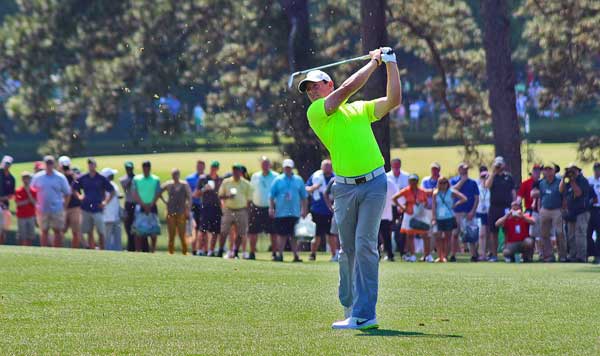 Rory McIlroy will most likely win The Masters one day…perhaps when there is a little less pressure and expectation.
---
I'm sure one year Rory's putter will click at Augusta and when it does we may as well start getting his Green Jacket sized up early but for now, the Career Grand Slam hullabaloo might need to blow over.
If he's looking for a new approach for The 2017 Masters, we'd go for ditching the 5:30am alarms and gym sessions. Just rock up on the tee with 5 minutes to spare Rors…it worked for you at The Miracle at Medinah after all!
WINNER: RORY MCILROY
The…we're really sorry Jordan…Choke Award
While seeing Danny Willett don the Green Jacket due to some typical Masters Sunday drama, it wasn't the kind of drama anyone was expecting, nor the type that anyone with but a single heartstring particularly enjoys watching.
By the time he got to the back nine on Sunday, Jordan Spieth had lead The Masters for seven and a half rounds, all the while displaying the steely nerve that the young Texan is quickly becoming famous for along with his outrageous putting ability.
---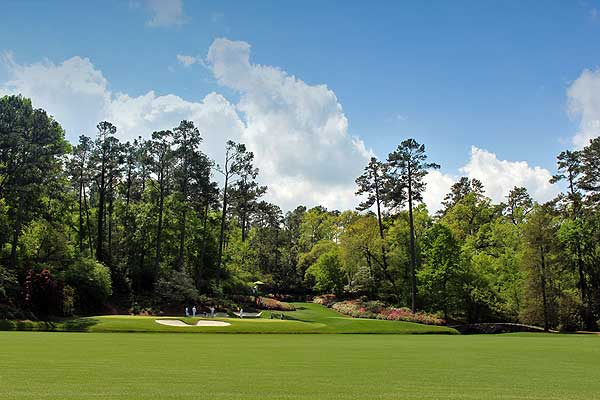 The par 3 12th proved a bridge too far for Jordan Spieth and after 2 visits to Rae's Creek, the then leader carded a 7 and his tournament was over.
---
Cue a poor tee shot followed by a chink into Rae's Creek, followed by a thin bullet over the back and onto a bunker. Failure to get up and down from said bunker would see Jordan card a 7 which was preceded by a pair of bogeys at 10 & 11.
Sorry young man, and don't be too discouraged at it's happened to plenty of others down the Stretch at Augusta, but that is a bona fide choke.
WINNER: JORDAN SPIETH
The…we're really sorry Jordan…again…Treacle Award
To be fair to him, Spieth wasn't the only player I'd put on the naughty step for taking his sweet time…over every…single…shot.
There are plenty who could make for less frustrating TV viewing on tour these days and while I can totally appreciate wanting to be sure that everything is right when there's hundreds of thousands of dollars and the chance to bag a major championship on the line, it is a bit painful to watch the likes of Spieth and Jason Day play from time to time.
Spieth was visibly aggravated by being put on the clock on the 11th hole during his second round (as you can see via the vine clip below) but when – as pointed out by Frank Nobilo during commentary at the time – the group ahead have already cleared the 12th green and are on their way off the 13th tee, surely it's time to get on with things.
"I'm being freaking timed. I wanna take my time and wait out the gusts."
Ummm…that's the point Jordan. There are rules in place that state you have a certain amount of time to hit your shot…same as everyone else.
---
---
WINNERS: JORDAN SPIETH & JASON DAY
The "My Brother won The Masters, I won Twitter" Award
Danny Willett…you may have won The Masters…but your brother stole the show on twitter.
Anyone who had an eye on the micro-blogging site during the closing stages of The Masters probably saw the handle @P_J_Willett flash up on screen and while Danny's brother PJ had a respectable 1,000 followers on Sunday morning, he's now got over 17,000 and counting.
---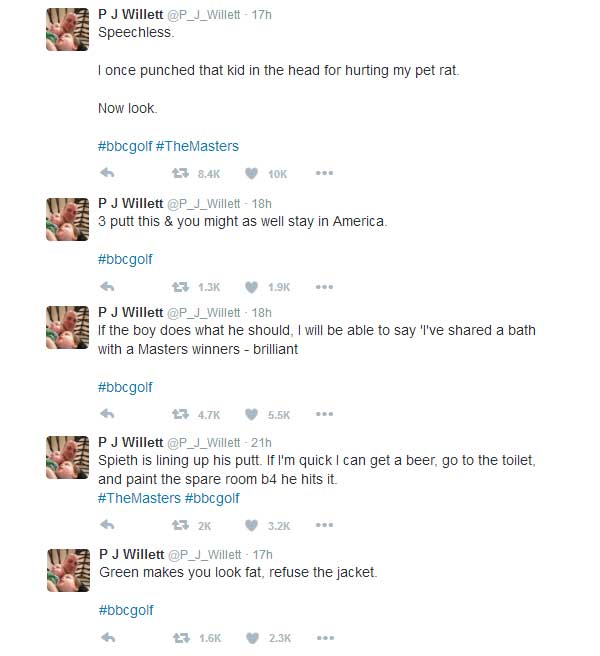 Here are some of PJ's greatest hits from twitter on Masters Sunday…
---
WINNER: PJ WILLETT
The Snooker Golf Award
We know all about the Sunday pins at Augusta and how year on year they contribute to The Masters providing the most electric source of golf entertainment…16 has a particularly famous one that sits at the bottom of a natural funnel and should any given player's tee shot be on point, they've got a pretty good chance of knocking it stiff for a birdie…or even a hole in one as proved by no less than 3 players during the final round.
Shane Lowry & Davis Love III had both carded an ace before Louis Oosthuizen arrived on the 16th with his mind set on creating a new sport.
The South African's tee shot looked good straight off the blade and not content with only holing his ball, Oosthuizen tried to knock his playing partner's ball in too.
---
---
All hail King Louis and Snooker-Golf!
WINNER: LOUIS OOSTHUIZEN
The Drive for Show & Putt for Dough Award
While modern research has pretty much proved that this is a load of nonsense (thank you Mark Broadie) it does certainly ring true in certain situations at the top level of the game.
Peter Dobereiner once said "Half of golf is fun; the other half is putting."
I'm sure at this point in time both Rory McIlroy and Dustin Johnson would agree.
Many onlookers will tell you that when Rory putts well nobody else stands a chance and while that might be a bit of a stretch, it's not too far off. At Augusta though, McIlroy's usually flawless long game went a bit squiffy too, with a handful of snap hooks off the tee and some bafflingly misjudged irons shots from the middle of the fairway.
So this award is actually going to DJ who comfortably played the best golf from tee to green at The Masters but yet again fell just short of that 1st major title, mainly due to his struggles with the flatstick.
One day I'm sure Johnson will win a major…but you could argue he SHOULD have won his first one last week at Augusta.
WINNER: DUSTIN JOHNSON