Three weeks ago, the cream of the European golfing crop was in China for the BMW Masters which was followed by the WGC HSBC Champions event, also in China. Then Europe's top golfers were joined in Turkey by Tiger Woods and finally, this week they will head to Dubai for the final big money event of the 2013 European Tour calendar.
Well…most of them anyway…
While the majority of the most successful players from the 2013 European Tour season will make their way to Dubai to do battle with the Earth Course at the Jumeirah Estates, there will be some noticeable absentees. But whose fault is that?
Well…according to the likes of Ernie Els, Charl Schwartzel and Sergio Garcia, it's all the European Tour's fault. After all, they're the ones who imposed a ruling stating that players must compete in at least two of the first three Race to Dubai events to be eligible to compete in Dubai.
"Why would they make a decision like that and expect guys to play?" asked four time major winner Els. "It's farcical. In my view it's an absolute joke," added the former world number one. Needless to say, Els, Schwartzel and Garcia didn't fulfil that "two out of three" quota; hence their absence at the European Tour's finale.
---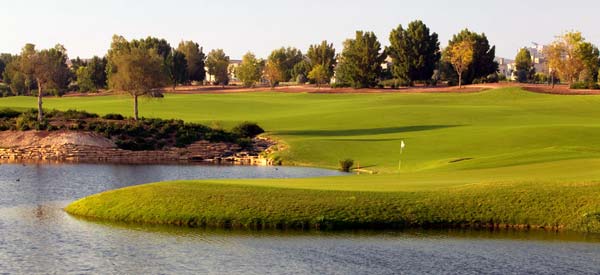 Despite leading names including Els not qualifying for the DP World Tour Championships, The Earth Course is still set to welcome some of the world's best golfers including Race to Dubai leader, Henrik Stenson.
---
While Ernie has certainly earned the right to voice his opinion – he has been present for almost all of the European Tour's growth over the years and is seen as one of its marquee players – it is hard to feel too sorry for global golfing superstars such as him, Garcia and Schwartzel.
The hardship of travelling the globe and competing for millions is something the vast majority of everyday golfers would kill for and while the gap between the haves and have-nots continues to grow, the protestations of such players over being "forced" to compete is surely a smack in the face of the countless golfers who continue to struggle to even secure their livelihoods through professional golf. European Tour Qualifying School is currently in session in Spain and I would imagine that any one of the guys struggling to secure their future on tour would jump at the chance to be "forced" to play for a share of the prize purse in Dubai.
While there is absolutely no doubt that the best players have earned their way to the top, you can't deny that golf has been good to Messrs Els, Schwartzel and Garcia since they got there. Surely then, they can find the energy to fire up the private jet for a few more rounds of golf and the considerable wedge of cash that will inevitably come with it? After all, the more they play, the more likely the European Tour will be to attract top sponsors offering top money which, of course, is the lifeblood of the professional golf tours.
Sponsors expect big names to show up at their events and make their investments worthwhile, something the new "two out of three" rule is supposed to help ensure. If the big names don't show, obtaining sponsors is just that bit more troublesome. This point is supported by 8-time European Tour Order of Merit winner, Colin Montgomerie, who said, "You can understand the European Tour's point of view – it's difficult to find sponsors."
While Monty's opinions might not be universally popular – last week he stated that winning Order of Merit titles is better than winning major championships – it is hard to argue with his sentiments on this matter, especially when it comes to players complaints over "burning out" due to their busy schedules.
"People are saying they can't play four events in a row. For goodness sake, I played 13 in a row when I was at my peak," said the former Ryder Cup Captain. "Four in a row is not a lot, especially the way they are treated nowadays. They are like royalty with their private planes and suites. It's hardly a hassle is it?"
Of course, despite the perceived glitz and glam that modern touring pros enjoy, the reality is that they are in fact, as Tiger Woods recently described them, "independent contractors" who can pick and choose where and when they play.
This brings the prize money on offer to the top players in today's game into sharp focus. A total of over $30 million was up for grabs for those lucky enough to qualify for the Race to Dubai Final Series so, even those who don't "bring their A game" will, in all likelihood, substantially line their pockets just by turning up.
"The players are saying they are being dictated to and being told where to play but you shouldn't have to be told to play for $7m should you? They are professional golfers. That's their job."
For once, I am in full agreement with Monty!