The sun has been pouring in through the office windows over the last few days and as a keen golfer, the only reaction this provokes is for my mind to wander off to foreign fairways and one of my favourite golf holiday destinations: the Opal Coast in Northern France.
Unlike other popular European Golf Holiday destinations, Northern France and the Opal Coast offers real convenience when it comes to a weekend golf break. Pack a bag, chuck some golf clubs in the back of a car and before you know it – crossings take about 40 minutes and run throughout the day – you're at Calais, boarding the Eurotunnel and just a matter of minutes from touching down in France.
But where to go upon arrival? Well, the Opal Coast is chock full of excellent golfing hotspots and one of the best is Arras; a charming medieval market town just an hour or so from Calais. A leisurely drive down the A26 will take you directly to Arras which is slightly larger than other stops along the Opal Coast such as Le Touquet, Hardelot and Saint Omer, offering a larger selection of restaurants and bars; perfect for groups who like to burn the candle at both ends while on holiday!
Arras is the capital of the Pas-de-Calais department and as such the accommodation options are numerous but we would recommend a handful of hotels and choosing between them purely comes down to personal preference in terms of location.
---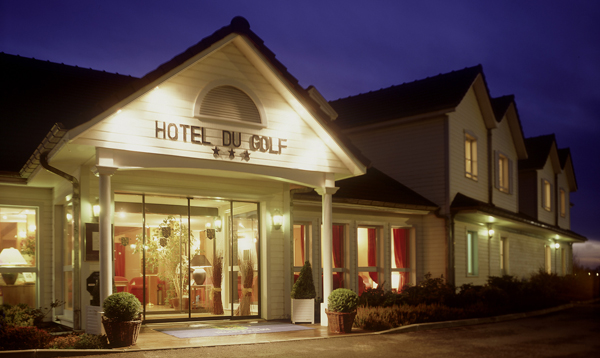 The Hotel du Golf d'Arras is an ideal base for those looking for easy access to Arras while being just a stone's throw from the 1st tee.
---
The Hotel du Golf d'Arras, as the name would suggest, offers easy access to Golf D'Arras  which is the golfing highlight of any trip to this part of France. In fact, you could roll out of bed and be standing on the 1st tee within minutes such is the proximity of the hotel to the course. Furthermore, this hotel is just a 10 minute drive from Arras town centre.
Other recommended hotels include the Holiday Inn Arras and the Hotel de l'Univers. Both are situated in the heart of Arras and offer the same convenience as the Hotel du Golf d'Arras only in the opposite direction. Those who wish to be close to the vibrant town squares of Arras during their time away from the golf should head to one of these with those looking for a little more peace and quiet being better suited to the Hotel du Golf d'Arras.
Golf-wise, Arras is well known for its association with the Ladies European Tour. Golf d'Arras and its brilliant Championship Course has played host to the Ladies French Open since the turn of the millennium. Its French Open history is testament to the supreme quality on offer here and to sweeten the deal for visiting golfers, Golf d'Arras also offers the 9 hole Les Aubépines Course which is ideal for youngsters and beginner who are still coming to terms with the intricacies of the game.
---

Golf d'Arras offers one of the best tests of golf in Northern France. Will you make it through your French Golf Holiday without loosing a ball to one of the many water hazards?
---
The main Championship Course though, will provide an excellent test even the most talented players without being unmanageable for the higher handicapper. The Championship Course offers two distinct nine hole loops, the first of which is set over the low marshland around picturesque lakes before the back nine takes the golfer into the ground spanning the higher hillside land. A total yardage of 6,738 yards is healthy enough but Arras demands patience and sound strategy above all else. Undulating and sprinkled with its fair share of water hazards, this is a challenging but hugely entertaining golf course.
Of course there are other golf courses you could include on a tour of Arras and both Golf Le Vert Parc and Golf de Bondues are within a 45 minute drive from any one of the three hotels we have mentioned.
Golf de Bondues is among the most prestigious clubs in the North of France, boasting two outstanding courses that were mapped out by none other than Robert Trent Jones and Dr. Martin Hawtree, the go to man for the R&A when course changes on the Open rota are afoot. Quality is certainly assured here.
Golf Le Vert Parc also offers an intriguing test of golf and is currently being updated from 18 to 27 holes, brining even more golfing variety to this part of the country.
---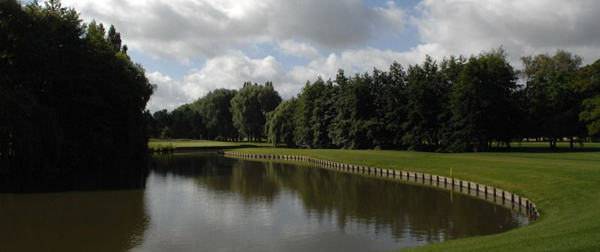 Golf de Bondues boasts two great courses designed by noted architects and is just 45 minutes from Arras.
---
Another bonus of travelling on the Eurotunnel is the freedom that comes with a Flexi Plus ticket. Flexi Plus customers will enjoy not only the added benefits of travelling with sufficient luggage and your own clubs – a massive plus point when compared to flying and renting clubs – but will enjoy a private check in area, complimentary refreshments and best of all no queues! Boarding on any crossing without the constraints that inevitable come with check in times etc adds a great sense of freedom and relaxation to any golf holiday.
Of course it is not ALL about the golf. Luckily Arras is also home to a number of fascinating historical attractions including the abbey quarter, The Boves and Wellington Quarry. Other leisure pursuits are also easily accessible in and around the town with fishing, white water rafting and various watersports all available at specially designed lakes within a short drive of Arras town centre.
Arras is a fantastic option for an Opal Coast Golf Tour. Easily accessible by Eurotunnel, all you need to do is choose your itinerary, chuck the clubs in the boot and hit the road Jack!