[dropcap]Although the next edition of The Ryder Cup is still a ways off, the venues for contests even further down the line, all the way up to 2020 when Whistling Straits will host the event, have already been announced. Obviously this is vitally important so that each venue in question has the time to prepare and get ready for one of the biggest events not just in golf, but sport too.[/dropcap]
The venue of choice for The 2018 Ryder Cup is Le Golf National in France which has also hosted the European Tour's French Open on numerous occassions and while clearly capable of welcoming – on a logistic level – a top tier event, hosting The Ryder Cup is a bigger and bolder commitment. Changes will no doubt be made to various aspects of this remarkable resort but what of the course?
We spoke to the General Manager at Le Golf National to get a better idea of what's going on at this famous French Venue as it counts down towards The Ryder Cup's arrival in 2018. Here's what we found out…
---

---
The Albatross Course closed for play in July for Ryder Cup renovations. When is it due to re-open for play?
[quote]"Yes…the course closed on the 19th of July and the entire, fully renovated course, called The Albatross Ryder Cup Course, is due to reopen on May 1st 2016 at the latest. If Mother Nature permits, it may even open a little bit before that but we're officially aiming for May. We do have some good news though…we're actually going to open 9 holes this year. Now it won't be the 1st 9 or the 2nd 9, but a composite 9 holes. But work has gone really, really well and we should actually be able to open these 9 holes by 15th November."[/quote]
What are the main aims of the renovation project? Are efforts being directed to improving the condition of the course, or are wholesale changes to the layout being carried out, like those we saw at Gleneagles in the build up to 2014?
[quote]"There's actually no changes being made to the layout of the golf course and there are two different aspects to the work that is being undertaken which will look to the next 30 years. The golf course has been open for 25 years and when The Ryder Cup starts it will be nearly 30. When golf courses get this old, things like irrigation can start to go wrong so we're doing the work which will help us keep the golf course up to scratch and in Ryder Cup condition for the next 30 years."[/quote]
[quote]"There's another piece of work which we're doing where we're focusing on the lake edgings. Holes like 15, 16, 17 and 18 are surrounded by water and there are other areas on the golf course where lake edgings were a little bit, I would say, old and shabby through erosion more than anything so what we've done is look to repair and enhance these areas."[/quote]
---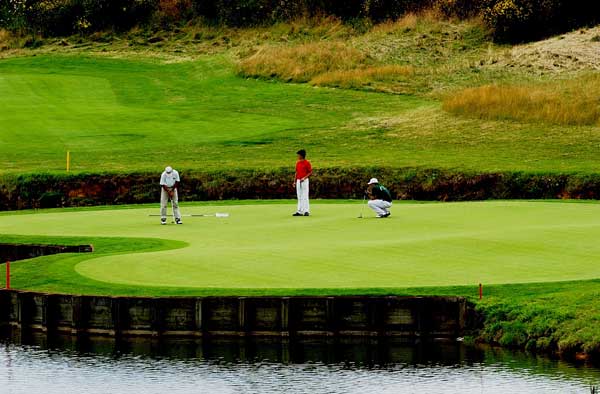 ---
[quote]"So that's the general maintenance work aimed at getting the course ready not just for the immediate future but beyond that, and the other part of the project is The Ryder Cup work which is going on right now."[/quote]
[quote]"That consists of new paths and tracks for lorries, trucks and even buggies which are going all over the golf course. After 25 years our tracks would not have been suitable for getting ready for a Ryder Cup so we're working on 12km of paths and roads. We're also preparing land – which we're lucky to have lots of – between the holes which won't be visible from the course, so we can accommodate the hospitality tents and other things that come with an event like The Ryder Cup."[/quote]
[quote]"We're also laying pipes so we can bring in fibre optics so producing images for TV etc will be a lot easier on-site in 2018."[/quote]
[quote]"So there's no real architectural changes. The only changes to the course are changes being made to the 1
st
and 16
th
greens so that we have a broader selection of pins positions to choose from for The Ryder Cup, as well as moving three tees ever so slightly so that we can fit in more spectators around them."[/quote]
You've hosted the French Open on the European Tour a number of times but presumably the work being carried out, highlighted above, is because you're expecting a much larger turnout for The Ryder Cup?
[quote]"Yes exactly. We're working towards the normal European Ryder Cup model of around 45,000 spectators per day however we're looking to develop the size of the crowds more towards about 60,000 per day."[/quote]
---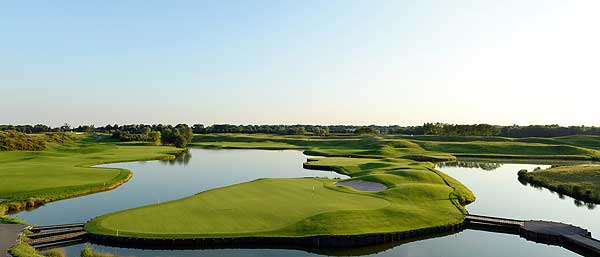 ---
From a personal standpoint as someone who's a good golfer who must have played the Albatross Ryder Cup Course plenty of times, which holes on the course do you think will prove pivotal at The Ryder Cup?
[quote]"Well the 1st tee shot will be an interesting one as usual with all the pressure at The Ryder Cup and it's not an easy hole to start with water all up the left of the hole."[/quote]
[quote]"Interestingly, if you look at statistics for The Ryder Cup since its inception in 1927, less than 40% of matches actually make it as far as the 17th and 18th holes and I think that's what's going to be one of the major attractions of The 2018 Ryder Cup; the 15th and 16th holes."[/quote]
[quote]"Both are really tight. The 15th is a par 4 where the only choice is an approach over water onto the green and the 16th has water all the way from tee to green so I think we're going to see some fantastic golf here."[/quote]
[quote]"My favourite hole is the 18th which is a very difficult hole to finish on when matches do indeed get this far. It's 470 odd yards and very often there's a head wind so I'm guessing a lot of players will be hitting long irons over the water to the green. In July during the French Open they were often hitting 8 and 7 irons in here but I doubt we'll see any of that in late September when the Ryder Cup's on as it'll be a bit cooler and the course will be playing much longer! Looking at the course now compared to during the summer, it's playing a lot, lot different than it was during the French Open."[/quote]
---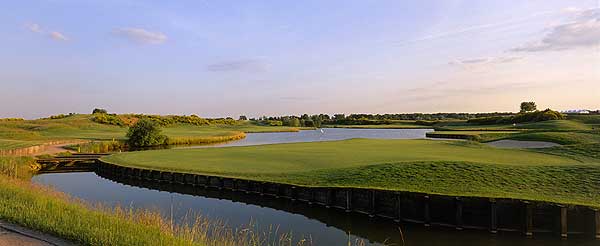 ---
Victor Dubuisson was the last Frenchman to play in the Ryder Cup, putting in a dazzling display at Gleneagles. Are there any up and coming French golfers who might make the team for 2018?
[quote]"Yes definitely. I think a lot of the young guys are starting to prepare their careers around that season. Obviously they'd all love to play at a home Ryder Cup but they won't all get in the team. I think the likes of Romain Wattel will break away from the mass very soon. I really do. I think Alexander Levy is making a good job of it on the European Tour with his two wins last year. Yeh…I'd say there is a very high chance there will be a Frenchman in the team and that would be great for the local supporters."[/quote]
How important to France, particularly as a golf holiday destination, is the Ryder Cup in 2018?
[quote]"If we take just Le Golf National as an example, we've had about 4 times the amount of international guests in 2015, and we've only been open for 6 months, than any other year because people have had their heads turned by the Ryder Cup. I'd say the best is yet to come but it's really put France on the map as a golf destination. Previously it was a gastronomic destination, or people would come to visit places like Paris and maybe going skiing in France but we've not been seen as a golfing destination like Portugal or Spain who've really used golf to drive tourism but I think that's what the Ryder Cup will do for French golf tourism."[/quote]
For golfers visiting Le Golf National on a Golf Holiday, what local attractions would you recommend for them to go and see during their days off from golf?
[quote]"Versailles for sure. Have a look at the palace which is about 10km from here…that takes only about 10 minutes in the car. You can get a taxi there very easily too and you can enjoy a nice meal, maybe have a wander around the parks where they have some wonderful summer shows with fireworks and fountains and things like that so that's definitely worth doing if you're here at the right time of year. We're also just a 30 minute train journey from central Paris so you know visitors could do a really great, romantic if needs be, city break with some golf included."[/quote]
---