Thinking of heading to play one of Macdonald's amazing golf courses? Well we've got everything you need to know about the signature holes and how to play them… Where do the most dangerous hazards lie? Where is the best place to find the green? Does the hole allow risk reward golf by hitting the extra club off the tee? Etc. Below is a list of the stand out holes for the Macdonald courses, featuring inside tips from the club's respective pros…
---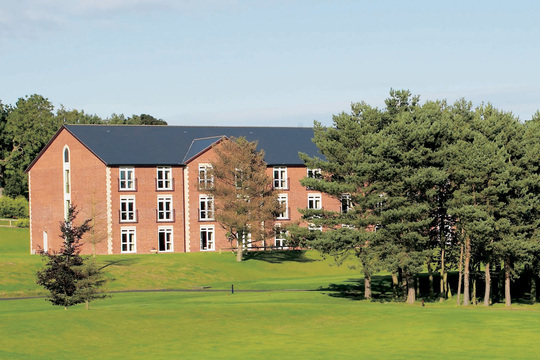 Macdonald Hill Valley is home to two fantastic golf courses designed by the legendary duo of Peter Alliss and Dave Thomas. Opened in 1975, the courses are renowned for their lush green environment, and forestry is frequent throughout.
---
Par: 3
Stroke Index: 15
Yardages: 178 (White), 146 (Yellow)
The par 3 16th is a narrow hole with trees lining the fairway either side. On top of this, there are two green-side bunkers on the left and a ditch to hit over, so this hole certainly requires much in the way of accuracy.
---
Par: 3
Stroke Index: 17
Yardages: 104 (White), 90 (Yellow)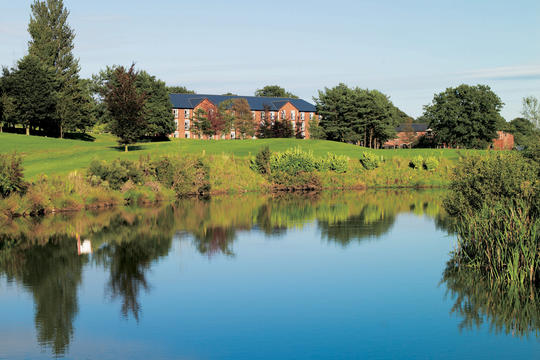 The sapphires signature hole plays from an elevated tee over a pond stretching around the front and right hand side of the fairway. The green is quite a tight one too, and a willow tree on the left means that golfers should be wary of missing this side. Moreover, as the green also slopes back towards the water an ideal shot would be to hit it past the first half of the hole to stop your ball from rolling back.
---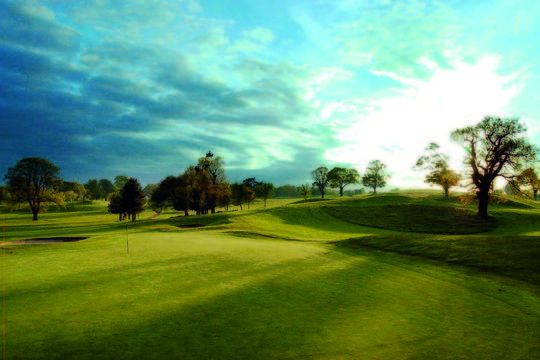 With two spectacular courses, a par 9 course to improve your short game, and the largest indoors-golfing academy in Europe, you'll be pushed hard to find a more comprehensive golfing venue than Macdonald Portal. While the venue's award winning, Donald Steel designed championship course will certainly take the headlines, the shorter Resort course will still provide a fair test to all and benefits from a similar woodland and water backdrop.
---
Par: 3
Stroke Index: 17 (Men), 4 (Ladies)
Yardages: 136 (White), 126 (Yellow), 118 (Red)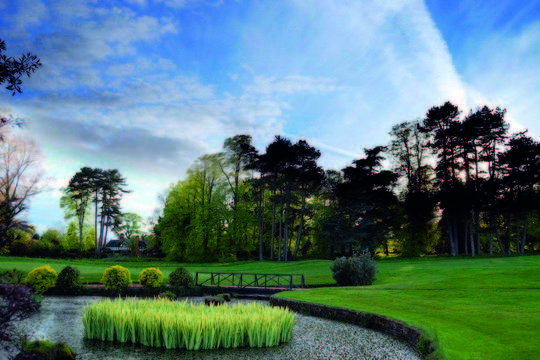 The Championship signature hole plays to almost an island green, with water around the front, side and back of the green and a couple of waterfalls too. The best entrance would be straight down the middle, as this would avoid two large trees which overhang either side, and could easily rebound your ball back into the water.
---
Par: 3
Stroke Index: 11 (Men), 17 (Ladies)
Yardages: 205 (White), 165 (Yellow), 140 (Red)
The 15th on the Premier is a breathtaking hole. Playing very high up, the elevated tee is almost on a cliff face and the approach has to be judged well, due to a sheer drop to the low-down kidney shaped green. Accuracy is paramount on this hole, as there are trees which overhang on both sides and bunkers to the left and right of the green.
---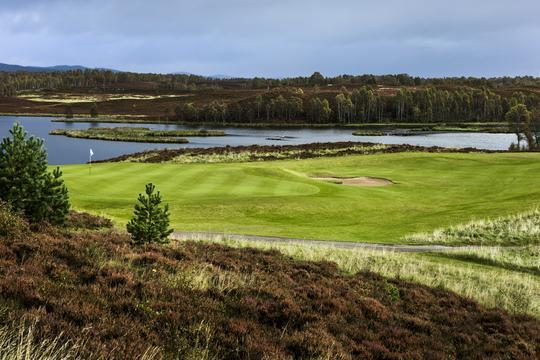 Following its inauguration in 2006, Spey Valley is rapidly making a name for itself. Lined with purple heather and giving wonderful views over the towering peaks of Cairgorms National Park, Spey Valley provides the golfer with stunning scenery. Although currently a hidden gem of Scotland, it seems that it won't be long until the picturesque course is up there with the best.
---
Par: 4
Stroke Index: 3 (Men + Ladies)
Yardages: 431 (Black), 409 (White), 399 (Yellow), 368 (Red)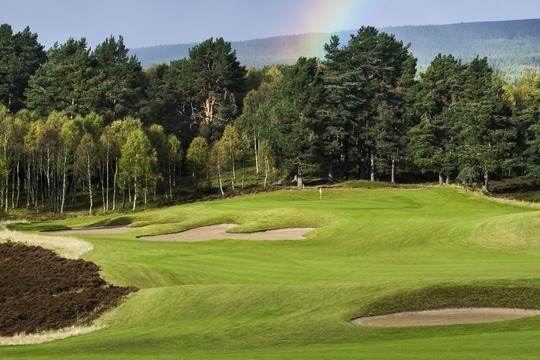 Spey valley's signature 7th plays to a downhill fairway with a dogleg left before heading back uphill into a plateau green sitting below some scots pines. A tip for this hole would be to lay up off the tee, and hit something which pitches around 200 yards. As there is a fairly strong steep slope the ball will run about 40 or 50 yards anyway. This will prevent hitting your ball past the fairway into the rough and allow for a more comfortable approach shot.
---
Par: 3
Stroke Index: 14 (Men + Ladies)
Yardages: 229 (Black), 202 (White), 173 (Yellow), 148 (Red)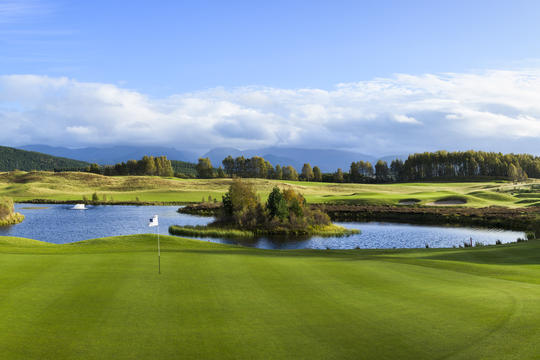 The 16th is a beautiful par 3 played over a water hazard and a small loch to a green which is well bunkered with both heather and silver birch at the back. This is a real do or die hole and It is imperative that you are not short. Taking one more club would be advised since there is a slope at the back of the green which your ball will feed off.
---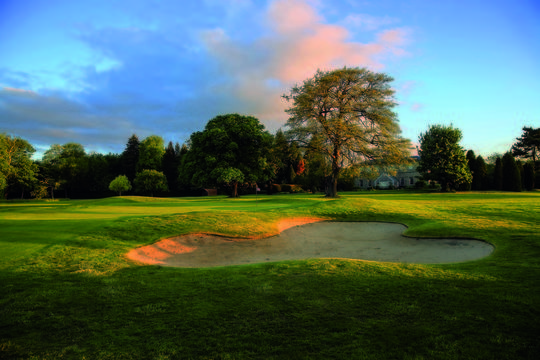 Linden Hall is a fantastic resort course in the sense that it will be enjoyed by all while still remaining challenging. Designed by Jonathan Gaunt, the Northumberland parkland course requires good strategy and accurate hitting will certainly be rewarded.
---
Par: 3
Stroke Index: 16 (Men + Ladies)
Yardages: 159 (Medal), 150 (White), 136 (Yellow), 89 (Ladies)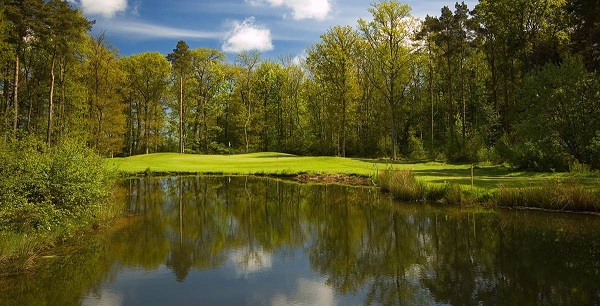 Appropriately named 'The Pond', Linden Hall's 4th hole leaves little room for error. The hole is played over water and onto a putting surface which is well protected by trees. Beware, any mishit shot and you could find yourself with a card wrecker!
---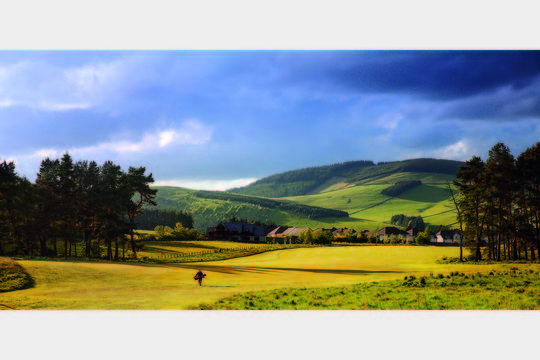 Another Dave Thomas designed Macdonald course, Cardrona provides the golfer with beautiful views throughout. The course is challenging too, and is a frequent stop on the PGA EuroPro. Opened in 2001, Cardrona provides the ideal golf break.
---
Hole 7
Par: 4
Stroke Index: 7 (Men), 4 (Ladies)
Yardages: 402 (White), 392 (Yellow), 383 (Red)
Cardrona's signature hole is one which combines beauty and challenge to perfection. The 402 yard par 4 requires an accurate drive to a narrow fairway lined with bunkering on the left and forestry on the right. You are then faced with a demanding approach to a raised and well protected green. A tricky, yet enjoyable hole, and you should not be disheartened if you score bogey!
---
Want to tackle these signature holes??? Check out these amazing reduced offers…
Macdonald Hill Valley – 1 night, 2 rounds, Dinner, BB from £99
Macdonald Portal – 1 night, 2 rounds, Dinner, BB from £89
Macdonald Spey Valley – 1 night, 2 rounds, Dinner, BB from £109
Macdonald Linden Hall – 1 nights, 2 rounds, Dinner, BB from £79