Even the professionals endure the occasional scuffed shot or missed putt and it always makes us feel better about our own game. But for those Average Joe's the mistakes crop up more frequently than we like.
Most of us will know the feeling of playing in a medal and having a solid round until the 14th when one ball goes out of bounds, the next finds the bunker and you end up with an eight on the scorecard to end any hopes of having your handicap cut or winning a towel.
Here, 19th hole look at the five golf shots that will make you want to wrap your club round a tree.
The top
An old classic that every golfer has had to endure. Whether it's off the tee or on the fairway, no matter what standard of golfer you are, it happens. There isn't much of a worse feeling than standing on the first tee with a group of people watching only to see your drive pathetically bounce 20 yards in front of the tee leaving a difficult iron shot with the same spectators watching your every move. Remember not to react if somebody reminds you not to lift your head.
[youtube width="600″ height="400″ video_id="_KoR6DK-STo"]
Leaving the ball in the bunker
Finding the bunker is annoying enough but taking too much sand and leaving it in there makes you want to quit the sport. There aren't many shots in the golf that leaves you in the danger of being in the same spot or even behind your initial shot but this is one of them.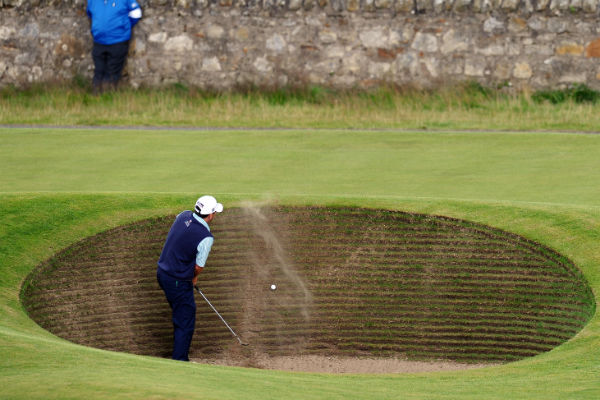 Missing a tap in putt
The putting yips. A player can have a good two or three rounds of holing those little testers and then miss one and it can dent the confidence. Tiger Woods was recently diagnosed with the putting yips and a few others might be once the long putter is banished from the game. Ernie Els has been the most recent victim to suffer from missing the short putts – just take a look at this.
[youtube width="600″ height="400″ video_id="VJaSr9ZAMrM"]
Click next to see other most frustrating golf shots