As the wet winter continues to keep plenty of golfers from the fairways in the UK & Ireland, we thought the time was right to remind you guys that there are plenty of places not too far from home that are currently enjoying sunny skies and positively balmy temperatures.
The Costa Blanca in Spain – about 2hrs 30mins from London – is just such a place and with a climate almost unmatched throughout Europe – the spectacular coastline here benefits from more annual hours of sunshine than just about anywhere else on the continent – and a whole host of top class golf courses from which to choose, golfers coming here for some fun in the sun are well and truly spoiled for choice.
Las Colinas, managed by the renowned Troon Golf company, is one of the standout options for golfers visiting this sunny corner of Spain and towards the end of 2013 some of the guys from the YGT office, as well as a Mark Crossfield, one of the most prominent PGA Pros on Youtube, went out there to see what's what with this fantastic resort.
Let's see how they got on and what they thought of Las Colinas…
Oliver – Your Golf Travel
For me, Las Colinas is one of the best courses in the region, and I have been lucky enough to play my fair share of golf in Spain. Equidistant from both Alicante and Murcia Airport, you'll be hitting the fairways in no time and with top weather and the Troon "member for a day" standard of service, quality is assured as well.
---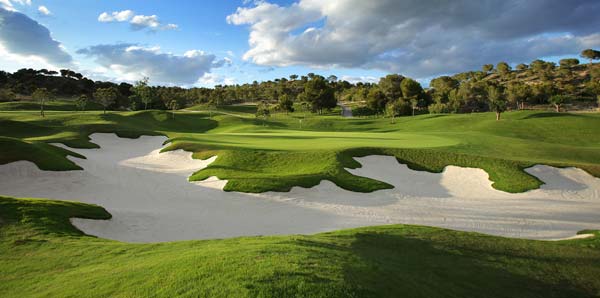 ---
One of the best holes on the course is actually the shortest, with the par-3 7th hole measuring just 122 yards…this just goes to show that you don't need to make a par 3 over 220 yards just to make it difficult! The 7th's difficulty and enjoyment of course, lies in its elevation change. With a drop of around 30ft from tee to green and just a wedge needed, it's a very daunting prospect and believe me, you'll have your fingers crossed when your ball's flying towards the green. Either you'll get it just right, finding yourself pin high or, in my case, 40 yards through the green…ouch!
Mark Crossfield – PGA Pro – Ask Golf Guru – @4golfonline
Las Colinas is a great course with a really demanding start; I would definitely recommend a visit to the range before teeing off as you don't want to be caught cold early on. For the higher handicap golfer, I would even recommend approaching both of the opening par 4s as par 5s…bogey isn't a bad score on these holes and you can quickly run up a double or worse if you get too greedy.
Avoiding the bunkers and water is important where scoring is concerned but you could say that for any golf course! I would say driving your ball into the correct part of the fairway is very important as this can really shorten some holes which curve to the left or to the right. There are definitely some birdie chances for the lower handicappers and easy pars for the higher handicappers to rattle off if you can get this part of your game going.
Understanding your distances is also really important at Las Colinas as many of the holes feature forced carries. Again a session on the range is a good idea so you can get a feel for how far you're hitting it on the day. If you're unsure on a yardage, take an extra club. Missing long often won't be as disastrous as leaving it short!
Most importantly, and this is something I try to advocate in my course vlogs with Your Golf Travel…HAVE FUN!
---
Las Colinas Course Vlog – Part 1
---
Euan – Your Golf Travel
I was the highest handicapper in the group – hardly surprising with two pros and a scratch handicapper for company! – and despite the fact that none of us really brought our "A-game" to Las Colinas, we didn't take too much of a beating from the course!
Don't get me wrong, there is plenty of trouble out there – the last 6 holes in particular are tricky with water featuring on 5 of the 6 – but if you think your way around the course and find your share of the, what I would describe as generous fairways, you should avoid the bulk of it. The condition of the course was really impressive. Due to the time of the year the grass was dormant which makes the course look a bit brown but it still played just fine. The greens in particular were great and I can only imagine how quick and true they'd be during peak months.
---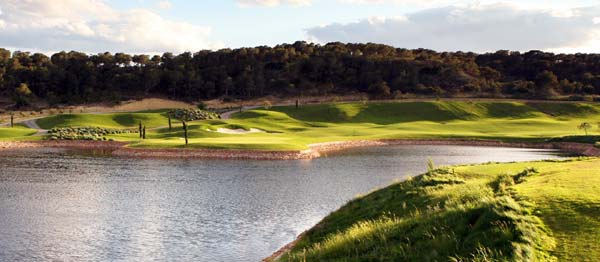 ---
Las Colinas is great fun but, as we all know, the 19th is one of the most important on the course and there's a cracking one here. Once the beers are ordered head to the veranda which is great place to relax after your round. Overlooking the 18th hole, it's the perfect place to watch the rest of your group finish (hopefully visiting the large lake!) their rounds before they join you for some beers in the evening sun.
Steve Buzza – PGA Pro – @stevebuzzagolf
Las colinas is a great course with a surrounding complex to match. We came straight from the airport which was only 30 minutes from the resort so we had lots of time to take advantage of the clubhouse overlooking the 18th hole and the practice facilities as well.
The practice was certainly needed as well as the opening two holes combine to form one of the toughest starts I have faced. A draw shot is required if you really want to have a go at them but to be honest, two opening pars and you'll be one happy golfer!
There were a few standout holes at Las Colinas. The third hole was a great par 5. A very long hole but with an elevated tee so you can really bomb one here, allowing for a shot at the green. The second shot was a visual treat with water having to be negotiated regardless whether you were going at the green or not. Scary stuff!
---
Las Colinas Course Vlog – Part 1
---
At the 6th hole, a short par 4, there are bunkers that must be avoided off the tee – a theme continued around the course – to allow a great birdie chance with a wedge. Although a birdie can be made, finding the right section of the green is a must. Although all of the greens demand a good short game, this green is one of the most unique ones I have played. Slender in nature with slopes from back to front…do not finish above the hole!
With plenty of risk vs. reward shots you really have to think your way around this course and for the golfer who is playing here for the 1st time, perhaps erring on the side of caution is the best thing to do. A great example of the risk vs. reward nature of the course is the tee shot on the 8th hole. An elevated par 4 with a narrow fairway, you have to decide do you play safe off the tee or open your shoulders and send a big shot down near the green? Lay up if you're worried about your score…go for it if you're just looking for kicks!
Overall I really enjoyed playing this course and would definitely recommend it. There was a nice selection of holes with tough stretches complimented with risk and reward birdie opportunities. Play from the right tee and any golfer will have a great time at Las Colinas, especially with the sun beating down even in December!
---