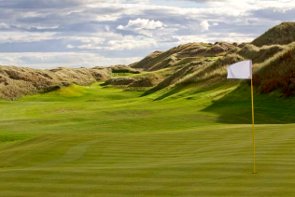 Today Donald Trump cut the ribbon on his latest and greatest gift to the golfing world. Despite considerable speed bumps throughout the planning and construction phases of this remarkable project, the course, named Trump International Golf Links, will be unveiled to the golfing masses on this Sunday (15/7/2012), six months ahead of schedule.
The course, which Trump himself describes as, "the greatest in the world", has been built with the long term goal of hosting the Open Championship and or the Ryder Cup and while "The Donald" might be getting a little carried away with his assertions that it is already the best in the world, what with the likes of Pebble Beach, Royal County Down and the Ailsa Course at Turnberry already on the scene, it is certainly looking the part and has golfers who have a soft spot for Scottish Golf Breaks drooling over the prospect of playing it in the coming months.
---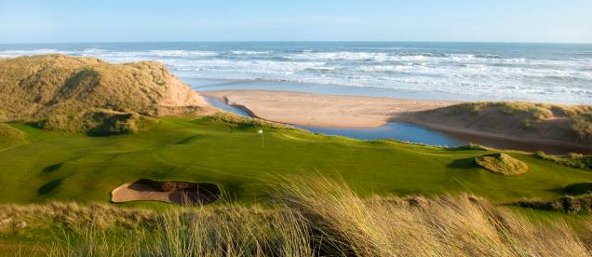 Despite the fact that a considerable amount of earth was moved and shaped to create the course, Trump International Golf Links blends seemlessly into its surroundings. Credit to Martin Hawtree and his team!
---
Apart from a few facts and figures, the odd photograph and firsthand accounts from the lucky sods who have already had the chance to get up close and personal with the course while playing it, little is known about what may turn out to be "the greatest golf course in the world". Here is our breakdown of the course by numbers…
2.9 – The length of the course alongside the shoreline 
in miles.
10,000,000 – The number of individual hand-sewn marram grass sprigs which have been planted to stabilise the dunes.
100 – The number of years course design firm Hawtree Ltd has been in existence.
3,000 – The area in meters squared of the practice putting green (average green is 500).
107 – The number of tees serving 
the 18 holes.
64,000 – The length in metres of irrigation pipe.
10 – The number of acres of greens turf which has been laid (an average course has 2.5).
7.5 – The number of acres of tees turf has been laid (again, an average course has 2.5).
20 – The amount in acres of native heather down the side of the 5th fairway.
10 – The number of acres of grass pathways laid between all greens and tees.
---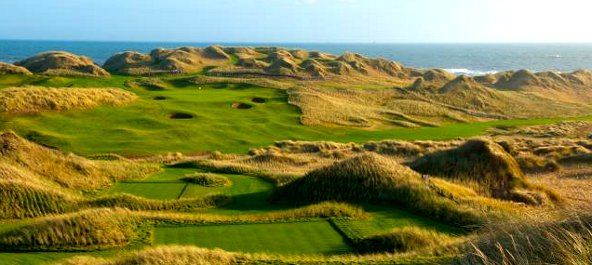 The dunes that dominate the land on which Trump International Golf Links are immense. Some holes seem totally isolated from the rest of the course, providing considerable drama throughout the round.
---
In short, thanks to a substantial amount of his own personal money, Trump has spared no expense in the design and construction of his latest course and I for one am chomping at the bit to have a crack at it.
---
For information on Scottish Golf Breaks and other UK & Ireland Golf Holidays please visit www.yourgolftravel.com or call free on 0800 043 6644.
---