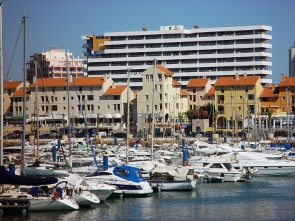 We, a party of just three, have recently returned from a 4 night golf break to Vilamoura. The whole golf trip was a complete success and we would fully recommend both the golf courses we played and the hotel we stayed at.
We stayed in the Olympus suites B&B and played 3 rounds of golf during our stay. Firstly we found the hotel to be perfect for parties of golfers, even for somebody after a quiet, relaxing holiday .The rooms are bigger than average and if like us you manage to get a room on the end of the floor you get a massive balcony which stretches all the way around the side of the room as well.
The breakfast has a massive range to choose from (fruit, cereal, bacon, eggs etc…) and although I didn't eat there (never hungry 1st thing) my brother and his mate ate there every morning. The location is perfect as the hotel is just set back from the marina so a quiet day around the pool could be had; but then at night your only about a 30 second walk to the marina where there are so many great restaurants to be found that cater for all sorts of tastes. Fish, steaks, grills and even a Pizzahut and a McDonalds were in easy reach of the hotel.

On to the golf…we played the Oceanico Laguna course, Oceanico Pinhal course and the Oceanico Millennium course. I have to say that all 3 courses were in fantastic condition and provided a fun and different challenge each day. The 3 of us play off handicaps of 11, 12 and 18 so although we're not outstanding golfers I'd like to think we pretty much know our way around a golf course! The Laguna course was better than expected with a lot of water off the tees so a bit of thought was needed when selecting the appropriate club. It wasn't the longest course you'll ever play but it was good to have to plot your way around the course rather than just trying to bomb everything!
The Pinhal course was totally different with most holes being tree lined with very tall trees and rolling fairways. Missing the fairways didn't spell disaster though as you could more often than not shape a shot out of the trees.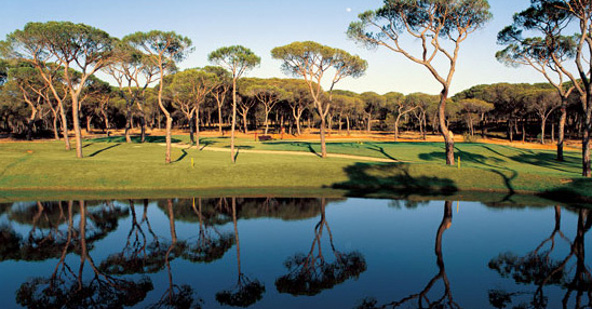 Finally we played the Millennium which shares the clubhouse with the Laguna and the 2 courses are sort of moulded around each other. This course was equally as good as the Laguna and topped off a great golf holiday for us.
I would recommend you took a camera to the golf with you as some of the houses /villas at the side of the courses are unbelievable. All 3 days were very warm but had a nice breeze, which although kept u cool, made a lot of the holes playing into it a bit trickier. We started at the 10th hole each day accompanied by a starter and not once did we have to wait for slow play etc. A refreshment buggy is always available every few holes so your never short of a drink or bite to eat on the course. All in all the golf experience was great and we are going to miss the on course service when we go back to our members club!

Finally, the transfers to and from the courses are superb as you never have to wait for them to turn up and it only takes about five minutes to drive to each course from the hotel. We thought the golf break package we bought from Your Golf Travel represented great value for money considering everything it covered and we were also impressed with the level of service we received from the sales agent. We will be coming back to book golf holidays with YGT for many years to come; of that I am sure.
---
For information on Algarve golf holidays and other European golf breaks please visit www.yourgolftravel.com or call 0800 043 6644.