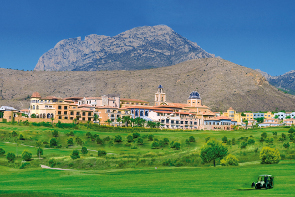 I have been running my golf tour for 8 years now and although we started in the Algarve we moved to Turkey in 2010 because of the current financial climate. Golf resorts in Turkey seemed to be better value for money as many of them are all inclusive. My usual group split this year and ended up going to three separate countries! We chose the Costa Blanca in Spain and I am sure we got the best deal!
We stayed at the Villaitana Resort and it is definitely a five star establishment in every way. We couldn't believe it has only been awarded four stars! The accommodation was simply the best we have ever stayed in. The guestrooms were well appointed, spacious and our rooms had balconies that provided us with stunning views of the surrounding mountains. If there wasn't such an array of goodies awaiting us it would have been difficult to leave the rooms!  The spa facilities like the outdoor pool, lifestyle showers, Turkish bath and sauna were perfect for unwinding after a day on the amazing golf courses.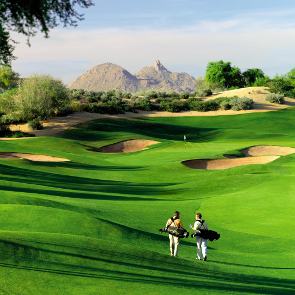 The golf courses actually left us stunned…they were that good! Levante was a true championship layout and it had absolutely no faults! Maybe it would have been interesting to play it with different pin positions day to day but we certainly weren't displeased with what we got! The Poniente course was great too. I actually wasn't expecting too much when I looked at the scorecard and saw ten par 3s and 8 par 4s but I couldn't have been more wrong. It was very challenging and was a good test of iron play and short game skills. Both courses were in great condition and the only gripe we had was we thought the bunkers around the greens could have done with a little more sand in them.
The nightlife in Benidorm was also easliy accessible which was a bonus because our experience of golf resorts in Turkey was that there was little in the way of evening entertainment!
All in all everything ran smoothly and we are looking forward to going back. Your service was excellent and will be using you again next year. Thanks goes to Your Golf Travel!
For information on Spanish golf breaks, golf holidays in Turkey or Algarve golf tours please visit www.yourgolftravel.com or simply call 0800 043 6644.