One of the great modern golf rivalries between Rory McIlroy and Jordan Spieth will have to be put on hold for the time being as the Northern Irishman undergoes his recovery process following ligament injury sustained during a football match with his mates last weekend.
The serious injury will rule him out of next week's Open Championship and potentially the PGA Championship next month but the inevitable question marks will be raised as to whether the world number one should be participating in hobbies that could lead to injury before a major tournament.
It comes as a blow for golf fans, Rory's sponsors and organisers at St Andrews who will miss out on the main attraction but for the player himself, he will be counting the costs of the unfortunate injury.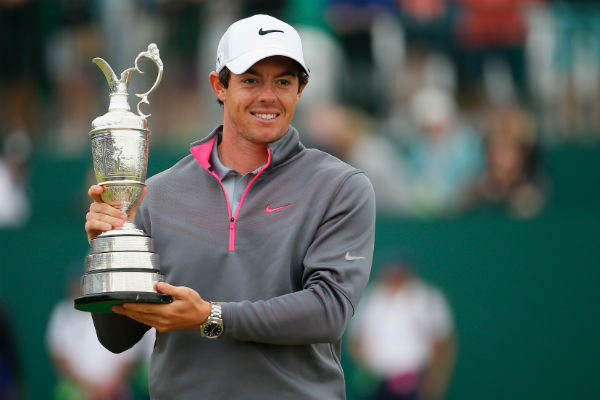 With The Open raising its prize funds to the highest it has ever been, McIlroy could be missing out on the £1.15 million on offer for the winner, £653,000 available for second place and £420,000 for third.
McIlroy has earned approximately £2.69 million in prize money so far this season averaging at about £14,780 per day. The typical recovering period for an injury of his kind is around eight weeks so for every day he is not playing golf it could cost him an astonishing £886,800 over two months.
That's not mentioning the sponsorship win bonus that he would have gained if he did win The Open. On his £156 million contract with Nike over a 10-year period, it is estimated he earns between £400,000-£500,000 bonus for every major won.
He is not the first golfer to sustain injury whilst playing other sports and he won't be the last but whilst McIlroy's absence will hit hard for fans making an appearance at the Old Course, his bank account could be around £2 million lighter.
McIlroy isn't the only professional golfer to have come a cropper while off the course, as we see below
Professional Golf Injuries
[table color="white"]
| Player | Injury | How it happened |
| --- | --- | --- |
| Phil Mickelson | Broken Leg, missed 1994 US Masters | Skiing |
| Martin Kaymer | Broken toes, missed vital tournaments in 2009 | Go Karting |
| Paul Casey | Dislocated shoulder, missed 5 tournaments in 2012 | Snow Boarding |
| Miguel Angel Jimenez | Broken leg, missed start of 2013 season | Skiing |
| Tiger Woods | Tooth knocked out, no tournaments missed but ouch! | Cameraman on ski slope |
[/table]