Darren Clarke Your Golf Travel Ambassador
Darren Clarke, Ambassador for Your Golf Travel, has been a stalwart on the European Tour since 1991 and, thanks in large part to his considerable achievements, has become one of the most recognisable faces in the game of golf.
With over 20 worldwide wins on the sports main tours, Darren has enjoyed his fair share of success over the years and like Your Golf Travel, he is no stranger to travelling the world in search of his next game of golf.
No stranger to firsts, Darren was the first player on The European Tour to fire a round of 60 on more than one occasion; the first three time winner of the English Open; and the first player (outside a certain Tiger Woods) to become a multiple World Golf Championship winner. Other notable achievements include a stellar Ryder Cup career, including of course his emotional heroics at the K Club in 2006, a trouncing of a seemingly unbeatable Tiger Woods in the final of the 2000 World Matchplay Championship and, of course, his famous Open Championship triumph at Royal St Georges in 2011...he even appeared on an Irish postage stamp in 2005!
And it's not just Darren's impressive on course achievements that have endeared him to fans and fellow players alike. Darren is well known for his infectious personality and, like Your Golf Travel, is also dedicated to charity work, having formed the Darren Clarke Foundation, which is dedicated to the development of junior golf in Ireland and vital fundraising for Breast Cancer Awareness.
---
Ryder Cup Captain 2016
In February 2015, Darren Clarke was named Team Europe's Ryder Cup Captain for the 41st edition of the matches. Clarke will go head to head against his good friend Davis Love III at Hazeltine National in Minneapolis. Following successes at Celtic Manor, Medinah and Gleneagles, Clarke will be hoping to make it four consecutive victories for Europe.
Clarke's Ryder Cup numbers as a player include 5 appearences and 4 victories, from 20 matches played he's gained 11.5 points, was undefeated at the 2006 event at The K Club with 3 victories from 3, has a 72% point haul in fourballs with an overall record of 57.5% in his matches.
We'll be wishing Darren and the team the very best of luck in their quest to retain the Samuel Ryder Trophy and look forward to what will no doubt be a fantastic event within golf.
---
Darren's Favourite Golf Holiday Destinations
---
Darren Clarke's Your Golf Travel Advert on Sky Sports
Darren has been the star of the Your Golf Travel adverts since 2013. Whether it was Royal Portrush, The Belfry, or most recently in Dubai with Lee Westwood, Darren's catchphrase has remained the same - Tell Them Darren Sent You!
After shooting with Frankie Dettori at The Belfry last time out, Darren was joined by Lee Westwood in the latest Your Golf Travel advert as they explored the ins and outs of a golf holiday with Your Golf Travel. Lee was stuck for a tee time in Dubai so Darren stepped in..."It's amazing what can happen when you know the right people!"
---
Exclusive Darren Clarke Q&A
During a rain delay at the Portugal Masters, Darren kindly gave a Q&A session to over 100 golfers at the Your Golf Travel Bar, below are some of the answers from the 2011 Open Champion.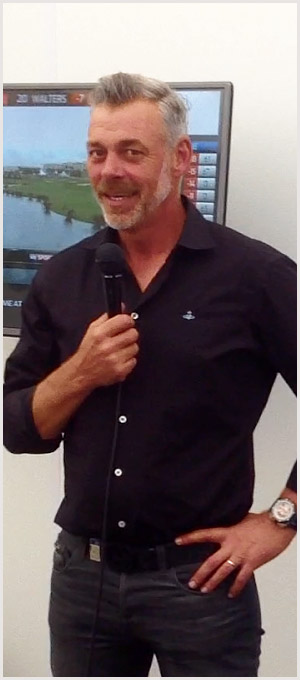 When did you start playing golf?
I started caddying for my dad when I was nine. I started playing when I was 11. I went from a 36 handicap to 13 in my first year and 13 to 3 in my second year. I played non-stop. I was +1 the year after that and just kept playing and playing. I played rugby all my way through school aswell, so it was always golf and rugby – and obviously being from Ireland, that's union; not league.
What do the players do during a rain delay while they're not on the course?
When you get called in off the golf course, sometimes they hold us in position and keep us out there. They can do that for a maximum of 15 minutes. But if the weather looks as if it will be worse than that, they can bring us in. When they bring us into the clubhouse, they have to give us a minimum of 45 minutes to get ready before we go back out again. They need to give the players time to warm up – and that's the same on every Tour around the world. So when that happens, the first thing that most of the guys do is go and get some food because they don't know whether they're going to start in 45 minutes or whether there will be a longer delay. After that, we wait to see what's going on. We'll all be on our phones checking the weather forecasts. We have days like this frequently. This happens all over the world. We go to places where it's hot and humid like South Africa and Singapore and this happens a lot, more often than not. In fairness, I think this is the first time in eight years that we've had bad weather down here in Portugal. But this is part and parcel of professional golf.
How much time do you spend practicing?
To long (heckler from crowd: "Or not enough!") I wish I could play as well as you then obviously. (Laughter and applause) We all spend hours and hours practicing. If you watch the guys before their round, you'll see they spend approximately 25% of their time hitting golf balls and 75% on their short game. For probably most of you people here that play golf, it would be the other way around. For the pros, short game is everything. Hence why I'm standing here today. (Laughter)
As a professional golfer, do you get to go anywhere on Tour where you go out and have a few drinks with other players like we do when we come golfing?
We don't. It's all changed. When I first came out on Tour at the end of 1990 it was totally different. Guys would go and play, practice a little bit and everybody would have a pint or two in the bar afterwards. Along came Tiger Woods who was this dedicated athlete; he's ripped, he's in shape, he doesn't drink. Tiger was the one who we all measured up to. They golf that he played will probably never be played again. Rory right now is playing fantastic, but the golf that Tiger played in his heyday I don't think will ever be replicated. Consequently, he raised the bar for all of us. So the late nights, the partying and all those sorts of things were all gone. We all behave these days, particularly the younger guys. It's a job; it's a professional sport; it's what we do. Now with golf in the Olympics we get tested all the time - thankfully alcohol is not on the banned substances list. But yes, Tiger changed everything for the whole game and for the better I have to say. We all like to have a bit of fun but we do it on our off-weeks.
What will you do when you retire from golf?
I don't know. A little bit of course design, maybe a little bit of TV stuff. With the seniors for us you can play on the Tour until you're 55-60 if you want to, but I'll figure something out.
As we get older, how can we get a little bit more distance on our drives?
Well I'm hitting the ball further than I've ever hit it before. It's because of what I've been doing with diet, going to the gym and lifting weights and getting stronger and stronger. It really does make a huge difference. There is no easy way around it. As we get older, obviously our bodies slow down and we change shape. Building up muscle is the only way to do it.
What is your diet secret?
I hosted a pro-am last year in Northern Ireland for the Royal Irish Guards and the Royal Irish Rangers, both serving in Afghanistan. There is a guy at home called the Duke of Abercorne who served with the Royal Irish Guards, I think. He asked me to get involved, I said yes. We raised 250k for wounded servicemen coming back home again which was a wonderful achievement for the day. But I met and played with one of his friends in the pro-am, a guy called Jamie Myerscough, and he owns a thing called Educogym in Dublin. He said to me, "whenever you decide to not be a fat bastard, give me a call". Two weeks after that was the Dunhill at St Andrews and I played well that week – I holed one or two putts. I got back home on Sunday night and watched the highlights, saw myself on television, and thought it's time to do something. I called him two days later and he put me on the program.
The program is basically heavy weights – I'm in the gym four-five times a week and I'm in and out of the gym in 23 minutes. All I do is heavy weights, no cardio, and a little bit of stretching at the end. I changed my diet to no sugar – apart from the occasional beer – high protein, low fat and I take amino acids, fish oils and all those sorts of silly things. But at the end of the day he's got me down from, well I've lost four stone. This time last year my waist was 42 inches, now it's 32. The program really does work, but the sugar is the big thing, you have to cut sugar out. That's how I managed to get it all off.
How good is Portrush going to be in 2019 for The Open Championship?
Portrush in 2019; they haven't announced it yet but that's when The Open is going there. When we had the Irish Open there a few years ago it was the best attended event on the European Tour's history. We sold out. We love our golf in Northern Ireland. It will be an amazing atmosphere. Portrush will be sensational and the tickets will sell out in two days. If you want to come for a good week and you want to see one of the best places in the world to play golf in my opinion - we've got so many other courses in the area, with Your Golf Travel who are going to send you there and look after you – then if you get the chance, go to Portrush because it'll be an amazing venue.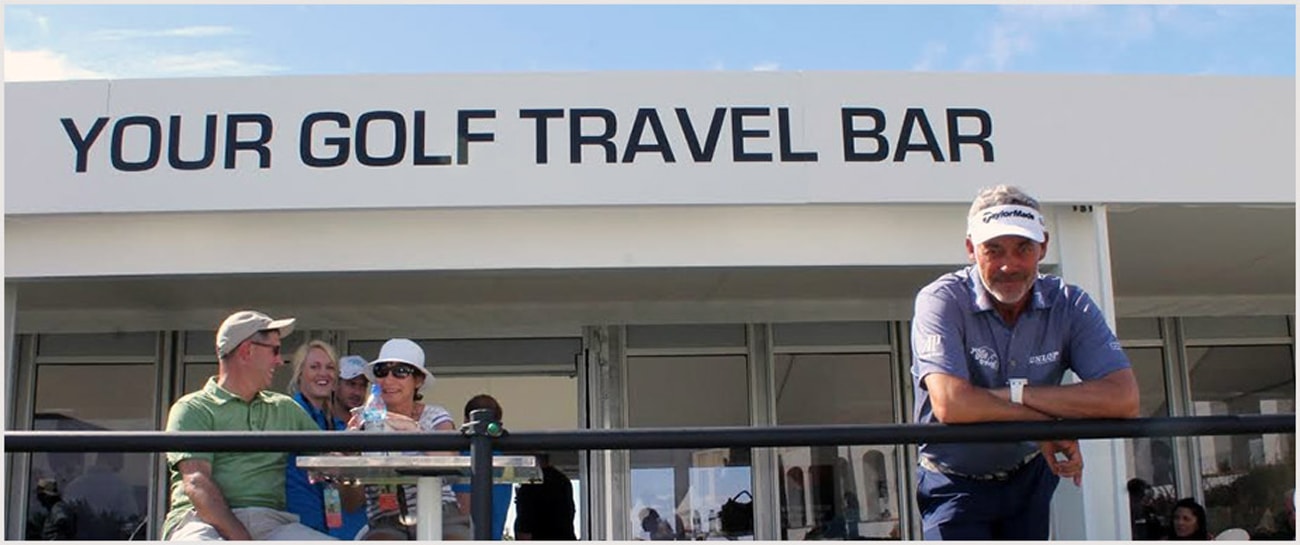 Darren at the Your Golf Travel bar after Wednesday's Pro-Am
What are some of your favourite golf courses?
Royal Portrush. TPC Sawgrass. Sawgrass is different. Some guys love it and others hate it. I really enjoy it. But if I had to pick my choice of what sort of course I'd want to play, it'd be links every day. It's what I like. Hitting the ball 173-and-a-half yards through the air is boring.
Hopefully you'll be our Ryder Cup captain in the future. With Victor Dubuisson being so good as a debutant this year, who do you think we should be looking out for in two years time?
That's a very good question. There are lots of good young kids coming through at the moment. I think Victor did fantastic this year and Jamie Donaldson did well. I felt for Stevie Gallacher, he had a tough sort of week there that didn't quite work out in his favour. There are always two or three changes in the Ryder Cup every couple of years, that's just how it progresses. Thankfully in Europe at the moment we have a very strong core of players who are in their prime now and still will be in their prime in two years time. The likes of, for me - I play a lot of golf with him and try to help him a bit – is Tommy Fleetwood. He is very impressive at the minute. He's got a great caddie in Wobbly (Phil Morbey) and they seem to be a really good team. I think Tommy will kick on and he will be in with a real good shot of making that team the next time. We've got a lot of good young talent coming through and Europe will be strong for quite a few of the next Ryder Cups.
Of all the European major winners, why do you think Sandy Lyle was overlooked as captain for the Ryder Cup?
I think it was just unfortunate with the way that the players went through the rotation. Sandy was and still is a wonderful golfer. He is one of the original big guys to break through for the European Tour. Winning in Augusta in the manner that he did was just huge. Some guys will miss out. I may miss out – that's just the way it is. You have so many guys coming up who want to be Ryder Cup captain but not everyone gets the opportunity and it was just unfortunate for Sandy that it didn't work out for him. He should have been the captain at Valhalla a few years ago.
Who would be your sporting hero?
I've got a couple. Michael Jordan would be my No.1 because he was incredible. He was the absolute best. Another one of mine from home who didn't say an awful lot; Joey Dunlop, he was one of my heroes. For some of you who wouldn't know him, he was a motorcycle racer – but on the roads. He wasn't protected by tracks. He dominated his sport and was as good as they got, but unfortunately was killed a few years ago.
Who was the best player you played both with (Ryder Cup) and against?
The best player I played against was unquestionably Tiger Woods... without a shadow of a doubt, and I've played with a lot of people over the years. He was and still is a very special golfer. I can't describe how good he is. He will win more majors; I have no doubt he will. The best player I've played with – and I've played many Ryder Cups with him, he's one of my best mates on Tour and we've been on top of the world together – is Lee Westwood. I don't blow my own trumpet or anything, but we have the second-best Ryder Cup record behind Seve and Jose Maria Olazabal and it's because we've travelled the world together and because we've played so much with each other, we would go out and play as a partnership and we didn't care where the other hit it because we had the ultimate trust in each other. So to stand on the first tee with Lee Westwood, you knew exactly what you were going to get and that's why we won. We beat the world's No.1 and No.2 on three separate occasions. They just couldn't beat us. To have Lee as one of my lifelong friends and my Ryder Cup partner, I'm very fortunate. He was one of the best.
Will Rory ever be as good as Tiger?
Rory is closing in on Tiger. He's an exceptional talent. I've known him since he was 12 years old, he's been part of my foundation since then. He can do what nobody else can do with a golf ball right now. Whether he can reach the heights of Tiger Woods... I think he can. But that's my personal opinion. He has a few years to develop yet. When Tiger was dominating and doing what he did, he finished every tournament off and won. Rory is not quite doing that just yet. But in terms of talent, I think Rory definitely has the possibility of coming close.
---
Golf Hints and Tips from Darren Clarke
As a golfer who has travelled the world, played the very best golf courses and even claimed a Claret Jug, it is safe to safe that Darren Christopher Clarke is rather well versed when it comes to playing some good golf. Darren has kindly put together these series of tips to help you on your travels, all the way from putting to links golf to the grip.
Tips for putting with Darren Clarke
Keep still, just let the putter swing and rock the shoulders...
Playing in the wind
Having grown up playing at Royal Portrush and tasted victory at Royal St George's at The Open Championship, Darren knows a thing or two about playing in windy conditions...
Improve your grip
If you grip it too hard, it'll contract your muscles, try to grip it light...