Your Golf Travel ambassador Darren Clarke, knows a thing or two about golf in Northern Ireland. Having grown up playing at the world famous links of Royal Portrush, Darren is very much a fan of the running game, and with this tour Darren has picked out three of his favourite courses to experience when staying in Portrush. Ballyliffin is around 1 hour and 30 minutes away and Royal County Down approximately 2 hours away from the recommended accommodation, but the tour can be tailored to suit the requirements for anyone wanting to experience these wonderful courses.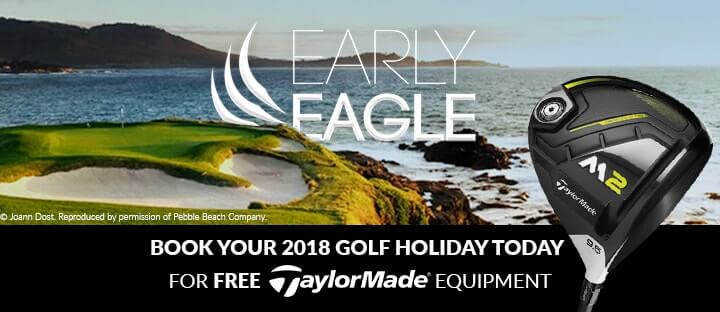 Top offers for Darren Clarke Golf Tour
We found 1 offer matching your search.
Golf courses
Royal Portursh
Considered by many to be one of the finest courses in the world, Royal Portrush's Dunluce course is a layout which tests every facet of your game. With demanding driving holes such as the par-4 4th with out of bounds lining the right hand side and a collection of par-3's which will challenge every golfer, including the long par-3 14th, which Darren describes "as a hole most golfers will remember, its called Calamity, its about 220 yards to the middle of the green off the back tee, invariably there is wind blowing in different directions so it can be anything from a Driver to a 5-iron for me...so its a particularly challenging hole, amongst a load of other ones."
Having hosted the 1951 Open Championship, which Max Faulkner won with a score of 285, and most recently the Irish Open, which was won by 2014 Ryder Cup star Jamie Donaldson with a remarkable -18 total, Royal Portrush is a venue which is at the pinnacle of championship golf. In 2019, The Open Championship is due to return to Royal Portrush, where all eyes will undoubtedly be on Rory McIlroy who managed to score a stunning 61 as a 16-year old. His back nine of 28 contained 1 eagle (on 10) and finished with 5 birdies to post a score few will ever get to close to here.
Royal County Down
Many of the best respected golf course rankings place Royal County Down in second place behind New Jersey's shrouded-in-mystery Pine Valley, making it arguably the best links course in the world; enough said really - an essential experience for any lover of seaside golf.
There are plenty of blind shots at County Down, which admittedly aren't every golfer's cup of tea, but the course represents everything that is so unique about links golf and if you embrace the challenge set by the course, you can't help but love it.
Dunes clad with purple heather and yellow gorse line the rippled fairways and the greens, which are riddled with devilish little breaks, run fast and true, all the while being protected by pot bunkers and run off areas crafted by Mother Nature herself. Set in the shadow of the Mountains of Mourne, adjacent to the Bay of Dundrum which sweeps out into the Irish Sea, Royal County Down is beguiling as it is beautiful.
With Portrush setting the precedent for the Open Championship to make a return to Northern Ireland – it is set to host golf's oldest major in 2019 – you'd think Royal County Down will one day make an appearance on the rota as well.
Ballyliffin
To get an idea of the class of the Glashedy Course at Ballyliffin, simply look to the fact that it is often referred to as "the Ballybunion of the North" or "the Dornoch of Ireland". Both of these much loved courses are set among enormous sand dunes and enjoy the affections of golfers all over the world; this relative youngster is no exception.
The Glashedy is a thoroughbred championship link and one which is surely set to host important tournaments in the future, having already staged the North West of Ireland Open. The fairways are exceptionally fair, and they scythe their way through the giant sand hills which offer a dramatic and sometimes daunting test of golf. The putting surfaces are huge and feature some mind boggling borrows so your short game needs to be sharp, and with dramatic run off areas and endless myriad of revetted bunkers standing guard, playing to your handicap can be regarded as a real achievement!
Located off Tullagh Point on the rugged Inishowen Peninsula, Ballyliffin is Ireland's most Northerly golf club and while golf has been played here since 1947, the Glashedy was only opened for play in the mid 90s. And yet the course seems to have been here for far longer, and its established and mature feel is testament to the skill of its designers, Tom Craddock and Pat Ruddy.
Accommodation
There are many hotels to utilise as part of this tour, however one of Darren's favourites in the area is the Bushmills Inn located just 10 minutes from Royal Portrush Golf Club. Staying here is a unique experience, located just moments from the Bushmills distillery, which is the oldest of its kind, the hotel provides comfortable accommodation with fantastic bars complete with a wealth of history which dates back to 1608.
Golfers staying here will have a wealth of options to enjoy after their round of golf, those wishing to stay at Bushmills can enjoy the atmospheric wood-panelled bar as well as the award winning onsite restaurant which will show off a host of locally sourced cuisine. For those wishing to head into the bustling town of Portrush should head to one of Darren's favourite places to eat, The Ramore Restaurant, with views over Portrush Harbour. Here guests have a choice of dining options including Mermaid, with its varied menu including a host of fish options, Neptune and Prawn, where you'll get to sample some great comfort food with a selection of meat dishes from the wood burning grill. With the Harbour Bar a great place to finish the evening and enjoy a pint of Guinness.