Tiger's Best Moments
Throughout his glittering career, Tiger Woods often had golf fans sitting wide-eyed staring at the TV in pure amazement. Throughout the 'noughties' he completely dominated world golf, breaking records for fun and doing it in style; there is really no doubt that Tiger Woods is a special golfer. So much so that even after several career-threatening injuries, multiple layoffs and not registering a professional win since August 2013, we just can't help but get excited every time he graces the course.
As he once again returns to the PGA Tour this weekend at the Farmers Insurance Open, a tournament he has won seven times, here at Your Golf Travel, we're feeling the hype (especially Rory). After a long time out of competitive golf in 2017, Tiger unofficially returned at the Hero World Challenge in November and put in a solid performance, but this time he's back on the PGA Tour, from which he has 79 professional wins.
So, to celebrate this momentous occasion, we are looking back at our Top 5 Tiger Moments. Take a look below to see which ones we have chosen and at which courses. Remember, you could relive some of Tiger's magic at every one of these 5 venues!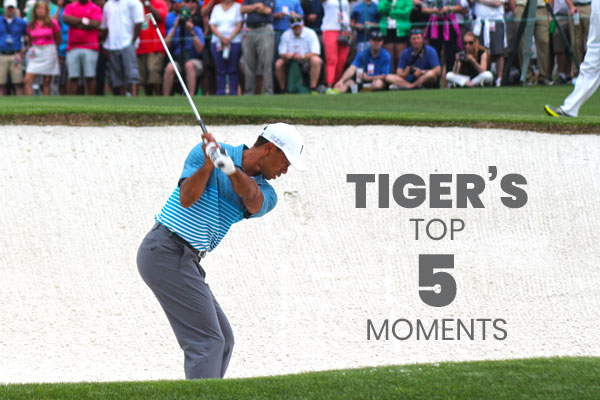 In over 2 decades of Professional Golf, Tiger has changed the game greatly, providing us with moments we'll never forget