DARREN CLARKE INVITATIONAL
Join Darren at Royal Portrush for a golfing getaway like no other!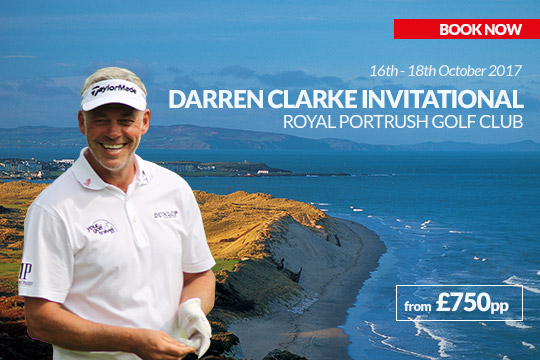 Your Golf Travel have joined forces with Brand Ambassador Darren Clarke and his home club of Royal Portrush to offer our clients a truly bucketlist golf experience including golf on one of the world's top ranked courses, as well as the chance to rub shoulders with the 2011 Open Champion himself!
The 2017 Darren Clarke Invitational will take place from October 16th - 18th 2017 and will include 2 Nights, Bed & Breakfast at the Portrush Atlantic Hotel, 18 holes on the stunning Dunluce Links - a course once named the no. 4 course in the world by Golf Digest - as well as an exclusive meet & greet with Darren himself before dinner and a prize giving with both team and individual prizes.
As you can imagine, spaces are limited so be sure to get in touch with YGT soon to secure your spot at what is set to be a truly special couple of days in one of the finest golf destinations in the world.
About the Darren Clarke Invitational
The Darren Clarke Invitational is taking place from October 16th - 18th 2017 at Darren's home and host of the 2019 Open Championship Royal Portrush Golf Club.
What the Darren Clarke Invitational Includes:
- Flights from London, Manchester or Edinburgh to Belfast (Set departures)
- Return transfers from Belfast to Portrush
- 2 nights, bed & breakfast at
Portrush Atlantic Hotel
- Meet & greet with Darren Clarke (dinner & drinks)
- 18 holes competition on the
Royal Portrush
Dunluce Championship Course
- 18 holes on The Valley Links at Royal Portrush (Wednesday)
- Prize giving dinner after golf (team & individual prizes)
-
Price is person and for minimum of 2 golfers
-
Includes gift and golf transfers
-
Free club carriage on flights
Flight details
Monday 16th October
LONDON - BA 1125-1250
EDINBURGH - BA 1100-1230
MANCHESTER - BA 1100-1230
Wednesday 18th October
LONDON - BA 1900-2020
EDINBURGH - BA 1900-2030
MANCHESTER - BA 1900-2030
Tee Times
Tue 17th - 0940 Dunluce Championship Course
Wed 18th - 1030 Valley Links Course
Get to Know Royal Portrush Golf Club
Royal Portrush Golf Club is one of the worlds most famous golf clubs, home to two stunning championship links golf courses with the Dunluce Links being set to host the Open Championship in 2019. The course is already an established tournament venue having previously hosted the Open in 1951, the Irish Open in 1930, 1947, 2012, the Senior British Open from 1995 - 1999 and 2004, and finaly the Amateur Championship in 2014.
The Dunluce Links was orignally concieved in 1888 but in 1947, renowned golf course architect Harry Colt completely redesigned the course, making it one of the most stunning championship links courses in the world. Colt's portfolio of golf course design in the UK is simply stunning and he has been responible for redesigning the likes of Sunningdale, Wentworth and Royal Lytham & St. Anne, which has made him one of the UK's most famous golf course architects.

Darren talks about his favourite golf course in the world
How NOT to play Royal Portrush
Getting There
Royal Portrush is located on the stunning North Antrim Causeway Coast and offers spectacular views of the Inishowen Hills, the isle of Islay, the stunning Southern Hebrides and the Giants's Causeway also knwon as Clochan an Aifir. The golf club is also about 1 hour and 14 minutes away from the centre of Belfast, and if you decide to drive to Portrush, you will need to take the A26 road and m2 motorway.
Terms & Conditions
• Price is per person and is for minimum of two golfers
• Flights are included in the cost of the package