Experience the 2017 Phoenix Open with Your Golf Travel
Phoenix Open - TPC Scottsdale, Arizona (30 Jan - 5 Feb 2017)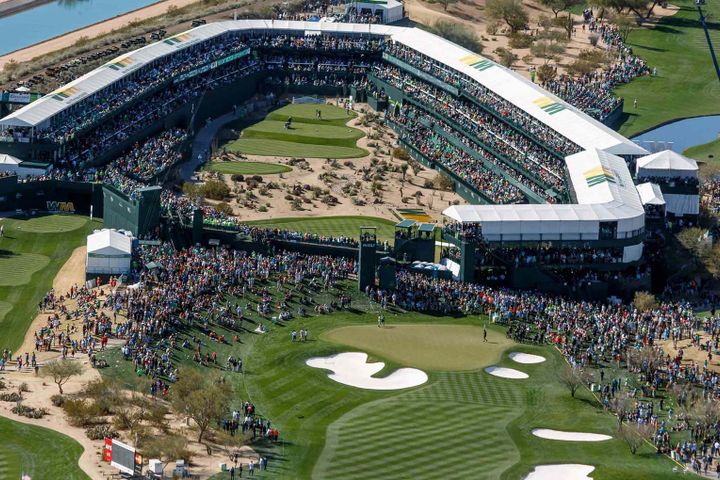 The Phoenix Open is routinely the most-attended golf event of the year on the PGA Tour and for good reason: it's a golf tournament like no other.
Without question, the hot spot and chief drawing card of the week is TPC Scottsdale's 16th: golf's ultimate party hole. The golf clap does not play here, as a normally routine 162-yard par 3 is transformed into a stadium with enough room for 15,000 raucous fans. If you like beer, world-class golf and a football-like atmosphere, then this is your ultimate golfing destination.
When the golf ends, the party doesn't stop. Many revellers choose to head across the road to The Bird's Nest; a series a concerts held at the conclusion of each day's play in a giant tent adjacent to the golf course.
Scottsdale, Arizona
7 Night's accommodation at We Ko Pa Resort
Phoenix Open Experience
2 Rounds of Golf at We Ko Pa (Cholla & Saguaro)

Phoenix Open Tickets for 2 days
About the Phoenix Open
The Phoenix Open began in 1932, was discontinued after the 1935 tournament, but was reborn in 1939. The event was played at the Phoenix Country Club in Phoenix, both in its earlier incarnations and after Goldwater resuscitated it. Beginning in 1955, the Arizona Country Club (also in Phoenix) alternated as event host with Phoenix Country Club; this arrangement lasted until Phoenix Country Club took The Arizona Country Club's turn in 1975 and became the event's permanent home again.
In 1987, the tournament was moved to its current home, the Stadium Course at TPC of Scottsdale.
Tournament Stats
2016 Winner: Hideki Matsuyama (-14, $1,170,000 Prize Money)
Youngest Winner: Ralph Guldahl, 20 years, 2 months and 9 days, 1932
Oldest Winner: Kenny Perry, 48 years, three months and twenty-one days, 2009
Lowest 72 Hole Score: 256 (-28), Phil Mickelson, 2013
---
---
Tournament History
| | | | | |
| --- | --- | --- | --- | --- |
| Year | Winner | Country | Score | Prize |
| 2016 | Hideki Matsuyama | Japan | -14 | $1,170,000 |
| 2015 | Brooks Koepka | America | -15 | $1,134,000 |
| 2014 | Kevin Stadler | America | -16 | $1,116,000 |
| 2013 | Phil Mickelson | America | -28 | $1,116,000 |
| 2012 | Kyle Sanley | America | -15 | $1,098,000 |
| 2011 | Mark Wilson | America | -18 | $1,098,000 |
| 2010 | Hunter Mahan | America | -16 | $1,080,000 |
| 2009 | Kenny Perry | America | -14 | $1,080,000 |
| 2008 | J.B. Holmes | America | -14 | $1,080,000 |
| 2007 | Aaron Baddeley | America | -21 | $1,080,000 |
| 2006 | J.B. Holmes | America | -21 | $936,000 |
| 2005 | Phil Mickelson | America | -17 | $936,000 |
| 2004 | Jonathan Kaye | America | -18 | $936,000 |
| 2003 | Vijay Singh | Fiji | -23 | $720,000 |