The Promotion
Group golf holidays are at the heart of what we do here at Your Golf Travel. Nothing quite beats the feeling of heading to a brilliant venue with a group of friends or club members and hitting the fairways.
Well now there is even more incentive to get a group golf holiday booked before the end of March. We have teamed up with Wolsey to offer the lead booker of groups of 12 or more to UK & Ireland venues and the lead booker of groups of 8 or more to all European venues a FREE Wolsey Shirt.
This promotion ends at the end of March and is a great opportunity to not only secure an unforgettable golf break to incredible UK venues like The Belfry and Celtic Manor but also grow your golfing wardrobe ahead of the summer.
See the Terms & Conditions at the bottom of this page for the full details of the promotion.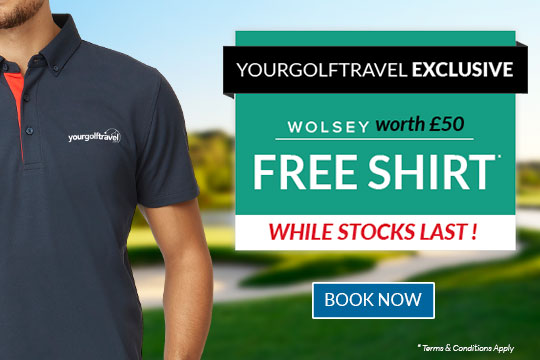 Terms & Conditions
This will be applicable to all new bookings made between 11th - 31st March 2018 for travel from 11th March to 31st December 2018.
To qualify for the Wolsey Shirt Promotion you must quote "WOLSEY SHIRT" at the time of booking. If you have qualified for this promotion you will receive a clear notification within your booking confirmation, if you do not receive this notification your booking will not be eligible for the promotion.
"Last Minute" bookings made online are not applicable for this promotion.
Turkey, Morocco and Cyprus count as European destinations.
ROW destinations are not included in this promotion.
Subject to availability, Your Golf Travel reserves the right to substitute product of a similar value or change to a cash discount should this not be possible.
Your Golf Travel reserves the right to end the promotion earlier than 31st March.
Group size must be a minimum of 12 or more for UK/Ireland, a minimum of 8 or more for Europe.
If the group size decreases before the date of travel, benefits decrease accordingly.
The offer applies to the total group size of the booking and can only be claimed by the group organiser.
Your Wolsey Shirt Promotion will be activated upon receipt of the full payment of your deposit and it will be despatched upon full payment of balance of holiday.
The standard Your Golf Travel terms and conditions apply to your booking.