For more than 15 years he bamboozled batsmen around the world with a combination of guile and aggression. But is the 'King of Spin' about to switch the six-stitcher for a seven-iron?
Australian cricket legend Shane Warne, now comfortably retired, says he dreams of playing golf professionally. At 44, the Test great has six years to refine his swing for a potential tilt at the Senior Tour.
"If you said what would be a dream – it would be to make the Senior Tour in six years," Warne told Your Golf Travel during a charity golf day at The Grove.
"I'd love to actually do something like that, although I would have to do a hell of a lot of practice."
---
[youtube width="600″ height="315″ video_id="2k_zEPFw57k"]
Watch the full interview with Test cricket great Shane Warne.
---
Despite playing of a modest 10-handicap, Warne – who has played the ultra-exclusive Augusta National and considers Sergio Garcia "a good mate" – is certainly no slouch with a golf club.
He famously carded a one-under par round of 71 during last year's Dunhill Links Championship on the Old Course at St Andrews, outgunning Major champions Vijay Singh (74), David Duval (73) and Louis Oosthuizen (74).
Warne, who mixes golf with poker as his preferred sporting pastime, described himself as a keen golfer who "doesn't play anywhere near enough".
"Sometimes I hit them OK, but I genuinely love the game and I love to get out and play as often as I can," he said.
"Who knows, if all the work starts stopping and I get a few good years to practice and play a lot of golf, then who knows… I might be on the Senior Tour. That would be pretty cool."
---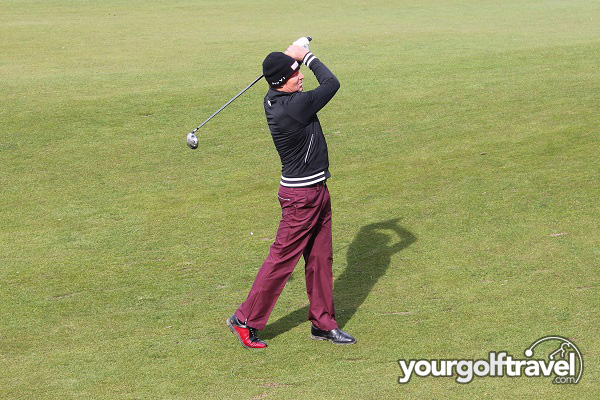 ---
Warne highlighted his home town of Melbourne and it's wealth of golfing treasures as his favourite place for a round.
"We're very lucky in Melbourne to have some world class courses… Royal Melbourne, Kingston Heath, Metropolitan, Victoria… the list goes on," he said.
"The Capital Golf Club is the Crown Casino golf club which is private but I'm allowed on, so I'm very lucky. It's a fantastic course – it's probably my favourite course in Melbourne.
"They [Melbourne courses] are all challenging. The greens are absolutely lightning fast and they're quite long layouts so if the wind is blowing they can be tough."
Warne described former Australian teammates Ricky Ponting and Greg Blewett as the best 'cricketing golfers' he'd played with, while singling out fast-bowling icon Merv Hughes as "the worst".
"He (Hughes) has got the world's biggest slice and he can't play some holes but it's funny to watch – and he's great company around the golf course."
---
Shane Warne spoke exclusively to Your Golf Travel at the Shane Warne Golf Classic at The Grove. For full results from the day, click here.