In years gone by, he's gone by various nicknames like The Lion, Wild Thing & Long John, but sporting a beard that would be the envy of most men, John Daly was back in the golfing spotlight this past weekend looking more like Santa Claus than a 2-time major champion.
Daly claimed victory in the PNC Championship with his son, Little John, fending off challenges from a host of great golfing pairs including Tiger and Charlie Woods (who finished 2nd behind John and his son), Justin Thomas and his father Mike as well as a host of great golfing names including Trevino, Player and Singh.
Daly made the headlines this week, not just because of his great golf which was clear for all to see but also for his rather festive appearance which included a lovely beard that even the most ardent of Father Christmas would be proud of. Daly embraced this during the pre-tournament dinner posing for photos with fellow past Open Champion, Sir Nick Faldo, wearing a Father Christmas suit.
Whether it's his trademark Loudmouth golf trousers, his carefree attitude and colourful past life or the bombs he hits off the tee, there's plenty of reasons as to why John Daly is somewhat of a cult hero in the world of golf.
Here's ten reasons why we've come to love him.
1. He's a character
In an era of the clean-cut golf professional, Daly has stood apart as your average Joe: a beer-loving, out-of-shape, blue-collar golfer, with an attitude and appearance that quashes the country club stereotype. Of course he's had his share of battles with personal problems, not to mention his share of run-ins with the golfing hierarchy, but somehow that's only added to the intrigue surrounding him as a cult figure of the sport.
2. He hits the ball a long way
Daly earned the nickname "Long John" when he burst onto the Tour simply because no one could hit the ball further. According to official stats kept since 1980, he in 1997 became the first PGA Tour player to average more than 300 yards per drive over a full season. He did so again in every year from 1999 to 2008, and was the only player to do so until 2003.
If Happy Gilmore had a real life equivalent, it would be big JD.
3. He's won two majors
Yes, that's right. Daly will go down in history alongside the likes of Greg Norman and Sandy Lyle as a two-time major winner. Nothing has epitomised his outlandish career more than his maiden major victory at the 1991 PGA Championship. An unheralded Daly was the ninth alternative, had missed 11 cuts in 23 starts preceding that week, and hadn't even played a practice round – yet snared the trophy by three shots.
4. His swing
The first time Jack Nicklaus caught sight of Daly's have-to-see-it-to-believe-it backswing, he remarked: "Good gracious, what a coil, what an unleashing of power. I don't know who he reminds me of. I haven't seen anybody who hit the ball that far." While the unorthodox wind-up has contributed its fair share of balls to lakes, forrests and highways, it still rates as one of the most spectacular sights you'll witness on a golf course.
5. The clothes
It's fair to say big John doesn't follow your typical fashion principles. When it comes to his pants, the general rule is the louder the better (which makes his association with the ultra-brash Loudmouth Golf a match made in heaven . He's worn everything from flag prints, to checkered stripes, multi-coloured dots, flowers, and even a number with the word "ravishing" splattered down the legs in just about every colour under the sun.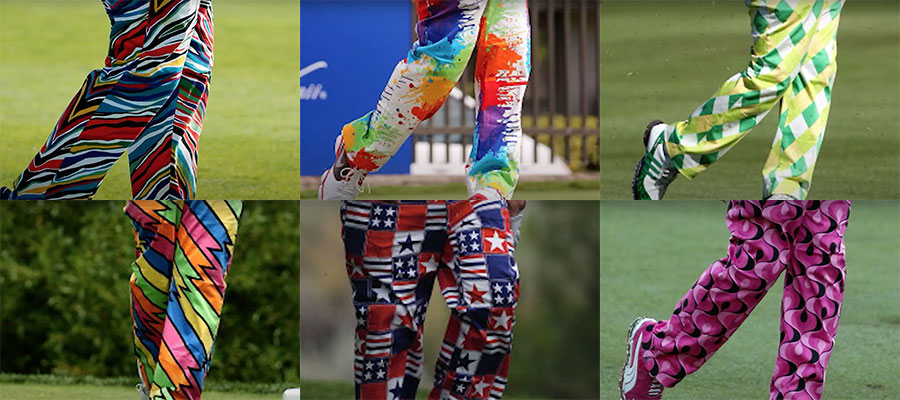 6. The quotes
Daly's views on golf and life are almost unrivaled. Here are five of his greatest one-liners…
"I believe nicotine plus caffeine equals protein."
"I don't think I've ever stepped into a gym – they won't let me smoke there. I just thank God Miller Lite isn't as fattening as most beers. If I cut back on beer, though, I'd look anorexic."
(About his future wife) "She said, 'I don't like blonds and I don't like golfers, but I do like fat boys.' So I knew I had a chance."
(When asked what he would serve for the Masters dinner.) "It's gonna be grease, I'll tell ya that. I love Hooters."
"There are probably some things I could do to keep my flexibility up, but I'd rather smoke, drink diet Cokes and eat."
7. His on-course blow-outs
Part of Daly's appeal is his very human element; over the years he's proven capable of completely butchering a round, just like the rest of us. On the PGA Tour alone, Daly has made a score of at least 10 on one hole on a whopping 15 occasions. His most infamous big number came at the Bay Hill Invitational in 1998 when he hit 3-wood into the water six times on the par-5 sixth hole in the final round and took an 18. But, true to form, he bounced back with a birdie on the next hole.
8. His 'unique' of trick shots
Whether belting a drive straight down the middle off the top of a beer can in front of Kid Rock, or clipping one sweetly off a tee perched in another man's mouth, Daly has paraded his unique skills with the driver on countless occasions. Most recently, he attracted headlines after hitting a ball out of a stranger's mouth outside a pizza restaurant in a dark parking lot.
9. He's released two music albums
When he's not belting golf balls out of people's mouths in car parks, Daly dabbles in a part-time music career. The big man enjoys country music so much that he recorded an autobiographical album titled My Life, featuring guest performances from Willie Nelson and Johnny Lee. Some aptly named tracks included 'Hit It Hard', 'Big John', 'Blue Collar Golfer' and my personal favourite 'All My Exes Wear Rolexes'. Daly has also worked with Kid Rock, contributing backing vocals for his 2007 track 'Half Your Age'.
10. This interview
It must rate as one of the great pieces in the history of sports journalism. Shirtless, shoeless, cigarette dangling from his mouth and casually slinging a 3-wood down the middle … only the Wild Thing could pull it off.